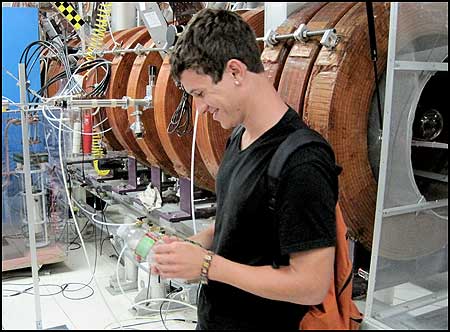 I shoulda made that left toin in Albakoikie*
Jim and I were drinking cranberry vodka cocktails at Teddy O'Brien's in Highwood when he turned to me and said, "Let's visit Bonnie!"
Jim first met Bonnie in high school when she was a mat maid for the varsity high school wrestlers and he was a rising star on the freshman swim team.
When we arrived at her house I noticed that a large tree branch had fallen through her roof so we had to enter through the back door.
I had never met Bonnie before that day but we hit it off well. She treated us to snacks and beer in the kitchen because her living room was in a shambles. Her life was in shambles, too: The storm-damaged house was in foreclosure, her marriage was on the rocks and her two teenage sons were feeling their oats.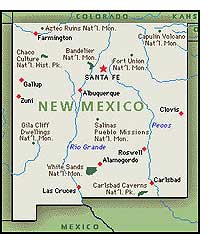 "I always wanted to visit New Mexico," she said to me when Jim and I were leaving. Later that week she drove me to Chicago so I could catch a flight back home.
I crossed Bonnie's path again last spring while vacationing in Florida on my Surfing Safari. She said she would visit me in Albuquerque someday but I didn't believe her.
In July I received a call from Bonnie. She said was going to visit me in a few weeks and was bringing along 17-year-old Tristan and 13-year-old Deven. She said her eldest son wanted to check out some New Mexico colleges and her youngest was coming along for the ride.
I seldom get visitors and nobody gets to stay in my house overnight. I know it sounds cold but I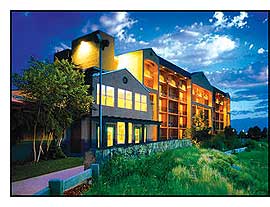 barely have enough room for Jennifer, the dog and myself. Anybody who wants to visit has to stay in a motel: They'll be much more comfortable and it's not expensive: A nice room on Route 66 can be gotten for $30 a night.
I recommended Bonnie stay at the Plaza Inn for about $50 a night. Located in the University area on a hill overlooking downtown, it has rooms with outdoor porches, refrigerated air conditioning, a big swimming pool, a sparkling hot tub and sweeping views of the volcanoes, the Rio Grande and the Bosque.
Bonnie and the boys touched down at the Sunport at 10 p.m. on a sweltering Friday evening. They just missed catching the hotel's free van and I was very glad she did not call me at home and ask for a ride.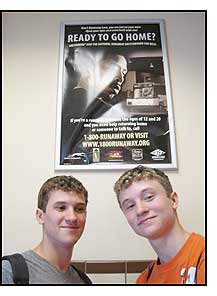 Instead Bonnie hailed a spacious air-conditioned cab that got the three of them to the Plaza Inn for $18.
I met them at 7:30 Saturday morning and wolfed down a free continental breakfast that Bonnie had thrown together for me in the lobby: Scrambled eggs, a toasted bagel, fruit and coffee helped fortify me for the big day ahead.
After breakfast Bonnie gave me a present: A t-shirt with a picture of my face on the front and the word "CHUCKSVILLE.COM" on the back. I was deeply touched by this thoughtful gesture and wore it for a while.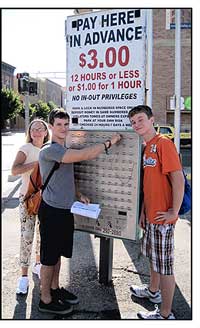 It was good to see Bonnie and the boys again. She radiated spunky optimism, punctuated with a high staccato laugh. Fifty-two years young, with red hair and freckles, Bonnie was 95-pounds of boundless energy.
The boys looked like classical Greek sculptures with chiseled profiles and athletic builds. It was a shame that Gisele, Tristan's girlfriend, was unable to join us due to lack of funds but it was fun to kick back and watch the brothers interact: Deven misbehaves and gets slugged on the arm by Tristan. Deven plots and executes a masterful revenge. There was never a dull moment between the two.
At 8:30 we piled onto the cracked leather seats of Stella, my 1984 Volvo, and drove to a gravel parking west of the Albuquerque Transit Center.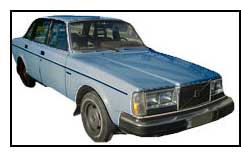 The sunroof didn't open and the air conditioner was broken, but beneath her sun-blistered paint job Stella was practically rebuilt. She could haul half a ton of sandbags and top 95 mph without breaking a sweat. She got 25 miles to the gallon and parts were readily available on eBay for a fraction of their original price.
Our parking space was secured for the entire day by stuffing three dollar bills into the appropriate slot

of an enormous steel box. This low-tech parking kiosk fascinated Bonnie and the boys and they spent five minutes gawking at it like those apes in Kubrick's 2001: A Space Odyssey. We decided that would be our first Kodak moment.
We walked to the platform of the New Mexico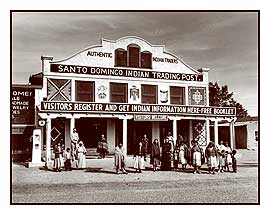 Rail Runner. The train travels 97 miles between Belen and Santa Fe several times a day and reaches speeds up to 79 miles per hour.
The Rail Runner's logo, painted on the side of the locomotive, is a brightly-colored cartoon version of a road runner with a pointy beak and beady eye. Its bushy tail gets longer as more cars are added.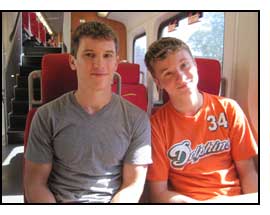 Train #502 arrived at 9:36 a.m. We climbed onto a blissfully air conditioned car and seated ourselves around a table for four on the first level. The conductor passed through our car and collected $7 from each of us for a round trip ticket.
We rode alongside the forested Bosque and got a glimpse of the meandering Rio Grande. As we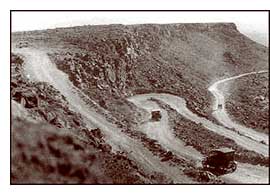 traveled through Indian reservations the conductor reminded us that photography was not allowed. We passed the burned-out ruins of the Santo Domingo Indian Trading post on Kewa Pueblo and climbed La Bajada Hill onto the red rocky landscapes made famous by Georgia O'Keefe.
We arrived at the Santa Fe train depot at 11:08 a.m. and jumped on a shuttle bus that took us directly to the Santa Fe Plaza. From there we raced to Sheridan Ave. and boarded the 11:20 Route M (Museum) city bus.
The bus driver took us straight back to the train depot and I felt so stupid for putting my guests through all that unnecessary back-and-forth.
I was getting a crash course in Santa Fe's bus routes and scheduling and it wasn't an easy lesson to learn, even with all the research I had done in the days before Bonnie arrived. The signs at the bus stops are vague and misleading and the city's website is a nightmare to navigate: Its neurotic dropdown menus and slow-loading maps and schedules will crash even the best machines and try the patience of the most competent computer users.
The city buses were running empty on this glorious summer day and that just meant there was more room for us to kick back and enjoy the ride. If only half those smart-phone toting tourists on the Rail Runner knew that this city bus went directly to some of New Mexico's finest museums, it would have been packed to the gills.
We were pleased to discover the bus' air conditioning worked perfectly and its windows were crystal clean and unmarred by the sort of graffiti and advertising one finds in Albuquerque. The bus ride was free because passengers of the Rail Runner Express do not have to pay a fare.
We made our way onto East Alameda and into the heart of Santa Fe's old residential district. We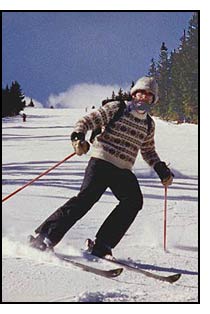 drove beside the trickling Santa Fe River, past old adobe structures surrounded with coyote fences, and along acequias once used for irrigation.
Alameda turned into Camino Cabra and we entered foothills dotted with pinon trees and views of the Sangre de Christo Mountains. How fondly I remember tackling those black diamond runs on packed powder slopes beneath the dazzling rays of the New Mexico sun!
We got off at the bus stop near the entrance of St. John's College, my alma mater, and were greeted by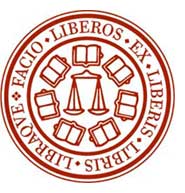 a security guard. I introduced him to Bonnie and my two prospective students and we were allowed to enter the campus.
I proudly showed them the library, gymnasium and student center and when we worked up an appetite I led them to the dining hall. The manager came out of the kitchen and told the cashier to refund our money and said we could dine there for free. He even treated Bonnie and me to a couple ice cold Santa Fe Ales.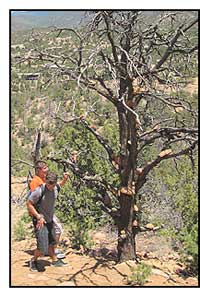 After a delicious meal we hiked into the foothills behind the college. We walked along a ridge on a well-worn trail, rested at its top, breathed in the crystal clean air and enjoyed the view.
The thing that seems to have fascinated my guests the most was an encounter with a dead pinon tree whose every niche, crevice and branch was covered with rocks. Bonnie and the boys painstakingly searched for more rocks and carefully balanced them on whatever free space they could find.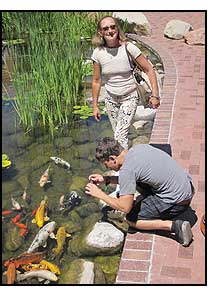 I wish I could have taken them to the top of Monte Sol and Monte Luna but they weren't wearing hiking boots and I didn't want them to get hurt. I cautiously lead them back to St. John's where they lingered by the fishpond and checked out the brightly colored koi. At 1:30 we hopped back on the M bus and picked up a dozen rowdy school children who joined us for our scenic trip through the rolling hills and back to the Plaza.
We visited the old print shop at the Palace of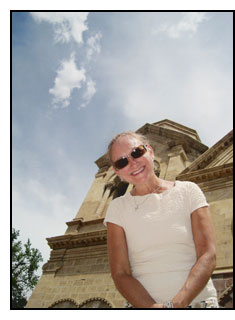 Governors and also checked out the Indian vendors under the portico. We walked up the street to the St. Francis Cathedral and watched a wedding ceremony from the glass-lined narthex while Bonnie shopped for a pretty handmade cross in the gift shop.
Afterwards I steered them down the street and into the historic La Fonda Hotel. We explored the dark, cavernous spaces of the inn and Bonnie found a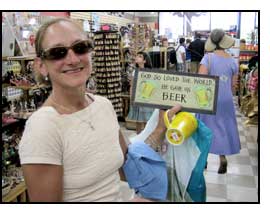 handsome oilcloth handmade bag made by a local artist that she excitedly bought for $20.
The kids found a fossil shop and got their mom to buy them some ossified souvenirs. The forces of gravity then lead us to the Hagen Daz Ice Cream parlor where Bonnie bought me a vanilla chocolate chip milk shake.
We prowled around the adjacent Five and Dime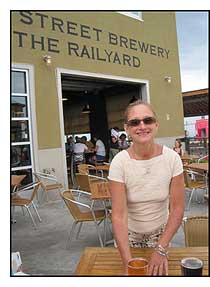 Store which has become one of my favorite places to visit in The City Different. Santa Fe's old Woolworth's store lives on here, though its only a fraction of its original size. Here you can still buy a Frito pie or a charming and affordable souvenir that you would never find at any of the stodgier galleries that abound.
We returned to the train depot by a courtesy shuttle and explored the nearby REI camping store and also drank hand-crafted beers at the nearby brewery.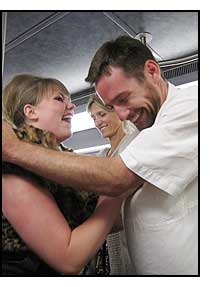 The 4:30 Rail Runner to Albuquerque was packed but we managed to find four sideway-facing seats. Midway through the journey we were entertained by Shakespearian actors from the University of New Mexico. I didn't know what play they were performing and I couldn't make out most of the words they were saying but the show was a welcome distraction. The car erupted into applause whenever anything clever or boisterous was said and at one point the conductor, unaware of what was going on, entered the car and thought the cheering was for him. He bowed and swore he could not remember a time when he was so well-received.



We arrived in sweltering downtown Albuquerque at 6:08 p.m. and I was pleased to find my Volvo still in one piece. We piled into the baking car and drove to Isotopes Park to watch a game of minor league baseball at its finest. I found a space in a secluded spot and slowly backed Stella into it.
The back end of my car was riding low and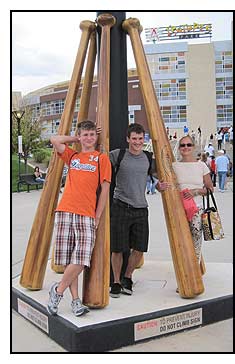 scraped against the curb, creating a loud screeching noise that scared the hell out of me. The last time I heard a noise like was when I had run over a curb and damaged my muffler, costing me hundreds of dollars in repair bills. I looked under the car and saw nothing amiss and felt tremendously relieved.
It was "Retro Night" and the Isotopes were wearing mustard yellow jerseys with the word "Dukes" printed on the front: That was the team's name before they became the "Isotopes," a moniker adopted from an old episode of The Simpsons.
Orbit, the team's mascot, was in excellent form,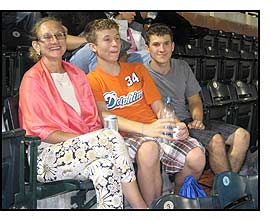 dancing to canned music during lulls in the game. His cartwheels, flips and acrobatic moves were impressive considering the bulky costume he was wearing. The crowd of 13,000 was high-spirited and often started a "wave" that spread from one side of the stadium to the other.
The Isotopes held a cozy 9-3 lead until the sixth inning when the New Orleans Zephyrs scored five runs. The Zephyrs then scored two more in the eighth to take a 10-9 lead.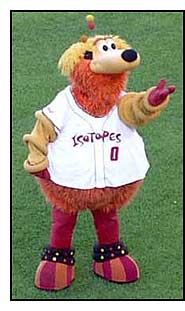 The 'Topes weren't about to call it quits, however. In the bottom of the eighth inning, Justin Sellers knocked one out of the park to tie the game 10-10 followed by a single delivered by AJ Ellis and a two-run homer by Jay Gibbons.
Isotopes pitcher Jon Link managed to hold the 12-10 lead by striking out two of the Zephyr's batters and then the crowd, who had stuck around for four mortal hours, went crazy. A spectacular display of fireworks ensued, choreographed to popular music culminating in a finale set to "Where No Man Has Gone Before" the music written for the original Star Trek TV show.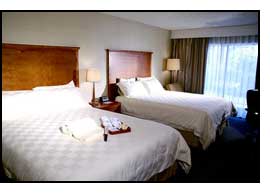 Afterwards, I drove my weary visitors back to the Plaza Inn where they dragged themselves to their freshly made-up rooms and crawl into their clean, white sheets.
I returned to the motel at 7 o'clock Sunday morning. The boys were still in bed and it was clear that they had no intention of getting up.
Bonnie was ready and raring to go. We drove to Old Town, parked on a side street next to Tiguex Park and walked to the San Felipe de Neri Parish, built in 1793 and located on the north side of the Plaza.
We were warmly welcomed at the door and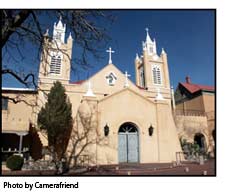 found a place to stand in the back of the nave.
The church was filled to capacity with over 200 people dressed in their Sunday best. The service was conducted in Spanish and I couldn't understand a single word. Bonnie seemed to know what was going on and even took Communion.
We walked to the Albuquerque Museum after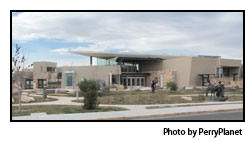 church and got in for free because they don't charge admission on Sundays mornings. The highlight of our visit was "Clara Driscoll and the Tiffany Girls." Driscoll (1861-1944) was the head of the Women's Glass Cutting Department at Tiffany Studios which designed lamps and stained glass.
Bonnie and I walked through the galleries of the museum and I made certain that every lamp, window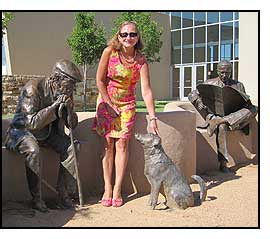 and vase was duly admired. We learned how Tiffany separated the women glass cutters from the men and how the ladies made the floral images and the guys made the geometric patterns.
After exploring the Albuquerque Museum we strolled through the sprawling sculpture garden where Bonnie posed for a photograph in Glenna Goodacre's "Park Place 1998."
We made our way back to the Plaza Inn where we collected Deven and Tristan and piled back into Stella.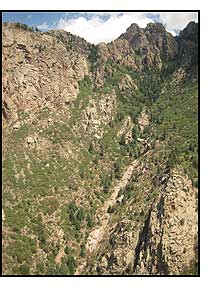 We drove to the foothills and boarded a 2.7 mile flight to the pinnacle of the Sandia Crest along the world's longest passenger tramway.
The gondola traveled at 12 mph from the base at 6,559 feet to the summit at 10,378 feet. The trip took 15 minutes and traveled high above pristine canyons and rock granite formations with names like the needle, the thumb, the chimney, the pulpit and the shield.
When we reached the top we watched a hang glider jump off a steep cliff while a group of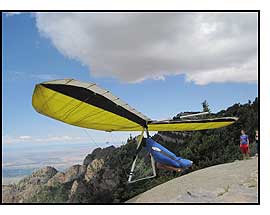 spectators cheered him on. He was able to get enough lift from an updraft so he could climb high above our heads and then swoop down upon us like a hawk. Children screamed in delight when he came so close we could hear the wind beat against his enormous, synthetic wings.
We took a long walk along the crest and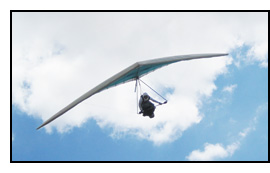 marveled at the vegetation, the Alpines trees and the crisp clean air. It was 15 degrees cooler on top of the mountain then at its base.
As I stood upon this mountain and gazed into the distance I thought back to my childhood when I first visited New Mexico: I was 14 years old and spent 12 days backpacking in the wilderness of the Philmont Scout Ranch in Cimarron, New Mexico with a bunch of other wild boys. Carrying a heavy pack on my back,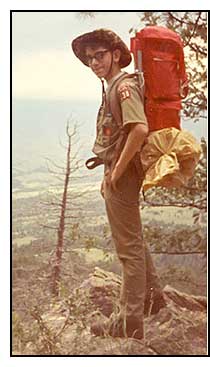 we hiked nearly a hundred miles, climbing tall peaks, fording pristine creeks and walking through stands of birch trees and Ponderosa Pine.
Little did I know I would return to my beloved Land of Enchantment in five short years to get a Great Books education, become a newspaperman and settle into my present career as a wordsmith and editorial technician.

We took the next tram back to my roasting car and drove to Evergreen, my favorite Chinese restaurant, located on the northwest corner of Menaul and Juan Tabo.
There were over 100 items to choose from but I was shocked when Bonnie and the boys turned up their noses at the frog legs, salt and pepper shrimp, and the eel sushi. But suum cuique (as the Romans say): to each his own.
There were oysters on the half shell, shell fish, red crayfish and broiled salmon to choose from along with big slices of juicy red watermelon and grapes the size of ping pong balls. Sweet desserts of every description were lined up in formation like little soldiers.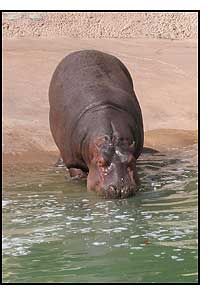 With a $2 tip, the Sunday buffet came to about $13 a person, including drinks.
Our next stop was the Albuquerque Zoo. Deven makes it a point to see a zoo in every city he visits. The hippos, polar bears, eagles, reptiles, primates and elephants sleepily climbed out of their lairs to say hello to him.
After we had "done" the zoo we stopped at my house and I introduced Bonnie and the boys to Jennifer (my resident supermodel) and Baby Ruh (my darling dog).
Jennifer told Bonnie where she could could get a replacement power supply for her cell phone and also where we could find a good place to eat on a Sunday night but she chose not to join us.
We ended up at the Radio Shack in Nob Hill where Bonnie found the power supply for her phone. We also picked up a six pack of Santa Fe Ale and a six pack of Mickey's wide mouth lager. Then we drove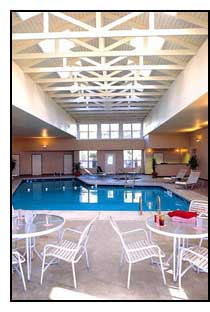 back to the Plaza Inn and threw on our bathing suits. The boys and I spent the next couple hours frolicking in the large, crystal clear indoor swimming pool while Bonnie watched us and caught up on her reading.
It had been ages since I had ventured into a pool and I began to swim around it like a shark and do summersaults in the cool, refreshing water. The boys played a wild game of dodge ball and terrorized the guests.
Night fell and we finally called it quits, dried off and headed back to the room. Bonnie and I brought some chairs onto the balcony and, beers in hand, watched in awe as the night sky was pierced by bolts of lightning accompanied by the rumble of thunder and a smattering of rain. New Mexico had been experiencing the worst drought in recorded history and it looked like the weather was about to change.
It was getting late and we were hungry so we all piled into Stella and headed out into the cool night.
We made it to Nob Hill and found a parking space just as the rain began to fall heavily. We walked a few blocks to Il Vicino's and it was practically empty. The boys gravitated to a bench seat against the wall of the restaurant. They sat next to each other, opposite Bonnie and myself and began to chatter endlessly between themselves.
"I listen to this all the time," she whispered to me.
I'm not sure why the boys insisted on sitting by the wall but by doing so we missed seeing the first significant rainfall of the year. It looked like the monsoon season was about to kick into high gear after 200 days of bone dry weather.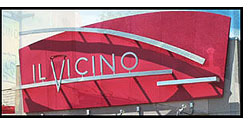 The lack of customers at Il Vicinio's meant that we didn't have to wait long for our food.
The food was delicious and the service, excellent. The boys wanted so much parmesan piled on their entrees that the waiter had to return to the kitchen so he could recharge his cheese-shredding machine. They enjoyed their pizzas but I had a feeling they were jealous of my calzone.
Bonnie ordered a strong IPA homebrew but couldn't finish it so I helped her drain the glass. That was a big mistake because, after two 16-hour days of non-stop entertaining, it hit me hard. We walked out of the restaurant into the slick, wet streets. The rain had stopped falling and the air was cool.
We piled into Stella, I started the car and shifted her into gear.
"Are you all right?" said Bonnie, concerned.
"I'm feeling a little tired, to be honest." She turned on the radio and started messing with the knobs.
"There's only one station that works," I said. "You've got to press the middle button."
She pushed the middle button and out cames a Navajo Indian chant:

Ah-uh Nayah Oh-wa Oh-wa
Shon-Say Oh-wa Oh-wa . . .

It was eerie and unsettling. The beat of pounding drums, the howling and yelping of Indians kept getting louder and louder. I tried to focus on the road.
"You know I would take over but I don't know how to drive a stick shift," said Bonnie, alarmed by my driving.
"It's ok, we're almost there."
I pulled into the parking lot and heaved a sigh of relief.
"I can't drive. I need to rest for a while," I said.
"Come up to the room."
I staggered to the room. I grabbed the bucket off the fridge, filled it with ice water and splashed it on my face. That didn't work. I went to the bathroom meaning to take a cold shower but warm water came out of the showerhead.
The altitude must have gotten to me, I figured, so I collapsed on top of Bonnie's bed. Tristen and Deven slipped into their own bed after tiring of watching TV. They were worn out.
"I've got to call Jennifer," I said to Bonnie.
I picked up the phone and spoke to Jennifer for a few minutes.
I hung up the phone and turned to Bon. "I should go home now."
"You're not going home," she said. "You can't drive."
"Then I'll walk."
"You're not going to walk. It's too far."
"OK. Then let me rest for a while. I just need to rest."
I laid down on the bed. The boys were already fast asleep. Bonnie had crawled into bed and I was lying on the covers in my clothes, trying to get centered. I began to meditate. It took a while but my physical and mental exhaustion began to drain and I started to feel refreshed. I got up to go.
"Are you leaving?"
"Yes, I'm fine now. I need to get back home. It won't be a problem. The last thing I want is to be stopped by a cop."
"Are you sure?"
"Yes I'm positive."
I walked out of the Plaza Inn and climbed into trusty Stella, started her engine, shifted into gear and drove down the hill onto the desolate, glistening streets of downtown Albuquerque. The rain had cleaned six months of accumulated dirt off her body and the full moon began to peek through the clouds. If you didn't look too closely, you might have thought that Stella had recovered her former glory. I made it home without incident, backed Stella into the driveway and draped her with the car cover.
I slipped into my warm bed, beside my very patient and understanding partner and caught a few well-deserved hours of sleep.

We all agreed to sleep late Monday morning and I had planned to take the day off work. Bonnie was leaving for Phoenix on the 2 o'clock flight and there was still much that needed to be done.
After eating another frugal continental breakfast we all piled into Stella. I pressed down on the automatic door lock button but it disintegrated at my touch. I reached over Bonnie's lap to the passenger door and grabbed for her button, but that also self-destructed. I reached into the back seat and found a button that was in one piece and quickly swapped it with mine so I could operate the door. That would have to do until I could get to the junk yard.
We drove a few blocks through the Spruce Park National Historic Neighborhood that bordered the University. Bonnie was enchanted with its tall trees and old homes. She said that if she were to live in Albuquerque, she would want to live there.
I pulled into a parking space near Historic Hodgin Hall. This was University of New Mexico's first building, built in 1892.
The interior of Hodgin Hall had recently undergone a multi-million dollar renovation and looked great. I was beaming with pride as we climbed up its five stories to the top floor. I pointed out all the beautiful architectural details including the massive vigas, the delicate latillas, and the intricate glasswork. Our footsteps echoed off the highly polished hardwood floors as we exited the building.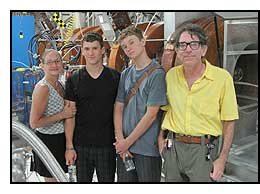 We walked to the adjacent engineering department, where I work. Chris, an undergraduate, gave us a tour of the underground labs and showed us the Helcat Linear Plasma device as well as the SINUS-6 and the Pulserad particle accelerators. Tristan was the only person in our group who seemed to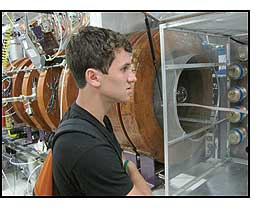 understand what was going on, but that is understandable because everybody knows 17 year old boys know everything.
Chris did not patronize him. Instead, he occasionally threw in a question like, "Are you familiar with what a plasma is?"
Tristan: "Yeah, sure."
Chris: "Well, the cathode surface is vaporized into a plasma due to the voltage pulse . . ." and Tristan nodded in agreement.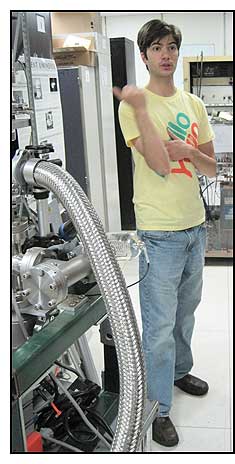 There was a lively give and take between them until I checked my watch and insisted that it was time to leave. Chris would not let the boys leave until he looked them straight in the eye and said, "It was great giving you this tour. If I can give you one piece of advice it would be to go to all of your classes when you get to college. And consider becoming an engineer to avoid getting a crappy job. And oh yeah, one other thing: Don't do drugs."
To hear this come from Chris' mouth came as a pleasant surprise. When I first met him, three years ago, he had a bleached-blond mullet haircut, a distant look in his eyes and an uncertainty about where he was going in life. Now, he was a mensch.
Here was a young man who had a love for knowledge and engineering and a concern for the future of two teenagers that he didn't even know. We left the labs, rode up the elevator, and exited the building into the bright sunlight.
I lead them to the duck pond where we paused on the wooden bridge and looked at the big koi swimming around in the green, murky water. Then we walked into the Zimmerman library and I showed them the cozy, historic reading room designed by John Gaw Meem with its tin lamps and elegant woodwork. I pointed out the Work Projects Administration murals that were painted during the depression and I explained how the mores of the time were reflected in their images.
Next I took them to the student union, or the "sub" as we call it. Here the students hang out in air conditioned comfort, eat at the food court, dance in the ballroom and even get expert $10 haircuts from "Davina" at the "Hook You Up" barber shop in the basement (complete with candy cane barber pole and old fashioned barber chair).
We walked through Johnson Gym and I showed them the cardio center with its weight room and its treadmills. I showed them the volleyball court where we heard the echoes of balls bouncing and girls screaming.
We passed rooms filled with dozens of students practicing yoga and next to that, a mirror-lined gym filled with dancing students following their aerobics teacher to the beat of the latest tunes.
We popped into Popejoy Hall which houses the art gallery and the three theaters that produce everything from Broadway traveling shows to student productions.
We ate lunch at Cheba Hut on Harvard Street, a sandwich shop decorated with classic rock album covers and were serenaded by rock music played over a discreet sound system. We feasted on delicious subs with names like, "Majic Mushroom," "Chronic," and "Acapulco Gold."
Then we explored Louie's Rock & Reels where Bonnie treated each son to a poster for their bedrooms.
It was now time to return to the Plaza Inn. Bonnie cried as we said our final farewells and I gave each of the boys a big hug. They were then whisked away to the airport in the spacious confines of the hotel's air conditioned van.
It was at that moment I realized that despite my legendary cheapness and self-centered ways, when everything was said and done, I had actually been a fairly decent host.

Thank you for visiting Chucksville. Please sign my guestbook.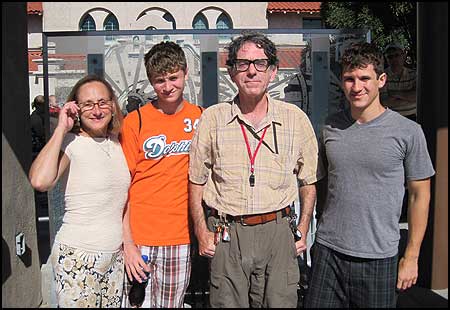 Click this link to watch a YouTube video that Deven created. He shot all the video and I stitched them together. We hope you enjoy our five minute show!