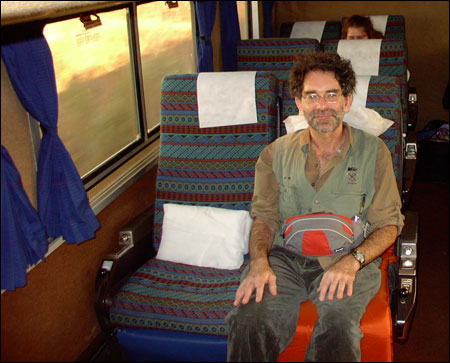 My Kind of Town
Some vacations take place after months of careful planning. Others are pulled together at the spur-of-the moment.
My recent trip to Chicago was an example of the latter. It was early November and the lingering fall weather filled me with a longing for freedom as I sat in my new office, two stories beneath the surface of the earth.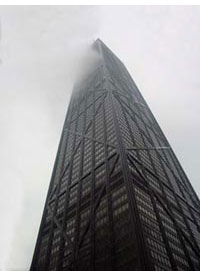 I called my friend Jim and asked if I could come for a visit. Upon receiving an invitation, I exchanged 10,000 "Amtrak Guest Rewards" credit card points for a roundtrip ticket to the windy city. Then I jumped on train #4 and began my 1,200-mile train ride.
The 24-hour journey from Albuquerque to Chicago was lovely, especially when the double-decker superliner crept through the rugged walls of Apache Canyon outside of Lamy, New Mexico. I rode in the company of many Amish whose shy daughters wore conservative white dresses, little caps and downcast eyes. The men wore vests, long grey beards, polyester trousers and grim expressions.
The café attendant hawked his wares on the PA system, saying he had the coldest beer in New Mexico. When night enveloped the train I bought a $12 bottle of Cabernet Sauvignon and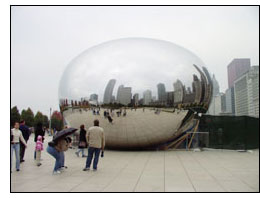 nurtured it while watching "The March of the Penguins" in the observation car as I barreled through the countryside at 90 mph.
The Southwest Chief arrived in Chicago Union Station the next day at 5 p.m., two hours behind schedule. As darkness descended upon the city I wheeled my baggage to the old Chicago Northwestern Station, bought a $3.70 one-way Metra ticket to Highwood and jumped on the northbound train.
Jim met me at the station and took me to his home where he fed me a seared bratwurst that had been boiled for hour in beer.
The next day we jumped on a Metra train with Jim's kids, bound for Chicago and a day of adventure. Midway through our journey, Jim grabbed my laptop and began to write:
"The train is stuffy and hot, packed with people talking about all kinds of things. I can hear all the conversations, melting together like a hot sundae.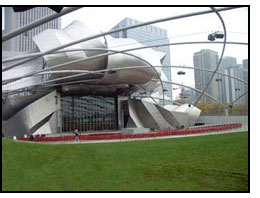 Just passed Glencoe. Hubbard Woods is the next stop. I hope the train does not derail. Derailment is not good," he wrote.
"Trees are turning late this year due to the unusually temperate fall. The colors are extra brilliant in the day's sun. Splashes of ambers, reds, golds and browns. Train smells like a cadre of calognes, after shaves and perfumes. Can't tell what smell is from where."
He handed the computer back.
Upon our arrival in Chicago, we took a cab to the Millennium Park and walked to Anish Kapoor's monumental "Cloud Gate," (better known as The Bean).
"The Bean is an architectural triumph," I said.
"There's nothing 'architectural triumph' about it," said Jim, explaining that the 66 foot long, 33 foot high and 42 foot wide, $11.5 million highly-polished stainless steel sculpture was not a building.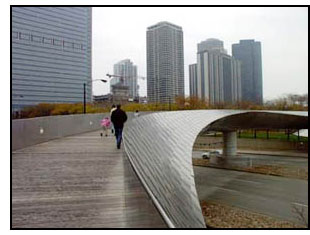 "You know what's an architectural triumph: it's the band stand they build right next to it." He was talking about the Frank Gerry's Pritzker Pavilion that bursts out of the ground like exploding shards of shrapnel.
Here's Jim's description of Frank Gerry's walkway that crosses over Lake Shore Drive that he later wrote in my computer:
"Made from Redwood planks and stainless steel shingles, its glimmering finish is nothing like you will ever see: Bending and twisting like an anaconda boa through the park. Nearby are giant LED monuments that were showing portraits that merged into each other, spitting water but not today as it was very overcast and raining. Then it was off to the Navy Pier by taxi . . . because Chuck couldn't find the free trolley that probably doesn't exist except in the imagination of someone who thinks life owes him a free ride."
Jim treated me to one of the best seafood restaurants in Chicago where we dined on oysters, steamed clams, steamed mussels, seared tuna, sushi tuna and buffalo shrimp. We drank copious amounts of bloody marys, jack and cokes, and fruit drinks mixed with vodka. The view was extraordinary, the city socked in by a mysterious fog.
Jim wrote: "At this point, Chuck starts hounding us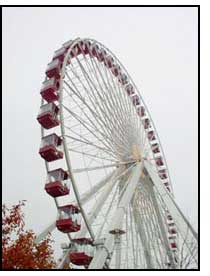 again about the goddamn Farris Wheel so I had no choice but to direct our party to the ticket booth where we boarded a enormous replica of the original Ferris Wheel that was constructed at the 1893 Chicago World's Fair. We took a 7.5 minute ride that delivered us to an apex over 150 feet above the city. It was a spectacular ride and since Chuck is scared of heights we had to tie him to the railings with silken panty hose so that he would not throw himself out of the car.
"Next it was off to Starbucks for a cappuccino and then to the candy store where bags were filled with various kinds of artificially colored crap for the kids. We marveled at the clever plastic hopper system they used to dispense the candy. It was clear that the red candy was the most popular, as it should be."
The next day we revisited the city, this time taking the car because we missed the train by seconds.
We began the day by visiting the Field Museum and checked out the Pompeii exhibit and then headed off to the Museum of Science and Industry.
Jim was frustrated by its long admissions line and decided to buy a family membership so that he could circumvent the lines and come back as often as he pleases.
As a result of becoming a member we got to the head of the line at the coal mine and also got tickets for the Imax theatre. The show in the Imax was about moon exploration and the kids were enthralled.
It seems that kids had a much better tolerance for the Museum of Science and Industries than the Field Museum because the interactive exhibits mesmerized them. We worked our way through the entire museum and although we did not see everything, we certainly saw a lot. We even used our loose change to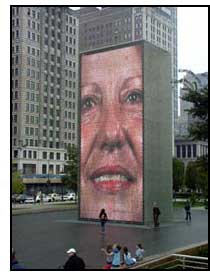 buy the kids plastic models of the space shuttle and a steam locomotive. The toys were made on the spot by a machine that injected molten plastic into a mold and delivered them, warm and smelly, into their little hands. When Jim and I were kids our parents used to buy the same thing for us, except back then the machine was spitting out warm busts of Abraham Lincoln.
All too soon my vacation had come to an end and I found myself aboard Amtrak's Southwest Chief, train #3, heading back to New Mexico. That evening I enjoyed a delicious roast chicken in the dining car and don't think "rotisserie" like the kind you get at the supermarket: This bird was cooked to perfection, as were the potatoes and broccolli.
As a closing note, I would like to call my readers' attention to a rumor that is circulating on one of the internet's rail forums. According to a very reliable source, Amtrak's long haul trains may soon downgrade its food service. This means that passengers may soon be subjected to microwaved, pre-made meals onboard the long-haul trains, instead of those delicious meals we have long become accustomed to, lovingly prepared to our exacting specifications by graduates of the Culinary Institute of America.
This cost-cutting attempt is yet another attempt by the current administration to drive passengers away from using Amtrak. Please write your Senator or Congressman and express your outrage.

Thank you for visiting Chucksville.