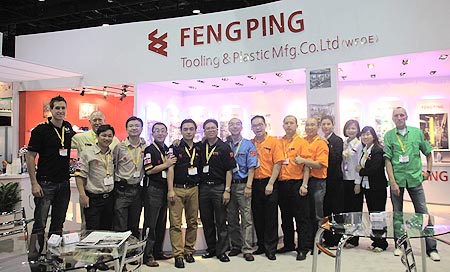 NPE 2012: Go East, Young Man!
Spring arrived early in New Mexico.
The blizzards and subzero temperatures of 2011 lingered well into May but this year we slipped on our shorts and sandals in late March while the cottonwoods were shedding their fluff and spears of grass were breaking through the hard ground.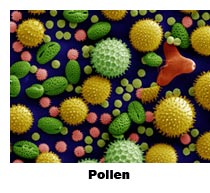 My seasonal allergies were so bad I fled to Taos to escape the sulfurous clouds of juniper pollen. I tore up the slopes on some of the best downhill skiing New Mexico has seen in years and now I'm trying to outrun the mulberry and dogwood.
That's why I'm standing here at gate A8 of Southwest Airlines in the Albuquerque Sunport, waiting to board the 6:10 a.m. flight to Fort Lauderdale. I'm traveling to Deerfield Beach where I plan to spend four days with Bonnie and her two sons, 19-year-old Tristan and 14-year-old Deven. What happens after that is a little sketchy.

I awoke this morning at 2:30 to the buzz, chirp and radio of three alarm clocks — just in case I overslept. Then I washed, shaved, and ate a half gallon of oatmeal for breakfast, mixed with berries and doused with almond milk.
I was ready to leave at 3:40 and whispered farewell to my sleepy Jennifer and also to the Baby Ruh who had been carefully following my actions for the last few days. That old dog knows when I am about to leave town and it breaks her heart to see me go.
I slipped out the front door and walked five blocks to the Downtown Inn on Central Avenue where the shuttle driver was patiently waiting. He was born in India and was an Oxford graduate who could only find a job here as a cab driver or a pizza delivery man. His wife was divorcing him and he was taking care of his elderly father who was on dialysis.
You get used to hearing stories like this after you've lived in New Mexico for a while. The man told me, in his thick Indian accent, about how much he hated Albuquerque, how employers only want to hire locals and how eager he was to return to the Big Apple.
I do try to show a casual interest in the lives of others but there comes a point where their pain is so great I just have to bail out of the conversation. A precious silence then ensues, followed by our arrival at the airport, the unloading of bags, a healthy tip, a hearty handshake and my assurance that everything will turn out OK.
I meditated for 10 minutes in the Sunport's chapel and, having made my way sleepily through security, soon found myself sitting at the window seat of a Boeing 737, perched over the engine on the port side, preparing to lift off.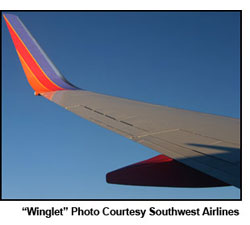 After an uneventful flight to Houston I had to transfer to another plane. I had 15 minutes to make that transfer, barely enough time to relieve myself in the airport bathroom. As I exited the head I noticed a Subway Restaurant but resisted the temptation to buy a foot-long sandwich.
I regretted not having bought some food, but who knows if I would have made it to my connecting flight in time? As it was, because of my dallying, I lost my coveted and hard-won "A" seating position and had to squeeze myself into the head of the "B" line.
After I found a seat I decided to cash in a drink ticket that I had stashed deep in my wallet.
"Do you make a good bloody Mary?" I asked the friendly attendant who was taking drink orders prior to liftoff.

As we prepared to land in the "Big Easy," the decompression of the plane started to crush my skull and the potent effects of the Bloody Mary didn't help. It's a wonder I didn't bust a blood vessel.
Hopscotching across the country was taking its toll and I would have given anything for a non-stop flight. But Albuquerque-Houston-New Orleans ? Fort Lauderdale was about as straight a line as I could hope for with my free Southwest Airlines Rapid Rewards ticket.
Bonnie and the kids were waiting for me at the curb of Southwest Arrivals in Fort Lauderdale in her 2007 Chevy Tahoe. In addition to Tristan and Deven, was Deven's friend David (14, pronounced Dah-Veed). Every inch of the enormous SUV was filled with stuff and yet they still managed to squeeze me in.
They had just arrived from Miami, having gone there for the express purpose of attending a three-day music festival, and were bound for Deerfield Beach where we would all spend the next four days at the luxurious Embassy Suites.
We were famished and decided to eat at Charm City Burger Company located at 1136 East Hillsburo Boulevard in Deerfield Beach.
This was a funky, laid-back burger joint that served an astounding selection of burgers, bottled microbrews and a few local beers off the tap.
I ordered the $9.95 "Big Sloppy" made of double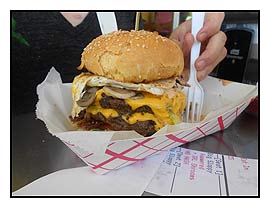 meat, cheese, double bacon, hash browns and fried eggs, assembled in a towering edifice that could barely fit into my mouth. With sweet potato fries on the side it was surely a heart attack waiting to happen but oh! so good!
Bonnie got "The Emperor" for $10.95, a more refined sandwich made from 8 oz. Kobe Beef patty melt, sautéed mushrooms, aged gruyere and truffled aioli. We ate outside on a table that was positioned precariously close to a cement drop-off, near the street.
Then it was off to the Publix, a supermarket, where I bought a 10 oz. aerosol bottle of SPF50 sunscreen for kids because I figured it would be less toxic than the formula made for adults. The last thing I needed was to break out in some weird, chemical rash.
And so began a few glorious days of hanging out in the delicious Florida sunshine, walking the beaches, looking for seashells, shopping and hanging out with Bonnie and her entourage of silly teenage boys.
We ate custom-made omelets at the breakfast buffet, drank sex-on-the-beach cocktails by the pool, relaxed in the hot tub, cooled off in the pool and baked in the sun. We dined at Watercolors in Boca Raton where I enjoyed a fried chicken wrap with a side of sweet potato fries and a Stella Atoir from the tap, served by a feisty waiter who insisted on telling us about his pet goat who had died and reappeared as a ghost.
Afterwards we drove to Sloan's in the lavish, cosmopolitan downtown area. They serve the creamiest homemade ice cream in an eclectic shop whose walls are lined with gag novelty items for sale (like the kind you used to see on the inside covers of comic books), a large scale model train that goes back and forth in a glass cabinet, and best of all, a bathroom with a full-length transparent glass door that entirely fogs up when the lock is turned. The boys loved playing with that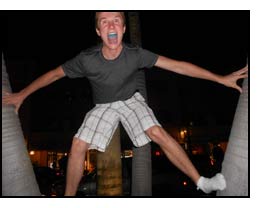 bathroom door, tying things up for those who might actually need to use the facilities. They were acting wild and untamed and got even more so after they ate their sugary treats.
The next day we spent four hours driving to, and touring, Florida Atlantic University, an undergraduate school that had captured Tristan's fancy. FAU is located on a sprawling campus in Boca Raton and caters to 30,000 students, surrounded by endless expanses of luscious green grass. The lawns and playing field overwhelmed my senses; senses which were used to seeing tiny, thirsty parcels of struggling Bermuda grass.
We joined a group of prospective FAU students and parents and, after sitting through an hour of facts and figures presented by an energetic admissions guy, were given a tour of the dorms, student union and athletic facilities.
Everything at FAU, "home of the Owls," is either brand-spanking new or meticulously maintained, unlike the University of New Mexico which is a bit ragged (and tagged) around the edges. There was no lack of spirit exhibited by our wholesome and clean-cut guides, and by the time I was released from their talons, this Lobo was tempted to collect my transcripts and submit an application (NOT).
Later that day we wandered through a crowded Mall in Boca. Tristan pleaded his case and received funds for a terabyte hard drive to attach to his Apple computer. Then Deven decided to collect on a promise to get his left ear pierced.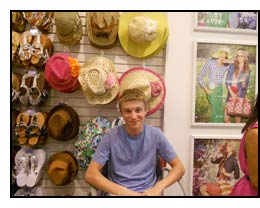 Deven steered his mom to a beauty salon and, after the two filled out endless legal paperwork, the young, pretty and fashionably dressed saleslady sterilized his earlobe.
The body piercer offered Deven a large teddy bear to hold and I quickly grabbed my camera, determined to immortalize the moment. He stared daggers at me. "Don't you dare snap that picture," he said with those doe-like eyes of his, and then he turned to her, "You better give the teddy bear to my mom. She needs it more than me."
Bonnie clutched the bear to her heart as the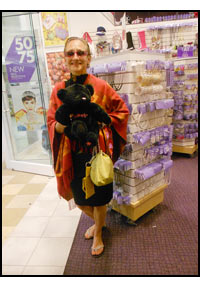 young lady pierced his ear.
In the end Deven and his mom walked away from this rite of passage feeling good. Deven got his ear pierced and Bonnie was delighted that her boy did not get some horrible disease from the procedure. So pleased, in fact, that she left a generous $50 tip.

It was inevitable that an element of reality would intrude into our final days at the Embassy Suites. Things were moving along too perfectly, like a television sitcom where voices are seldom raised, blows are never leveled and swear words are never spoken.
First I heard angry voices coming from the bedroom. Someone screamed "faggot!"
The younger brother had pushed things too far and the sensitive, dreamy-eyed 14-year-old came running out of the bedroom with his brother close behind.
"I'm sick of this shit!" shouted Tristan.
"Stop it! Just stop it!" yelled Bonnie.
"He started it!" accused the younger.
"Tristan," cried Bonnie to the elder, "leave him alone!"
"You're always taking his side," shouted Tristan as he forced the boy into the hall closet by the front door and began pounding him. The front door was wide open and the screams of the mother and her boys could be heard all over the third floor.
I decided to intervene when Deven's shoulder was slammed against the clothes rod. I approached Tristan from behind and wrapped my arms tightly around his chest and pulled him aside. Then I stood between the boys as Bonnie laid into the Tristan.
"You're just like your father!" she said and broke into tears. "I can't take it any more!" she cried. "Tristan, get away from him. Get into the bedroom, now!"
The memory of her ex-husband was too much for Bonnie to bear and she rushed outside the room, into the hallway sobbing. There wasn't much I could do to console her; she needed to cool off on her own and after a few minutes she managed to compose herself and re-enter the room. You could hear a pin drop.
"Are you OK, Deven?" Bonnie asked him. "Did he hurt you?"
"Not so bad." He removed his shirt, displaying nasty, scraped skin, slightly bloodied, the sort of injury he'd definitely feel in a day or two.
The hotel detective was milling around the hallway, tipped off by a maid or fellow lodger who must have thought somebody was being murdered.
"Everything's fine," Bonnie said sweetly as he tapped on the door. "Just one of those things: You know how boys are. Sorry about the disturbance."
The detective moved on, Bonnie closed the door and spoke calmly.
"I want all your stuff out here now. Are you packed?"
"Yes, Mom," said doe-eyed Deven.
I wasn't convinced. I had a feeling that something had been left behind.
I walked into the bedroom and checked under the beds. I found two quarters and handed them to Deven's friend, David, for staying out of the fracas.
I then walked into the bathroom, turned on the light and found a MacBook on the counter.
"I'm sorry you had to see that argument," Bonnie said to me as she gratefully accepted the laptop.
"That's OK," I said. "I feel like family now."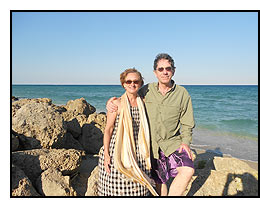 We carried our bags to the lobby and Bonnie settled the bill. Then we packed up the car and hit the road. Our next destination was Orlando, where I was going to be handed off to my friend Jim.
Bonnie drove out of town along the well-heeled, tree-lined Highway A1A that skirted the Atlantic Ocean. We sped past towering, luxury condominiums and meandering estates surrounded by mighty walls or tall hedges.
On rare occasions we would pass an empty, gated lot that was waiting for the real estate market to revive so that it too could be filled with yet more people.
Sometimes we would pass signs that warned us to look out for turtles — crossing and hatching turtles. One sign said that the street lights would be turned off at certain times of the year so as not to disturb their ancient breeding grounds.
We passed two of Donald Trump's houses and magnificent stone churches, sprawling country clubs, well-manicured golf courses and even these rolling green hills that had chimneys sticking out of them and lots of birds flying overhead.
"That's the world's largest landfill," said Tristan "Those vents release methane gas from the rotting garbage."
This pastoral drive had a calming effect on all of us but we eventually had to point our vehicle toward Orlando in Central Florida and the scenery changed dramatically.
"I don't know if I'd feel safe walking around here at night," Bonnie said as we drove through a treeless commercial thoroughfare. She pointed to a large business that sold seashells and told us about how she used shop there when she was a girl. She spoke of her grandfather who had owned a grove of grapefruit and orange trees outside Orlando.
We could have been anywhere, really: East LA, the Southside of Chicago or the industrial part of Albuquerque. Only the occasional palm tree reminded me that I was in Florida. Bonnie pulled into The Brass Ring Pub, located at 200 US Highway #1 in North Palm Beach.
The Brass Ring Pub, established in 1986, is housed in a drab creamy yellow building with a blue roof. It's probably not the sort of place you would visit unless you knew about it
beforehand: No golden arches here, no king on a bun, just a well-ventilated, divinely air-conditioned refuge from the sweltering Florida sunshine.
With its spacious floor plan, long bar and plenty of comfortable and spacious varnished wood booths, the weary, frugal traveler has struck the jackpot if he happens to find this place.
I don't frequent many bars but if I lived near The Brass Ring I would be a regular. This is a place you can take your kids, a place where a dozen eyes don't "size you up" when you enter the front door, a place where the friendly waitresses are attentive to the level of your beer in a frosted mug and where a Stella draft goes for $2.75.
The food wasn't bad either and the chicken wings were some of the best I've ever eaten. The boys had devoured at least three dozen chicken wings and didn't leave a bit of meat on their skeletal remains. The fries were crinkle-cut, commercial grade, most likely defrosted from a bag. I ordered fish and chips with homemade cocktail sauce for $6.95. It was filling but nothing to write home about. By the time we left the waitress was calling me "darling" and "sweetheart," just like they do in Albuquerque.
The three Stella's definitely hit the spot. We climbed into the car, filled up the gas tank, turned up the stereo and the air conditioner, hooked up with the Florida Turnpike and Bonnie put the pedal to the metal, merging with traffic that was averaging 85 in a 70 mph speed zone.
All that beer came back to haunt me and I asked Bonnie to pull over. I ran to the very edge of the shoulder to pee and when I returned Tristan showed me to a novel way of relieving himself called "checking the oil" where he leaned over the side of the passenger side of the car and, hanging on for dear life, managed to piss under the car without being seen. It was a smooth and discreet move but not one that I'm ever going to attempt.
We were 150 miles from Orlando when I received a call from Jim at 4 p.m.
"So, when are you getting here, Mister Chucker? Tomorrow?"
"No, I'm two hours away. I'll be there by six."
"OK. No problem . . . I thought you were coming in tomorrow."
"Where exactly are we supposed to be going?" I asked.
"58033: South Hall Convention Center."
"Is that a street address?" I asked.
"No, it's a booth space. I've got to go. See you soon."
Click.
"So, where are we going, Chuck?" Bonnie asked.
I checked my itinerary.
"It looks like we're supposed to go the Orange County Convention Center."
Two hours pass and we eventually drove past a huge building on International Drive with enormous fan-shaped windows.
"Oh, what a pretty building!" Bonnie cooed.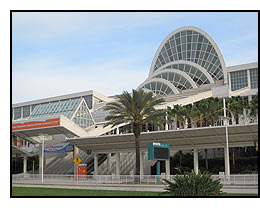 "That's where we want to go. Make a U-turn — we just passed the entrance to the South Hall."
Bonnie made a U-turn and pulled into a busy intersection but got stranded near a traffic island, next to a stoplight that wouldn't turn green.
"What now?" she said in frustration as the minutes passed by.
"You overshot the sensor," said Tristan. "The light's not gonna change unless you trigger it. You've got to back up, Mom."
And so Bonnie shifted into reverse and carefully backed up 20 feet or so. The light turned green after her car entered the inductive loop and she drove into an enormous empty parking lot adjacent to the convention center.
Bonnie parked and I was overwhelmed with anxiety. What if Jim had not been expecting me? Where would I stay? I hadn't seen him in over a year. Maybe he had changed. Maybe I had changed.
"Everything's going to be fine," Bonnie said reassuringly. "Don't worry."
"Should I bring my stuff?" I asked as they began to exit the car.
"Yes, bring it," she said firmly.
So I reluctantly pried my carryon and backpack out of the SUV and we headed to a long escalator that caught my eye. We rode it up and entered into the grand atrium of the spacious, lushly carpeted, glass-covered building. Then we descended another escalator and arrived at a dozen locked steel doors that lead to the floor of the convention center. A security guard with flowing dreadlocks said we could not enter unless we were wearing yellow Velcro wristbands.
I introduced myself, complimented him on his Rastafarian fashion sense and somehow managed to win him over.
"Let's go to security and I'll set you up," he said.
We were herded into an office on the other side of the building. Armed with Jim's booth number, company name and flanked by two buff, teenage boys, we looked harmless. We looked like family, I suppose, and were issued bright yellow wristbands. Now we could go anywhere we pleased at "NPE2012: A celebration of Plastic Ideas, Innovation and Insight."
Some people come to Orlando to go to Disney World but I was here for one thing and one thing only: To lend support to my best friend as he introduced the public to his American-owned Chinese factory.
I have been to several tradeshows in my life, most notably Graph Expo at the McCormick Place in Chicago and most recently Adobe Max in Los Angeles at the Staples Center, and I never gave much thought to how these things come together. Now I was about to be immersed in its birthing.

NPE is the world's largest plastics conference and having a booth there is a way of getting new leads for established businesses. For Jim it was really more of a coming-out-party. He was not only a businessman; he was now acting as a diplomat as he attempted to break down cultural barriers and expand the global economy.



Bonnie, the boys and I were now allowed to enter the sweltering main exhibit hall which was in a state of total chaos. We wandered through a million square feet of grey concrete floor littered with the remains of gigantic wooden shipping crates and packing material.
Signs, posters, mysterious and sparkling inventory was being unboxed by the burly, tattooed Union staff. Other workmen were hammering, sawing and running electrical wires in booths whose borders were defined by industrial masking tape.
We finally found Jim. His 1600 square foot booth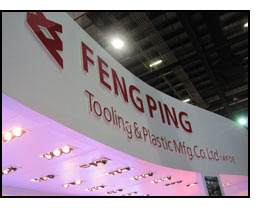 was twice the size of my house and one of the largest in the show: a graceful structure whose contoured walls curved beneath a sturdy, cantilevered ceiling.
The company name, "Feng Ping," jutted out of a towering partition in bold, three-dimensional letters. Each letter had been meticulously cut from sheets of bright red plastic and mounted on three-quarters-inch of intricately carved styrofoam that was precisely aligned and spaced. The dramatic shadows cast by the lettering definitely drew people into his booth and I didn't see that graphic technique used by anybody else at the show.
Deven and Tristan eventually got bored and Bonnie, confident that I was in good hands, decided it was time to leave. I walked them to the exit and when I returned I tried to grasp what my friend had done.
Jim had brought nine men and three women to Orlando from his 300,000 sq. ft. factory located in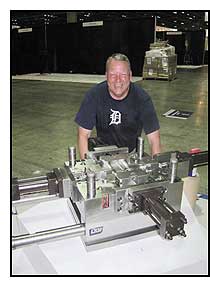 Guang Dong, China. The factory employs 400 workers, including 86 engineers and has 18 presses that can make 120 molds a month. The company grew from nothing to sales of $15 million in only three years and is on track to become a $25 million business.
Jim introduced me to his American salesmen. They first regarded me with a little suspicion but once they realized I was not a threat to their livelihoods, and once they understood that Jim and I "were Boy Scouts together" (as we always explained our past), I was warmly welcomed.
Jim searched through his bags and found an orange shirt that had a dragon embroidered on its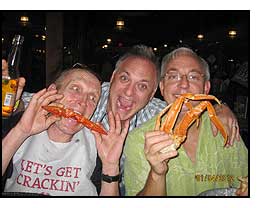 back. Then he gave me an engraved plastic name tag that read "MR. CHUCKER" to pin on the shirt.
"I had different colored shirts made for each department because I got confused about who was who," he said as he tossed me the neatly pressed shirt, wrapped in cellophane. I proudly put on the shirt and felt like a member of the team.
Everybody was famished so we eventually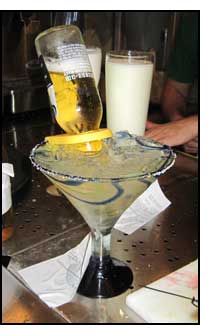 abandoned the booth and walked to the parking lot. My bags were thrown into the white van bearing the "Feng Ping" logo and we drove to Joe's Crab Shack where Jim and John treated us to a magnificent dinner of Dungeness crab, crawfish, potatoes, corn on the cob and plenty of ice cold Coronas.
A specialty drink called the Mexican Bull Dog was making the rounds. A bottle of Corona is flipped over in a really big margarita glass. The beer slowly runs into the glass as the level of the margarita goes down. The drink made us all silly and in a classical turn of events, John (Jim's brother) and Raymond (the electrician and a close friend of the brothers) each posed as Jesus on the Cross. John was good but Raymond was better and Benjamin, a member of the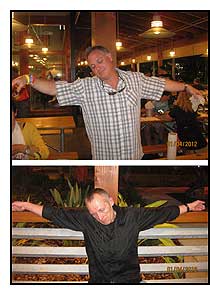 Chinese team, did a great job of capturing the moment for posterity.
Following dinner we drove back to the Rosen Center Hotel, a peach-colored skyscraper that dominates the downtown Orlando skyline, right across from the Convention Center.
John checked me into the hotel and told the clerk to charge all my expenses to the company. I was given the swipe key to a luxurious room on the 17th floor with a magnificent view of the sparkling city below, a comfy bed and a big screen TV.
After I settled in, cleaned up and put on my jazzy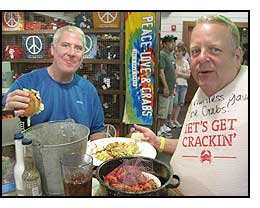 board shorts, I met up with "the boys" (Jim, John and the salesmen) by the poolside where I took a quick dip in the hot tub and splashed around in the humongous pool. We stayed up late into the night sipping Grand Marnier that we washed down with ice cold Corona.
The next morning I met the guys in the restaurant at 7:30 for a generous buffet breakfast and then we piled into the company van for the short ride to the convention center.
It took 16 guys working 14 hours a day to build the booth, or close to 1,000 hours total. The booth was designed and prefabricated in China for about $42,000 plus $12,000 shipping. This also included the cost of the two 8 by 6 foot video screens. The same booth would have cost $230,000 had it been built in the states.
Building the booth was like building a house. Everything arrived from China in two 40-foot shipping containers that had to be carefully unboxed and assembled. A crew of union carpenters found ways to repair things that had been damaged in transit and they also hand-placed lettering on the walls of the evolving structure.
The two 8 x 6-foot LED screens caused huge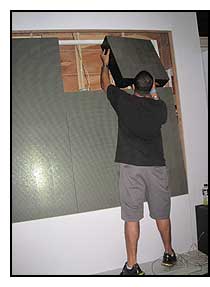 problems from the start. Twelve individual LED panels (each panel was about 2x2 feet) made up a single screen that was stacked three panels high and four panels wide. The two screens had been inset into walls at opposite sides of the booth and one would have thought they would have worked after a video signal was sent through them.
The panels, after a bit of tweaking, finally did turn on, but each of the 12 panels that made up an individual screen had been placed in the wrong order. It looked like a scrambled picture puzzle game and both sets of screens had to be laboriously removed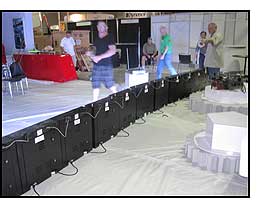 from their walls. Then, each panel had to be tested and labeled with its proper position so that there could be no doubt where it was supposed to go.
If all this sounds complicated, tedious and time-consuming, it was, and in the process of all this reshuffling, two exotic cables were lost and Raymond had to fabricate new cables from spare parts that luckily came with the shipment.
I was amazed that Jim and his brother John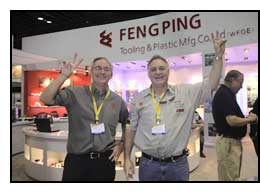 managed to stay calm and collected from one devastating problem to another. It took every bit of six hours to resolve that LED screen situation and when the hardware was finally in place it took an hour or so for Benjamin, our tech wizard from China, to get the video images to play. However, I noticed little white boxes appearing at the top corners of the big screen and I brought that to Jim's attention.
"It's OK . . . good enough," Jim said but I kept nagging Benjamin until he managed to make those distracting artifacts go away. He finally succeeded but had no idea how he did it. There are times when no rational explanation can account for a computer problem fixing itself.
The next big catastrophe had to do with the electrical system: the breaker box in the electrical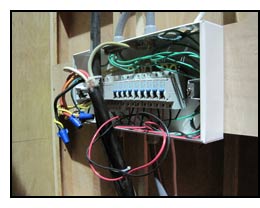 closet kept tripping its switches, causing the booth's lights and the LED screens to shut down. No sooner did we notice that problem then we were visited by the master electrician of the convention center. He accused us of being the cause of major electrical disturbances that were being experienced at other booths. But he said that such things happen all the time and that he had hundreds of temporary, robust breaker boxes stored away which would resolve the problem.
I watched in awe as the master electrician cut the thick lines from the original feeder cables that lead to the main circuit panel. He bypassed this cheap circuit panel and sent all the booth's wiring through a massive, robust portable circuit breaker that he guaranteed would not trip.
It took the master electrician and his assistant less than a couple hours to resolve that electrical problem and when they were done they got into their little electrical cart and prepared to speed away.
"Don't you think we should test the LED screen before you leave?" I timidly asked them.
The electrician reluctantly stuck around for us to test the screen and when the circuits didn't trip he gave me an "I told you so" look before racing off to his next job.
"Do you think they'll charge for this work, John?" I asked Jim's brother.
"They charge for everything around here," he said laughing.
The rest of Friday and Saturday was spent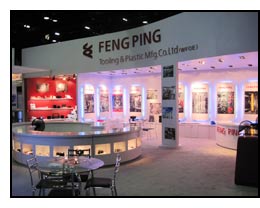 hanging pictures, patching unsightly joints in walls, placing samples, removing the heavy plastic sheeting that protected the plush carpet underneath, and cleaning up tons of trash. Slowly but surely the booth began to take on a life of its own. Finally, when it was in as good a shape as it would ever be, Jim began handing out $100 tips to the Union workers.
It was 4 p.m. on Saturday when the booth was finally "done." Samples were placed on custom built ledges of the display cases, illuminated by cleverly recessed halogen lamps.
Jim gave orders that any Chinese exhibitors from other booths were welcome to visit his Chinese employees but only before or after the show. Jim only wanted prospective customers on the floor of his booth from 9 to 5. Not only did he want to minimize socializing but he also feared that his competitors might want to steal his employees.
Jim introduced me to his 23-year-old girlfriend in China via a Skype connection. She was gorgeous: Long straight hair, beautiful body, spoke good English and was a bit on the jealous side. She told me she misses Jim, she loves Jim and she got all pouty if the mere suggestion of another woman arose.
Max and Tom Sanderson, two English brothers, arrived from China on Sunday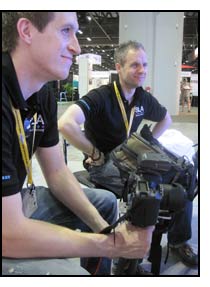 to document Jim's participation in NPE 2012. They had found a lucrative niche in the manufacturing community: creating short video montages, set to music, of factories and what goes on within them. These videos were then used for promotional purposes on YouTube at tradeshows and company events.
The brothers Sanderson had already made two videos for Jim and they were being played over and over again on the two big LED screens. These lively videos could be seen from hundreds of feet away and were magnetically drawing people into the booth.
Max and Tom advised me to learn Adobe Premier. I watched several of their new videos and greatly admired the way they sped up action, created transitions and close-ups. I was also excited about the way they created very readable captions: Their lettering was highlighted with an elegant black shadow that did not distract the viewer from the content. This kind of captioning would have made the best subtitles for any foreign film.
I got to know Jim's Chinese workers better. My favorite among them was a man named Benjamin. That's not his real name of course. Most Americans could never get their tongues around Chinese names and that's why they Americanize them.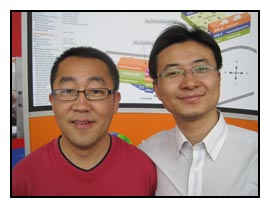 Benjamin was in his mid-30s and didn't look much older than a teenager. He had a wife and two kids and, while that may sound strange to those who know about the infamous Chinese one-child policy, it turned out that the kids were twins, which the government tolerates.
The mainstream press began arriving at the show on Sunday. A reporter from Plastics News snapped photographs and asked questions of Jim who was positively glowing during the interview. Meanwhile, John rallied his Chinese workers who had just returned from a whirlwind tour of Disney and Sea World, while the salesmen kept busy roleplaying, as if they were interacting with customers.
Later, a reporter from Plastics Today Magazine named Tony Deligio showed up to interview Jim and John. The entire Chinese staff gathered around Tony and applauded him after his arrival to the booth, and the reporter greeted each of them politely. Jim owed much to Tony for his success because he wrote three articles about Jim's company in his highly-respected trade magazine.
I watched in awe as Tony conducted a 30-minute interview. He used a three-inch notebook to capture quotes and facts and he didn't use a tape recorder. Instead, Tony gave Jim 100% of his attention, asked intelligent questions, listened very carefully to what was being said, and occasionally wrote something down.
I was humbled to be in the presence of a professional journalist and I was proud that Jim was getting media attention. This kind of free publicity is the sort of thing that money cannot buy.
When a reputable journalist like Tony Deligio breaks a good story, other trade magazines are quick to follow in his tracks. Then things start to snowball and before you know it, the mainstream press (i.e. Chicago Tribune, Bloomberg) is knocking at your front door.
Later that night, after we left the convention center, I slipped on my Columbia board shorts (the purple ones with lightning bolts) and headed out to the hot tub. The crowds were gone and I had the whole place to myself. I settled into my back and forth pool/hot tub routine and noticed a slender, virtually hairless adult male settled down next to my furry body. It was no other than Benjamin, one of the engineers that Jim had brought with him from his China factory.
"You followed me, didn't you?" I asked.
"Yes, Mr. Chucker."
"I'm glad you did," I said.
Words don't mean a whole lot at times like this (especially when you can't understand each other's language) so we just relaxed under the gaze of the waxing moon and let the warm, bubbling water do its magic.


Monday. It was amazing what a little air conditioning could do to lift one's spirits. The convention center finally turned on the air conditioner a couple hours before the show began and Lord, you'd swear you arrived at the North Pole.



The locals told me the last place you'd want to be on a day like today was Disney World, so I felt good about being in the convention center. But I was also getting bored because Jim and the salesmen were all busy greeting visitors now that the show was in full-swing.
So I spent the rest of the morning touring the adjacent exhibit hall and checking out the big machines that were now calling the place home. The presses, robots and injection molders were wonders to behold: They never tired of spitting out products and assembling them into useful objects that most of us take for granted.
I watched robots play basketball and I met a vendor who had come up with an ingenious plastic replacement for the time-honored wooden pallet. I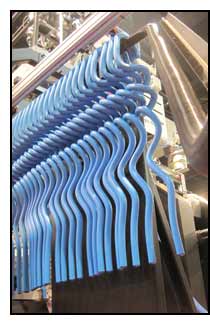 spent ten minutes refreshing myself at an oxygen bar after winning that prize on a roulette wheel sponsored by Plastics News.
I walked to another booth and, after waiting in line for 20 minutes received a free blue plastic cane whose spiral shape could hold a water bottle! As I continued my walk I was repeatedly stopped by envious people who wanted to know where they could get a cane of their own.

When I returned to Jim's booth I noticed he had ordered a keg of craft beer that was standing on the counter. I had a few and then I proceeded to make myself useful by replacing the plastic liners of the overflowing garbage cans. Meanwhile, Jim's Chinese male employees labored over their laptop computers while the Chinese women charmed the passing throngs and provided translation services. It must have felt like poetic justice for my new Chinese friends to see Mr. Chucker doing menial drudge work, but I cleaned up after them "with a will."
A great cheer was heard all over the convention center when the clock struck five. The lights dimmed and the air conditioning abruptly shut down. It had been a great day at the NPE Plastic Conference for Jim and his salespeople. They had gotten tons of good leads and spoken to many potential clients.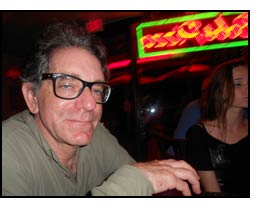 We ate dinner at Hooters and enjoyed endless chicken wings, oysters, crab, calamari and bucket after bucket of Coronas.
On a somber note I learned that Raymond, Jim's electrician and right-hand-man, had a stroke earlier that afternoon. Jim wanted to know if I could rearrange my plans and extend my visit for another couple days so that I could help him out. He breached that subject after dinner, as we were walking back to the hotel under the full moon.
"I can't stay, Jim. I wish I could," I said. "My tickets are all bought and paid for . . . People are expecting me."
He grunted and handed me a red strawberry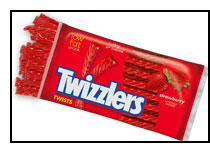 Twizzler. I don't generally eat sweets but I took one and popped it in my mouth. It tasted so good that I grabbed a few more from his three ounce stash, stuffing them into my mouth as if I were suffering from a serious case of junk food deficiency.
Jim turned to me and said, "You know what star that is, Chuck?"
I looked to where he was pointing.
"That's Venus, isn't it?" I said, remembering something I once learned in the Scouts.
He pressed an app on his smartphone and held it above his head. A sky chart filled its tiny screen and he compared that with what was shining above our heads.
"You're right, Chuck: It is Venus."



So I guess I had accomplished what I had set out to do by coming to Orlando: I had "been there" for Jim, like he had "been there" for me in 2007 when I was an organizer for the Pulsed Power Conference in Albuquerque. And this trade show was no less a defining moment in his life as the Pulsed Power Conference had been a defining moment in mine.


Orlando International Airport is a sprawling place in the middle of nowhere and Dave, one of Jim's salesmen, reluctantly agreed to drive me to it at six in the morning in the company van after reminding me about the $19 hotel shuttle.
"I know all about the shuttle," I said testily. "But Jim said you'd drive me and I'd prefer not to take the shuttle."
Dave sped down the freeways but had to stop every five miles or so to pay a couple dollars in tolls. The natives must take these tollbooths for granted but it confuses us out-of-towners.
Security at the airport wasn't bad, although the X-ray guy did spot a little knife-fork-and-spoon camping combo I didn't even know I was carrying. I was taken aside and the TSA guy rifled through my luggage until he located the culprit and examined it with a critical eye. He then put it back in my luggage and let me proceed. I had no problem carrying my squiggly blue plastic cane through security. With a little luck, I would give it to Jennifer Wren when I return home.
I boarded a fully-booked flight to Baltimore-Washington-International Airport and we sat on the tarmac for a while behind a line of other jets waiting to take off. Directly in back of my seat I heard a miniature dog yapping from a portable crate.


It's a two hour non-stop flight from Orlando to Baltimore Washington International Airport, located 40 miles from DC. The Metro B30 express gets you to the outskirts of the nation's capital in about 30 minutes for six bucks, traveling through rolling hills, past charming colonial structures and ending at the Greenbelt station.
From there I entered the confused commuter rail system where I barely managed to convince a burly transit worker to leave the cozy confines of his bulletproof enclosure and help me in buying a ticket to my destination.
Those tickets were issued by a machine and priced according to an intricate zoned system, based on distance traveled. A commuter needs to hold onto his ticket in order to exit the computerized turnstiles. So, if you didn't pay the correct amount when you entered the system, you'd have some explaining to do to the transit police if you wanted to get out.
I got off at the Mount Vernon Station and walked several blocks to Hostelling International at 1009 11th Street NW. I was given a magnetic card to my all-male dorm room, a small white towel, and told to read the rules.
This clean and safe eight-story hostel is located in a nice area of DC but has the slowest elevator on earth named Suzie. "If you don't like Suzie you can either cultivate patience by learning Zen meditation or you can take the stairs," says a sign posted beside its shiny metal doors.
I was assigned a top bunk in a room I shared with ten other guys. I figured there were both good and bad things to be said about being in a top or a bottom bunk so I didn't really care one way or another.
I washed up, stored my stuff in a generous locker next to my bunk and secured it with a lock that I had brought from home especially for that purpose.
I then took a healthy hike to the Newseum, located on Pennsylvania Avenue and 7th Street, a museum dedicated entirely to five centuries of news history.
From the moment I entered the six-story museum I felt like a little kid in a candy store. The $22 ticket was good for two days and I would need all that time to explore the place.
I began my visit by watching the 4-D orientation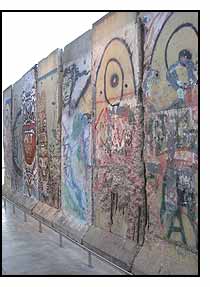 film which included the added dimension of motion. The seats jumped all over the place when the earth quaked or bombs fell. After that I checked out the eight massive, graffiti-covered panels from the Berlin Wall (the largest collection of its kind outside of Germany) that stood next to a creepy three-story East German guard tower. Then I jumped into a glass elevator that delivered me to the sixth floor and spectacular views of the National Mall and the US Capitol.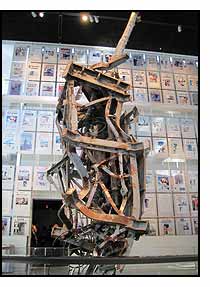 The fifth floor had a gallery featuring 30,000 historic newspapers and magazines dating back to the birth of movable type. The September 11th Gallery on the fourth floor reconnected me with that unforgettable day through the front pages of 127 newspapers and I also got to see an enormous, mangled piece of the antenna mast that stood on the North Tower of the World Trade Center.
The third floor reacquainted me with some of journalisms greats, like Edward R. Murrow and Daniel Pearl and I also got a heavy dose of Steven Colbert, Tina Fey and the whole Saturday Night Live crew. There were tributes to Captain Kangaroo, Walter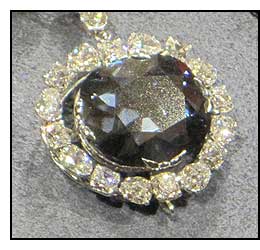 Cronkite, and I saw the gold-plated microphone used by Rush Limbaugh. I also got a one-on-one tour of the Knight Studio, a 1,100 sq. ft. high-definition television studio where each camera costs a quarter million dollars.
The Newseum closed at 5 pm and I planned to return the next day. I walked to the Museum of National History with the intention of viewing the Hope Diamond but I also found the many other crystals, minerals and meteors there that were just as interesting. I spent hours marveling at their sizes, colors and shapes.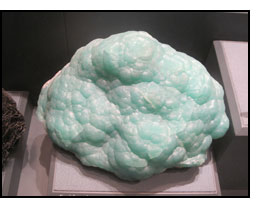 Later, I walked back to the hostel and, along the way ate at Potbelly's, one of my favorite places to score a submarine sandwich. Nobody can build a "Wreck" sandwich like they do at the Potbelly's at Midway Airport in Chicago but these guys definitely gave it their best effort.
I relaxed at the Hostel but had trouble talking to people because so few of them spoke English. I finally gave up and crashed in my little bed on the sixth floor and enjoyed a good night's sleep,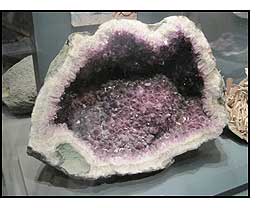 swaddled in the upper birth of my sturdy, wooden bunk bed.
I awoke refreshed the next morning and ate breakfast with the other hostellers. A member of the staff said I had to say good morning to him in a language other than English before I could enter the dining room. I said, "Guten morgen!" and spent the next half hour indulging in an all-you-can-eat buffet of oatmeal, eggs, fruit, bagels, and every kind of drink imaginable.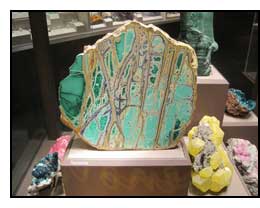 I spent the next five hours revisiting the Newseum, being sure that I had left no stone unturned. The last thing I did before leaving was play the part of a sports reporter before a green screen, reading a script that was rapidly scrolling on a teleprompter:



Having "done" the Newseum, I walked across the street and visited the National Gallery where every painting and sculpture conjured up a sense of deja vu because I grew up looking at them all in my grade school textbooks.
One of the strangest paintings in the gallery was one done by Samuel Morse, the inventor of the telegraph and the code that shares his name. Entitled "Gallery of the Louvre" this monumental canvas depicts 38 paintings from the Louvre's collection, reproduced in miniature, filling a room of that gallery from floor to ceiling. Who would have thought that Morse could paint, let alone could have created such a crowd pleaser?
Easels were set up all over the rest of the museum's galleries so that artists could copy the art.
"You could teach Eakens a thing or two," I said to a pretty young lady who was copying "The Biglen Brothers Racing." She was flattered by my bon mot and the ice was broken.
She said an artist has to apply for the privilege of copying a masterpiece at the National Gallery and they must undergo a battery of background checks before they are allowed inside the gallery with their brushes and paints.
As my energy level sunk to historic lows I was delighted to see that many of the galleries contained large, cushy sofas so that I could contemplate the art and also relax my aching feet.
I high-tailed my way back to the Hostel when the clock struck three, grabbing another Wreck at Potbelly's along the way. The management of the Hostel let me store my bags in the oversized, computerized lockers in the basement and, once I retrieved them I made my way to a nearby bus stop and caught a circulator that took me to Union Station.
I arrived at the terminal well before its departure time and asked a ticket agent whether I could swap it for an earlier train. Luckily there was an unsold seat and it was mine for no extra charge. So I boarded a regional commuter train that took me to Penn Station in downtown New York City within three hours.

As usual, Shelly was waiting for me in her SUV and we managed to connect without too much trouble, though I am always overwhelmed by the exciting sights and sounds of the Big Apple at night. She had sandwiches and juice neatly packaged and ready to eat as we made the long drive back to Brooklyn.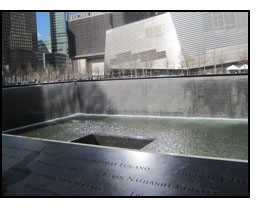 I slept like a rock that night and next morning, after a healthy breakfast of toast, peanut butter, and sliced apples, we walked to the corner and boarded a comfortable and clean express coach that took us within a block of the 9/11 Memorial for just a few dollars. We walked in and around Trinity Church and were told that we could enter the memorial early since our papers were in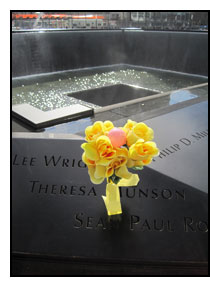 order and things happened to be slow that day.
We passed through at least five levels of security, some as thorough, lengthy and invasive as the ones I had been through at the airport. But it was all worth it because I was amazed by the beauty and peacefulness of the memorial, so much so that I began to scribble down the first poem that I have written in 20 years:

On Visiting the 9/11 Memorial

I thought it would be like Niagara Falls
—Tons of water hurling over a cliff
Overwhelming my senses like an ambulance bearing down the road

. . . Instead it was like an endless curtain of shimmering tears
Falling into a vast pool
And into the place I could not see.

I thought the sound of all that water
Would be like thunder
Like ocean waves during a storm

Instead I heard the calming sound of three thousand
Million tears
Washing away the anger and fear
A soothing balm
A gentle touch.

The water is moving
The names are fixed
Are etched in bronze

And even when the snowflakes fall
The letters rise to the surface
They say
I was here I died in the rubble I lived a good life

And off to the side
A pear tree grows
It survived the attack
And flourishes.

I'd like to visit this place when the sun hits the water in a certain way
Leaving rainbows of color in my eyes.


The next day Shelly and I visited the Brooklyn Botanical Gardens, a ritual we repeat every time I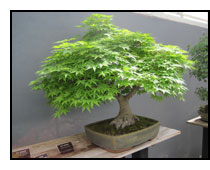 visit because she has a membership there and also has a great appreciation for green things. I especially enjoyed looking at the Bonsai trees which were cute and petite in the same way that brussel sprouts are cute and petite.
Later, we jumped into the car and drove to Jane's Carousel, but Shelly later regretted that we didn't take a bus because many of her familiar two-way streets had become one-way streets and the maps on her GPS had not been updated in a long, long time. The friendly GPS voice was constantly luring her into potentially disastrous situations. Street parking at our destination was non-existent, forcing her to use an underground garage with a beefy, tattooed valet that charged $20 for the first hour.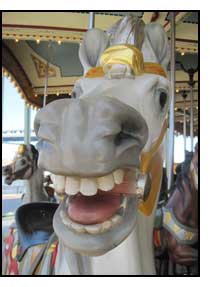 Jane's Carousel is a lovingly restored, antique merry-go-round: a living, fully operational monument to a bygone era. Built in 1922 by the Philadelphia Toboggan Company, it contains 48 carved horses and two chariots. The Carousel is located between the Brooklyn and Manhattan Bridges, in the DUMBO (Down Under the Manhattan Bridge Overpass) section of The Brooklyn Bridge Park, on the East River.
Sheltered in a protective glass house with a splendid view of the Brooklyn Bridge, Jane's Carousel is very much at home in a section of the city that is filled with the most exquisite cobblestone streets I have ever seen. I also saw shiny rails that used to guide old street cars through this historic district.
So Shelly sat on a restored wooden horsey on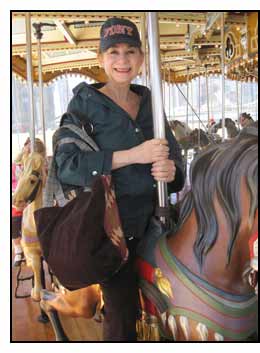 the inside track that went round and round and up and down. I sat on the outside track and my horse went round and round, but not up and down.
We ate lunch at a nearby, glistening art deco Italian restaurant with reasonable prices. Shelly had soup because she had just undergone surgery to remove an impacted wisdom tooth and I had fried calamari. She told me that she was having trouble with her plumbing and wanted to replace two of her toilets.
We stopped at Lowe's on the way home where and she bought a couple handsome American Standard Cadet Toilets. The boxes were huge but, with a little help from a store clerk, we managed to fit them in her SUV and, upon arriving back at her house, slipped them into her little garage to be installed at a later date by her handyman.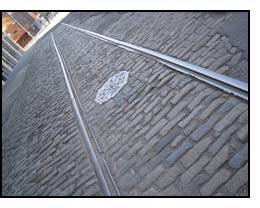 The next day Shelly's sewer system went bad, necessitating a call to a plumber who didn't show up until late that evening. My sister had definitely given the matter of removing the obstruction in her basement toilet her best effort: She pulled out a monstrous 4' auger and inserted it down the throat of her 20-year-old toilet and cranked like a pro. I thought I knew something about unstopping toilets with my handy-dandy plumber's helper but she definitely took things to the next level.
The sewer guys finally arrived at 7 p.m. and discovered that the main cleanout was clear so they sought another place in the house to locate the problem. Shelly pulled up four loose planks in the middle of her basement office which revealed a four-inch, cast iron pipe with a removable plug. Louie grabbed a Roto-Rooter, the snake was inserted and the obstruction (leaves and debris from an outside drain that connected to the office bathroom) was soon detected and removed. Sewage finally flowed with ease from every branch of the antiquated, 100-year-old system.

I spent the next morning carefully packing clothes that I had washed the day before. At one point I slipped onto Shelly's outdoor patio and basked in the sun. Soon it was time for me to leave Brooklyn and head to midtown Manhattan where I would spend the final day and night of my vacation with my nephew, his wife and their two kids.
It has become somewhat of a tradition that I would end my east coast trip visiting my nephew in his glass and steel condominium that rose high above the Hudson River.
Suffice it to say that during my visit I ate the most amazing duck ever, drank a bottle of potent cabernet, played a vigorous game of Frisbee with my nephew and grandnephew, enjoyed the company of grandniece and her two delightful Jack Russell terriers while she read the latest Henning Mankel mystery and the rest of us watched ABC's new pilot daringly called, "Good Christian Bitches."
We also munched on fresh bagels and cream cheese and walked through the campus of Columbia University in Harlem. The next day Chris graciously dropped me off at my gate at La Guardia for my return flight home.
I took a deep breath of fresh air after arriving in Albuquerque. I could immediately tell that the pollen levels had dropped to reasonable levels.
I was ready to carry on with my life . . . until my next adventure.
Thank you for visiting Chucksville. Please sign my guestbook.