The Albuquerque Isotopes were crushed in a devastating 18-5 loss on July 6 at a home game against the Oklahoma Red Hawks.
For those of you not familiar with our boys of summer, here's a little background info: Albuquerque's minor league team used to be called "Dukes" and was a farm team for the Los Angeles Dodgers. One day the Dukes up and left Albuquerque: Our stadium wasn't good enough and they weren't getting the sort of money they wanted.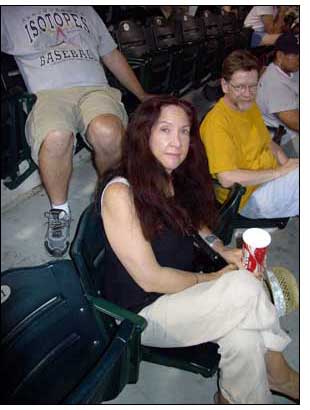 At this point former mayor Jim Baca decided to build a shiny new ballpark that attracted the farm team for the Florida Marlins. The team was renamed "The Isotopes" after an episode of "The Simpson's" which used Albuquerque's name in vain. Their new logo is a big "A" encircled by a subatomic particle and its mascot is a very scary creature named "Astro."
It's been a couple years since I have gone to a game, but my time had definitely come. I had recently been laid off from my job of 11 years as the manager of a copy center and I had just gotten a new job as an "editorial technician."
My previous forays to the ballgame (and this one as well) were my good friends Dan Ritchey and Melinda Jordan.
I first met Dan when he was a copy editor at the Albuquerque Journal and I worked in the back shop as a printer. Dan left the paper about the same time I did and ended up in the childcare center at UNM. He now works as a T.E.A.C.H. scholarship program director for New Mexico.
Melinda is a part time administrator at UNM's dance department. She recently helped organize an international Flamenco festival and also pulled together a magazine, t-shirts, billboards and myriad promotions for the event.
In short, we were all pretty stressed out and in need of some light entertainment.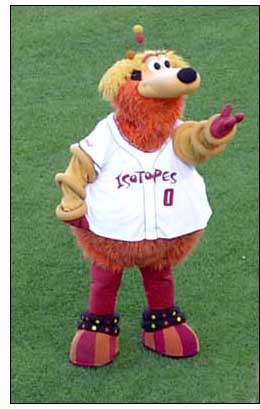 We met at 6 p.m. for Happy Hour at Stella Blues (an excellent Grateful Dead-themed bar at the corner of Girard and Central). Then Dan, our designated driver, drove us to the ballpark where we got our usual cliff dwelling seats overlooking the third base line.
The Isotopes were doing pretty good until the sixth inning when they gave up six runs. They followed this brilliant performance by giving up seven runs in the seventh inning. This, however, did not keep us from joining in on a spirited rendition of "Take Me Out to the Ball Game" during the seventh inning stretch.
The three of us managed to eat two delicious foot-long Hebrew National Hot Dogs (they answer to a higher authority). Melinda washed her hot dogs down with a Diet Pepsi while Dan and I shared a brewsky.
A fun time was had by all, even if the 'Topes did lose by a landslide.
One of the best things to do after the game is to watch the kids circle the bases. Children of every size and shape run all way from first base to home plate, under the careful guise of the Albuquerque Police (who makes sure they are returned to their parents). They run with all their might, bursting with happiness.
Thank you for visiting Chucksville.