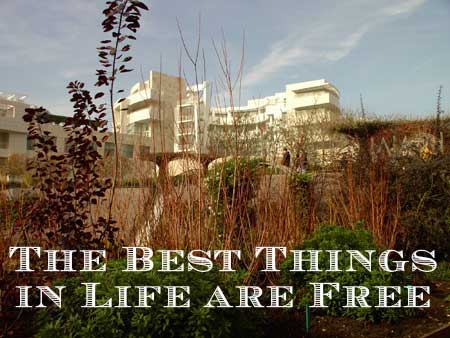 Billion Dollar Baby
They say that the best things in life are free but finding a way to have fun in Los Angeles can cost a pretty penny.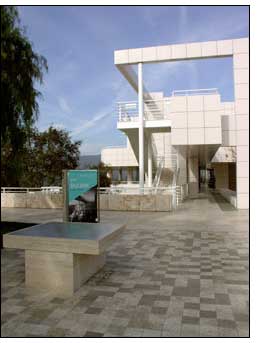 The Getty Center, built on a hill in Brentwood, California does not charge admission and parking is only $7 if you insist on driving. This makes visiting the Getty Center one of the most affordable attractions in LA.
I recently visited the Getty Center with my brother-in-law Paul who, with my sister Linda, was also visiting Mom for the winter holidays.
Paul and I relied on a combination of light rail and bus to get us to the Getty Center from my Mother's retirement hotel. Our two-hour commute was exhausting, especially after we left LA's clean and fast rail system and climbed aboard the crowded and slow-moving buses. By the time we arrived at the Getty I was thoroughly fed up with the city's noise and congestion.
I experienced an immediate sense of relief and decompression when I walked onto the museum grounds. We were warmly greeted us by the museum's friendly staff who gently herded us aboard a computer-operated tram that took us from street level to the top of a 400-ft. hill in less than five minutes.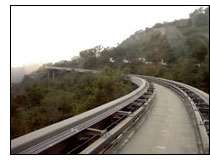 Richard Meier designed the $1 billion Getty Center. It overlooks the San Gabriel Mountains to the east, Los Angeles to the South and the Pacific Ocean to the west. Meier wrote about the first time he saw the building site in his book, Building the Getty, "Where I could not see the freeway, I could not hear it, so it was possible to be in the open air and still enjoy relative silence."
The museum is indeed a veritable oasis from the smog and noise of the city. The campus consists of six building and a vast marble plaza. The buildings are clad in a million square feet of rugged, cleft-cut, travertine mined from a quarry in Bagni di Tivoli, north of Rome. "I wanted to use stone cladding sufficiently thick to convey the phenomenal weight and gravity of the material," writes Meier.
During my visit I was determined to see a small part of the Getty's vast collection of two million photographic prints. Luckily an exhibit entitled "Julius Shulman, Modernity and the Metropolis" was taking place.
Shulman's architectural photographs transform his subject matter into heroic masterpieces that reflect a long-gone era. I marveled at iconic photographs of skyscrapers, houses and gas stations. "Case Study House #22, Los Angeles, 1960" was definitely a showstopper.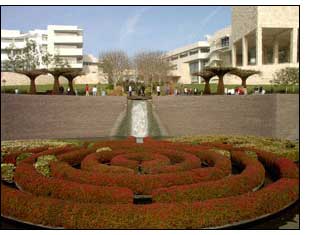 Another nearby exhibit featured crime scene photography of Arthur Fellig. Popularly known as "Weegee," (coined from the Ouiji board) he lived, for part of his life, in a small room across from the Manhattan police headquarters. Weegee was an unshaven, tough-talking, fedora-wearing, cigar-smoking loner whose depression-era photos delighted the voyeuristic, newspaper-reading public.
My exploration of photographs ended with "Pictures for the Press," a display of historic news images that have appeared in newspapers since 1935, when the Associated Press Wirephoto network was born.
Next came The Flower Gardens, a 134,000 sq. ft.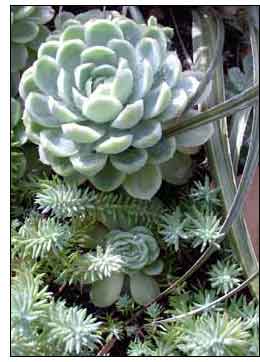 living tour de force designed by Robert Irwin. This is a place to contemplate and meditate. A well-groomed trail crosses a stream that leads to meticulously groomed gardens featuring colorful and unusual plant species.
My brother-in-law then treated me to a fabulous birthday lunch in the museum's elegant cafeteria where a healthy and filling meal can be gotten for a reasonable price. Comfortable tables with spectacular views were scattered throughout the light-flooded dining room.
I spent the rest of the afternoon racing through the rest of the museum, knowing that it would be a while before I returned. Paul and I left the museum at 3 p.m. and spent the next few hour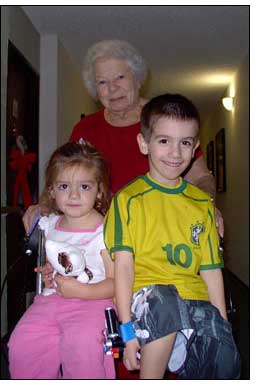 s battling our way home on a confused array of crowded, unreliable buses that eventually connected to LA's spacious and reliable rail system.
The remainder of my visit to LA was spent socializing with family. It was nice spending time with Mom, my sister, my brother in law, my niece and nephew and their kids. And it was delightful to watch Mom race through the Hotel's vast corridors with my grandniece and nephew precariously balanced on the rails of her sturdy wheeled walker.
Thank you for visiting Chucksville.