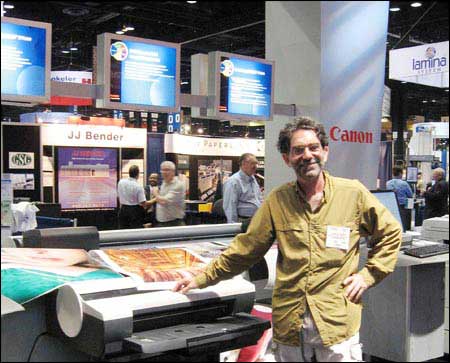 GraphExpo 2006
The largest printing convention in North America, GraphExpo, takes place every year at the McCormick Place on the shores of Lake Michigan, a few miles south of downtown Chicago. For a few days in the fall, over 600 exhibitors and 40,000 printers gather to attend workshops, get leads and strut their stuff.
My boss has agreed to send me to GraphExpo '06, so now I'm off to the "City of the Big Shoulders, Hog Butcher for the World" on board Amtrak's Southwest Chief, one of America's last surviving long haul passenger railroads. Since most people reading this story probably don't take the train, let me to get you up to speed on what it is like to travel coach these days on America's struggling passenger rail system.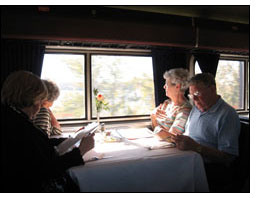 The recent downsizing of staff has definitely caused some new problems in the Amtrak dining car. There is only one cook in the kitchen and the wait for food can seem endless. Waiters and waitresses work at a frantic level and even the coach attendants pitch in to help out.
The food, when it does arrive, is hot and tasty, the view out the window is spectacular, and prices seem to have gotten cheaper, so I'm not complaining. In fact, I'm really in no rush to eat since I'll be stuck on this train for the next 24 hours.
I do miss the good ol' days (not more than a year or so ago) when the Southwest Chief served up barbequed pork ribs, lovingly prepared from scratch by graduates of the American Culinary Institute. Those days are gone. Most everything now is just heated up.
Also gone are the linen table clothes and the china. In its place are disposable paper table clothes and disposable plastic plates with fancy b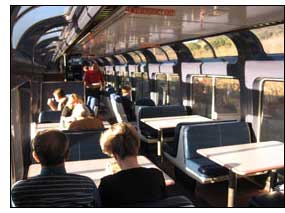 orders.
One thing that has improved on board the Southwest Chief, is the Sightseer car whose 70's interior has been completely remodeled.
Table and bench seating have replaced swivel chairs on the upper level and a new ventilation system is pumping out fresh, clean air. Now I can sit at a table for four on the second level and, by virtue of a higher perspective, see gorges and waterfalls I never recall having noticed.
Outside, beneath a crystal clear sky, a herd of wild horses gallops right on cue. Inside, this new seating arrangement encourages lively socialization and seems to comfortably fit more people than the old observation car.
The days of the smoking car are long gone, thank God. If you even dare to smoke in the vestibule or the bathroom, you will be removed from the train. Diehard smokers eagerly wait for designated service stops where they can light up at their leisure outside the train.
Pauline, the waitress in the dining car, said ridership and revenue on the South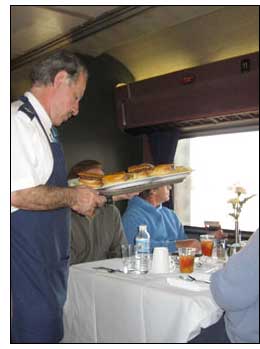 west Chief has now surpassed that of the popular Coast Starlight (Amtrak's scenic California Pacific Coast route).
"Things are changing around here every week," Pauline said in her British accent. "You just never know what will happen next."
In the past I have become accustomed to entering a train at the Albuquerque station whose bathrooms were trashed, carpets filthy and windows a mess. This time around, on this lucky Friday the 13th, the bathrooms are spotless and the carpets are clean. Credit goes to Peggy, our attendant, who is always be busy with her mechanical sweeper. (The windows, however, are still a mess.)
And best of all, the train is running on time!
---
I eat roast chicken for supper in the company of a retired couple from Missouri who helped clear 15 acres of land for an Apostolic Church and also a guy who just ascended to the top of the 1,000 foot tower at the Stratosphere Casino in Las Vegas.
The chicken is good but I don't know why they even bother serving a roll that has the consistency of a brick and salad that looks like something you would feed to a rabbit.
Our dinner conversation centers on the weather.
"It's gonna be a cold one," said Stratosphere Man. "You can tell because the top of the trees are full of thousands of pine cones."
"And the chipmunks are working like never before," says Apostolic Man, "They know that something is up."
"Farmer's Almanac says it's going to be a mild winter," says Stratosphere Man. "But what do they know? They're wrong most of the time."
We start talking about Amtrak and Stratosphere Man tells me that they are planning to eliminate the dining car once and for all. He says new cars are being built at Amtrak's Beech Grove repair facility, south of Indianapolis.
Here is one of many preliminary conceptual designs of the converted Superliner food service car that was given to me by our friends at Amtrak. (They told me to tell you "this picture reflects some of the seating options envisioned but is not necessarily what the car does or will look like.")


Our dinner conversation turns to the efficiencies of various forms of transportation and I tell the group that there is no means of getting from A to B that is more efficient than going by train.
"Ship. Ship is more efficient than train," Stratosphere Man blurts out. "A ship crossing the Great Lakes filled with iron ore barely takes much fuel at all, traveling over water."
"But people aren't iron ore," I protest. "They need bathrooms and food and some even need beds!"
Stratosphere Man glares and me and I return his stare.
---
The train was only half full when I boarded it in Albuquerque and now that we have left Topeka, Kansas it is ¾'s full and they're saying it will be packed to the gills once we arrive in Kansas City.
I caught six hours of sleep last night. As usual I tried to sleep in my seat but my back couldn't handle it so I ended up on the floor, wedged in the hollow between two opposing seats.
I was awoken at 5 a.m. by all those people getting on in Topeka, and Peggy, the attendant, was somewhat taken aback by the sight of me tucked away in my cozy little nest.
---
I ate the Bob Evans Scramble for breakfast and dined with a couple who had never traveled on Amtrak before. Like most newcomers, they had a few complaints that they wanted to file with management.
I stood up for Amtrak and rattled off my usual talking points: That Amtrak runs its 30,000 miles of train on a shoestring budget, that they are understaffed and that the trains are filled to capacity.
I could have told them about how Amtrak was during its early days, with rancid, smoke-filled corridors, six hour late arrival times and avocado-themed bathrooms so backed up with shit you could barely stand to walk into them. Instead I just smiled and tried to be gracious and empathetic. Perhaps it is due to people like these that change occurs. I'm just glad that an Intercontinental Railroad still exists in this country at all.
---
Pauline in the dining car gave me a free, generous helping of "New York Style" cheesecake, slathered with cherry sauce, and topped off with whipped cream. The cheesecake was fluffy and tasty, unlike most cheesecakes that are heavy and sit in your stomach as if you had just eaten concrete.
"Don't say I never gave you nothin'," she said in her engaging British accent.
The cheese cake complemented my marginally-edible Chicken Caesar Salad which was advertised as being a "café-size salad featuring fresh romaine lettuce topped with roasted chicken breast, shredded parmesan cheese, and a classic Caesar dressing."
I was seated with a retired accountant who used to work for the Santa Fe railroad and he answered just about every question I had about freight railroads.
Did you know that freight trains can be a mile long? Or that when you see trains that are being pulled by three or four locomotives that each and every locomotive is operational and necessary for pulling the load? Or that if one of those locomotives breaks down, the remaining locomotives have sufficient power to pull the train to safety?
Well now you know.
We're about an hour or so outside of Chicago and every seat in the train is filled. I'm sitting opposite two students, one born in Saudi Arabia and the other an English major at Knox college.
I polish off my last two mini cabernets sauvignons in their delightful company, drinking from my elegant, unbreakable, quick-assembly, two-piece crystal polycarbonate wine glass that I bought at REI. Life is expensive and confusing for kids these days and they need to be reassured that they will somehow muddle through.
Now I pack away my laptop and attempt to get my gear together in preparation for the final big push. I will, no doubt, be one of the last people out of this train, but at least I will have forgotten nothing.
---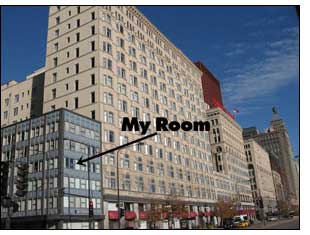 It's hard to imagine that there is a finer address on Michigan Avenue than the Congress Plaza Hotel. Located within a couple blocks of the Art Institute of Chicago, Symphony Hall, Lake Michigan, Millennium Park and Buckingham Fountain, the Congress Plaza Hotel has everything the discriminating traveler could ever possibly want, including ghosts.
You can feel the ghosts everywhere: in th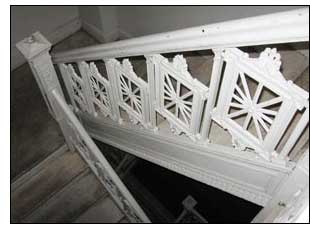 e lobby, in the elevators, in the basement and on top of the roof.
I managed to get a nice fourth floor corner room in a relatively newer part of the hotel overlooking Michigan Avenue. The walls are made of glass windows that open wide to allow the passage of fresh air.
The first thing I did upon arriving at the hotel out of the cold wet rain was to draw a nice,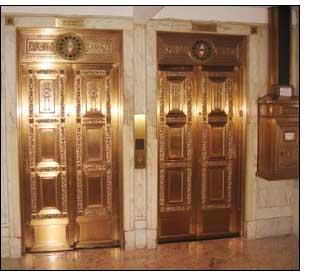 hot bubbly bath and soak my weary bones. The water in Chicago is the best in the nation: clear and refreshing, soft water that is particularly excellent to drink, straight from the tap.
Afterwards, I wandered around the hotel, taking note of some exquisitely crafted elevator doors, mail drops, finely crafted wood doors, marble corridors and iron railings.
The security guard showed me the Go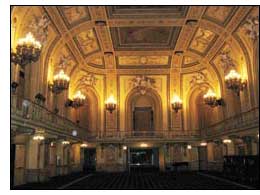 ld Room, an enormous ballroom with an intricately painted ceiling and romantic bas reliefs. This was followed by a tour of the Florentine room (which is inhabited by ghosts) and the roof, where I got a spectacular view of the Chicago skyline at night.
Next I walked North on Wabash Avenue in search of a decent place to eat.
I settled on the Exchequer Restaurant and Pub where I dined on the "Mixed Grill"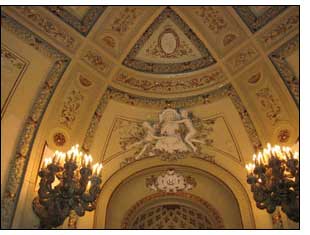 consisting of a lamb chop, steak and chicken breast, all cooked to my exacting specifications (medium rare) and all for just $15.95. Served with a baked potato and a delicious cup of chicken soup, it hit the spot.
I complemented this dish with a couple pints of Guinness that threw the total, including tax and a tip, to somewhere over $30.
I can see why Al Capone used to eat here.
---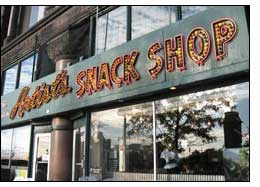 I ate a healthy breakfast consisting of four delicious pieces of French toast and coffee at the Artist's Café (412 South Michigan Avenue). The name says it all, a funky little bistro near Orchestra Hall, serviced by aspiring artists and offering delicious entrees at a reasonable price. But don't leave home without your American Express because they don't take Visa or MasterCard!
---
And now, some notes from GraphExpo '06:
I attended a workshop this morning that dealt with the subject of "On Demand Printing" and I was fascinated with the way the printing world is evolving. According to Speaker Howie Fenton, it's almost impossible to tell offset printing from digital printing, especially after the digital printing has a clear coating applied to its surface.
The biggest advantage of using digital printing methods is the ability to customize documents to the recipient's name, as opposed to creating a "static" offset document.
After attending the seminar I wandered throughout the 440,000 sq. ft. convention center and spoke to dozens of people that caught my interest. Of particular interest were my discussions with the salespeople at the the vast Canon exhibit. I spoke at length about their ImagePRORGRAF ipF700 Arch D, that can create 24" x 36" printouts for only a few bucks each.
I passed by vendors who were either selling products of no interest to the printing trade or were given a lousy location on the exhibition floor. I was drawn to these people, with hangdog expressions, and engage them in conversation.
"Do you suppose that air purifier you are selling for pressrooms has any residential applications?"
"It might," came the reply, "But at $5,000 it may be overkill."
Everybody wanted to scan the barcode on my nameplate at the tradeshow and I didn't put up a fight, though I may regret that decision when I notice that my mailbox at work is jammed with advertisements.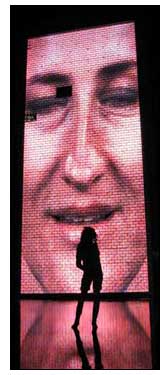 At 5 p.m. the convention center was closed and I was able catch a conference-sponsored bus back to the Congress Hotel. I then strolled to Millennium Park, checked out the "Bean" and the LED fountains and even ventured into an underground passage that led me to an ancient train station that is now being serviced by the southbound Metra trains.
On the way back I passed Orchestra hall and noticed some activity stirring inside. Strange for a Sunday night, I thought, so I opened the doors and approached the ticket seller.
"Is there a show going on tonight?" I asked.
"Yes. The Civic Orchestra is playing. They are the training group for the Chicago Symphony Orchestra."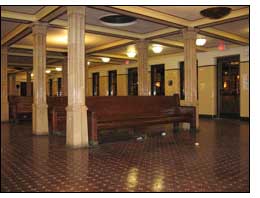 "Any tickets left?"
"Yes, we have some seats available, if you don't mind that the concert started a half hour ago. Tickets are $1 each, general seating. Interested?"
I was very interested, if only to be able to re-enter an orchestra hall that meant so much to me in my youth.
I was not dressed to attend a concert in this prestigious, world-famous hall. Clad in my white cargo pants and travel shirt, green down jacket and all that topped off with my Canadian National railroad cap, I must have looked like a curious hybrid of John Muir and a homeless person. But I was treated with infinite respect by the staff.
"It looks like the only seats we have available are in the balcony."
"That's exactly where I want to be: In the balcony. I want to be a cliff dweller!" I said excitedly.
And a cliff dweller I was. After ascending the elevator six floors to the very top of Orchestra Hall I was guided to my plush seat by an elegantly dressed usher.
Orchestra Hall was built in such a way that those in the balcony are looking almos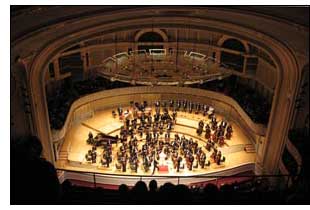 t directly down on the performers. It is a steep drop to the floor but this configuration lends to perfect acoustics. Combined with a magnificent sound system, I was able to distinguish the playing of every musician.
I walked into the concert hall during the second movement of a three-movement piece by Stravinsky. It was a dissonant piece full of angst but played with extraordinary precision. This was followed by a spirited performance of Beethoven's Fifth Symphony that pleased the crowd to no end. The conductor had his own unique rendition of the Fifth that was strong on the French horns. There were times I felt as if I were at a foxhunt.
---
And now, some more words from GraphExpo'06:
I'm seated in a conference room at the McCormick Place, an enormous steel and glass convention center located on the shores of Lake Michigan, for a tutorial called "Amazing PDF Tips and Tricks" to be presented by Julie Shaffer.
Acrobat 8 is a revolutionary product that can convert pdf files back into their native format so that they can be fixed and then reconverted back into a pdf file.
"Fixups" can repair files, but font re-embedding issues raise legal concerns regarding the ownership of typefaces.
"The customer needs to take some responsibility for making the files right before they send it to the printer," I complained to Julie during an intermission.
"All that doesn't matter," said a printer who was listening to my naïve comment. "If you won't fix their screwed-up files, they will find some other printer to do the dirty work, regardless of the legal consequences. That's just the way the world works."
PDF files can be messed up when they are delivered as an e-mail attachment. Drop-Send.com delivers large files as FTP files free of charge . . . Acrobat Distiller will embed fonts but one must use this option with care. If "file properties" doesn't say "embedded" or "embedded subset," you're in for a world of trouble . . . Fonts are necessary for the creation of documents and these days they can be bought, or, ahem, stolen, quite easily.
A person can go on-line and find fonts for free or buy 10,000 fonts for $5 in the clearance bin at Best Buy. But will these fonts make it all the way to the print process and output successfully? Unless these fonts were legitimately purchased, the answer is somewhat foggy . . . A font (a typeface if you will) is no longer made of lead, like they were in the old days. Fonts are made up of computer code and this code can contain little "gotchas!" that will make them print out as gobbledygook (think spades, clubs, diamonds and hearts) if they were not purchased with specific legal permissions.
I left the McCormick Place, claustrophobic and suffocating from the smell of ink, my mind racing a mile a minute.
---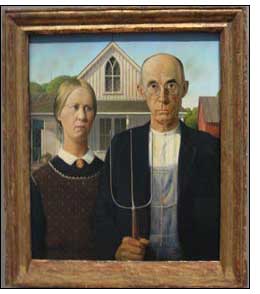 Having concluded my conference obligations, I walked through most of the Art Institute and did my best to see everything I possibly could, beginning with the "Thorne Rooms." Sixty-eight miniature rooms depict European and American interiors that were designed between 1934 and 1940. They were inspired and financed by Mrs. James Ward Thorne and were built by a team of skilled artisans.
My favorite miniature room is the cozy interior of a Santa Fe adobe home and I'm sure it somehow contributed to my eventually settling in t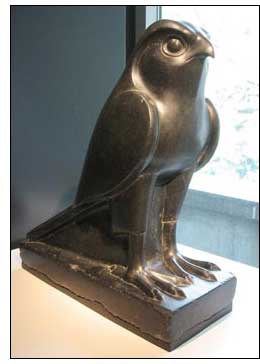 he Southwest. I noticed, this time around, that there is a saguaro cactus peeking through the window of this miniature and, as just about everybody knows, this cactus only grows in Arizona, not New Mexico.
Photography is permitted at the Art Institute of Chicago but not in Special Exhibits. I was not aware that the "Charles Sheeler: Across Media" was considered a special exhibit, so I got soundly (but politely) busted by the vigilant security guard for taking pictures.
I was later told that the regular works exhibited in the Art Institute are considered to be part of the public domain. Special exhibits, like the Sheeler exhibit, are different, they told me, and their ownership is private

(and that means I can't show you my pretty picture. Sob!!!)
I had never heard of American modernist Charles Sheeler and was struck by his photographs and his photo-realistic paintings of an America that is fading into the past. Sheeler's work is of urban, industrial buildings, lacking in people. Even his self-portrait contains only a mere shadow of his presence.
After I got my fill of the Art Institute, I walked to the Wabash Elevated, popularly known as the "El," and took the Brown Line for a spin around the loop. It really is an amazing world of rusting metal and tons of wooden ties up there. The trains are powered by a third rail and the roadbed has many intersections, so the coordination of all those trains must be an amazing feat. I also noticed speed limit signs and even traffic lights up there.
The "El" ride was smooth but stopping a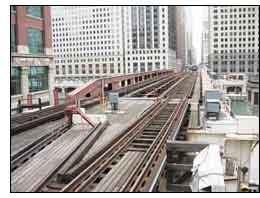 nd starting was a bit jumpy and a person needs to be sure-footed if he doesn't want to slip and fall. I found it difficult to get any good photos from the train, because the front window seats are very much in demand.
The elevated trains have been rolling around the Loop since the dawn of the industrial age and although their antique status makes them exempt from complying with handicapped access requirements (i.e. elevators and escalators), the ride felt perfectly safe and the train and its tracks seemed very well maintained.
---
It is almost six p.m. and the weather is dreadful outside the Southwest Chief: Overcast, cold, and wet as I head back to Albuquerque. We just passed a farming community called Malden.
But it's warm and dry in the lower level of the coach car as we chug along at 90 mph.
La Junta, Colorado is the next service stop. I began traveling on Saturday and now it's Sunday and I am marveling at how empty the train is now. On my way out to Chicago I traveled on Friday and arrived Saturday and the train was jam-packed.
I caught a great night's sleep on the floor of the lower level compartment: a solid eight-hour's worth. I feel refreshed and my spirits are high. I enjoyed a Tuscan omelet in the dining car, draped with mozzarella cheese, and filled with tomatoes, basil and oregano, with a side of breakfast potatoes and plenty of hot coffee.
I was seated with a father and son headed for elk hunting somewhere in Colorado and a financial advisor who is going to Vegas. We sat around drinking coffee and chatting for over an hour after we finished eating. It seems that although they are reheating much of the food that is served on the Southwest Chief, the breakfast omelets are still made from scratch on the grill.
"You know that expression," said the father. "A pigeon ain't nothin' more than a rat with wings?"
"Yeah Dad."
"Well," he said gazing out at the distant sunrise silhouetted by a mountain, "I'm thinking an airplane ain't nothing more than a Greyhound bus with wings."
And I'm thinking: Each and every route that Amtrak runs should be declared a sacred national monument.
Thank you for visiting Chucksville.