Tar Beach & Beyond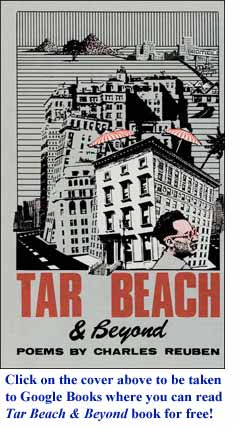 Tar Beach & Beyond is a collection of 43 poems that Charles Reuben wrote when he was a boy, a teenager and a young college student. It's about the poet's journey from the suburbs of Chicago to the mountains surrounding Santa Fe, New Mexico.
In 1989, at age 33, Reuben collected his favorite poems and published them as a chapbook.
Reuben was working as a printer at the Albuquerque Journal when he created this book and that was his way of learning how such things were made.
The book's cover was designed by Russ Ball and includes beautiful illustrations by his friends Laura Maclay and Sheri Anderson.
Three hundred "hard copies" of the first edition remain unsold (from an original press run of 1,000). The remaining copies will eventually be sold on this website when we Reuben gets a round tuit.
In the meantime, you are welcome to read the entire text of Tar Beach & Beyond for free at Google Books. Just click on this link or click on the cover of the book above and you will be transported to the site where you can read (and hopefully review it) for free.
Thank you for visiting chucksville.com and please sign my guestbook!


Return to Autumn Press Home Page

Return to Chucksville Home Page