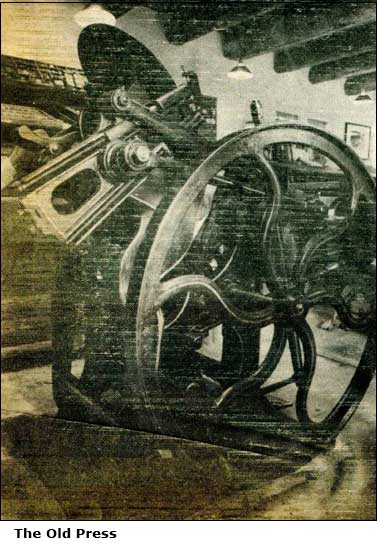 Old-Fashioned Printing
If you walk across the lush, green lawn in the patio of the Palace of the Governors, you may be tempted to wander into a softly lighted workshop permeated with the musty smell of ink, paper and old machinery.
Every day, scores of visitors do and watch a young woman transform handwritten scrawls into elegantly printed forms through a nearly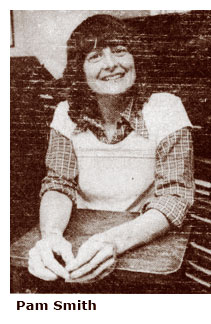 obsolete process that goes back to the 15th century.
"I'm amazed at the number of people who still think that this is the way printing is done today," says Pam Smith, one of the original employees of the printing shop at the Palace of the Governors, and the mastermind of the "Books Arts Festival scheduled there Friday and Saturday, Oct. 3 and 4.
Through panel discussions, films and demonstrations of printing methods and equipment, Smith and her co-workers hope to show people just how printing is done today — and how it was done yesterday.
The thing that makes the printing shop at the Palace of the Governors different from every other printing shop in Santa Fe is that type is set by hand there. On a modern newspaper, on the other hand, type is set electronically. The typesetter works at a keyboard that is almost identical to that of an ordinary typewriter, and the words of the stories come out on long strips of paper. The typesetting machine is actually a computer, and the process is a photographic one.
The hand setting method the Palace press uses, however, is the one Johannes Gutenberg invented in the 15th century, and used to print his famous Bibles. Each letter of the alphabet is carved or molded on a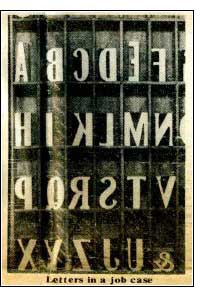 piece of metal or wood. The letters are lined up by the typesetter to form words and turn them into sentences.
The letters are raised, and in reverse, so that when the words are inked and pressed against a piece of paper, they read properly. Printing by this method is somewhat like using a rubber stamp. Although it sounds primitive, before Gutenberg invented his movable type, communication was even more so. Thoughts could only be transmitted by speech or by longhand writing. Both had their virtues, but their messages could only be appreciated by a relatively small number of people.
"Most people get a warm feeling coming in here," Smith says of the shop, which is dominated by two large iron presses operated by muscle power. An old Franklin stove stands in a corner.
"Computerized printing does not conjure up any emotion in me," Smith says. "With letterpress. there is a sense of human involvement."
The human involvement begins at the two large cabinets that contain more than 50 drawers of type. Many of the names on the drawers commemorate the men who invented each type style — Bodoni, Cooper, Goudy.
Each drawer — in printers' parlance, they are called California job' cases — is wide and shallow and divided into several dozen oddly shaped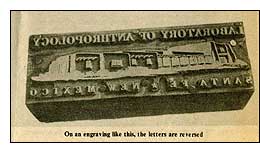 compartments. Each compartment is filled with the chunks of metal on which are molded each letter of the alphabet. At the lower left, in one of the largest compartments, for instance, is the lower-case "e." That compartment is the most plentifully supplied, since "e" is the most frequently used letter of the alphabet in the English language, and the one a printer needs most.
Other compartments contain numbers, upper case letters and punctuation marks. The experienced typesetter becomes as familiar with the layout of the job case as a secretary does with the keyboard of a typewriter, and can set type by hand quickly almost without looking.
As years go by and the type is used again and again, Smith explained, its edges become soft and rounded. That is one of the reasons she prefers letterpress to computerized type, where "angles are precise and sharp and have a real edge about them." In letterpress, too, the ink is pressed into, and actually becomes part of, the paper, while in the modern offset method; it simply sits on the surface.
At 36, Smith has been involved in printing for much of her life. She grew up Kirkland, Ill, 80 miles northwest of Chicago and received a degree in journalism from the University of Illinois.
While there, a typography course introduced her to the modern as well as the traditional methods of printing. "The essence of printing is nitpicking," an instructor told her, and she developed a love for that most exacting method of printing, letterpress.
In 1972, Smith arrived in Santa Fe and found her way to the old Santa Fe News, then owned by Rudy Rodriguez. Although she was involved in the physical production of the paper, she felt she wouldn't be happy until she could be apprenticed to a letterpress printer, a species increasingly hard to find.
When Richard Polese of the Museum of New Mexico hearned of her anachronistic longings, he approached with an idea. The museum had some old printing equipment, which it would let her use in exchange for her handling some printing tasks for the institution.
"It was quite a job," Smith remembers. "Type needed to be sorted and cleaned, and at the time, only one press was operating." But it wasn't long before she had become a full-time employee and began to teach herself the ins and outs of the old-fashioned method.
Now, the Palace of the Governors' printing shop also has a fulltime employee in Kirk Hughey, Smith's assistant, and an occasional volunteer.
For people like Smith, quality hand printing is more than a colorful hobby practiced by a handful of nostalgia-lovers; it is a way of life. What's more, she feels it may become an increasingly common way of life. More people than ever, she points out, are beginning to take an interest in the old way of doing things. The Books Arts Festival this weekend should spread the letterpress gospel to even more.