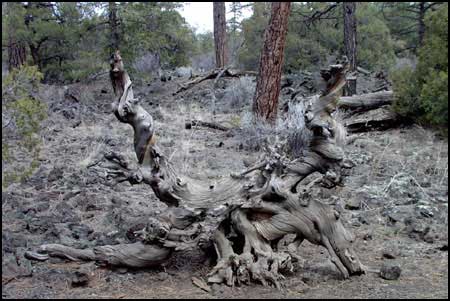 Bad Lands
I visited the badlands of New Mexico on a field trip with a Continuing Education group the other day. The El Malpais National Monument was created in 1987, making it one of the newest parks in the National Park Service. Located 78 miles west of Albuquerque, off Interstate 40 and south of Grants, NM, the ancient pitch black rivers of lava seem to come out of nowhere as you are driving along the desert.
David Bleakly, a veteran geologist, was our guide and lectured extensively during our bus ride. David recently visited Hawaii and told us about the many similarities between the Pacific volcanic region and New Mexico. He talked about the two different kinds of lava and about how alien species introduced into an area can disrupt its evolution.
He spent a lot of time talking about salt cedar, a nasty plant that is spreading like wildfire throughout the southwest. Fires can't kill it and mowing it down doesn't help. About the only thing that can control salt cedar are goats because they'll eat just about anything. David also talked about how floods, earthquakes and volcanic eruptions can happen at any time and really ruin your day (unless, of course, you're a geologist).
Our first stop on the Armageddon tour was Sandstone Bluff, at the east side of the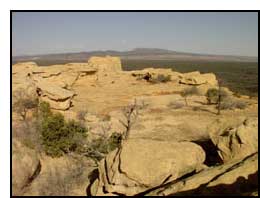 monument. The smooth, cream-colored rock formations stood out in sharp contrast to the rough, black lava flows below. Little ponds of rain collected in small pools of water on the rocks, sporting tiny forms of life.
After exploring the bluff we got into the bus and headed to the west side of the monument, known as El Caldera. We looked at several large sinkholes in the ground. If you climb into these holes you can enter into long, deep "lava tubes." It's pitch black in these tunnels and a good flashlight, hardhat, kneepads and survival equipment are essential.
Unlike most Geological phenomenon, some of the El Malpais lava flows are comparatively young, the McCarty flow being only 3,000 years old, and some of the lava flows are over 100,000 years old. The area has no springs and little water and was once used by the Air Force for bombing practice.
Plants have adapted to grow i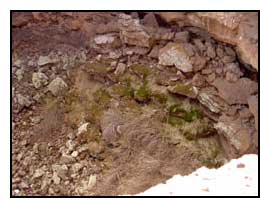 n the rocky soil and those that can survive, like Ponderosa Pine and Douglas Fir, seem to do quite well (although their gnarly limbs are a bit spooky to behold.) Some of the trees are over 1,000 years old and because there isn't much vegetation, they aren't threatened very much by wildfire.
Lichen of every color flourishes on the surface of the lava. Green and slimey moss can be found at the bottom of the sinkholes that are protected from the sun.
After visiting a number of these sinkholes, we got back in the bus and drove to the nearby ice caves. David Candelaria, whose family has owned the land for generations, privately manages this area from a little trading post at the trailhead and charges adults $8 to explore his property and $4 for children.
The federal government, who feels that this land ought to be owned by the public, has recently exercised its right of eminent domain and will probably condemn the land in due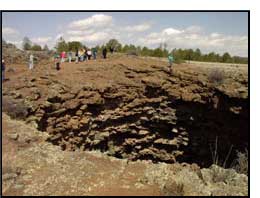 course.
Mr. Candelaria, a man is his 80's (pictured below, to the right of our tour guide, David Bleakly) just wants to be treated fairly by the government but has only been offered $1 million dollars for the land. I hope I'm not the only person who thinks this sum is an insult.
Mr. Candelaria doesn't have the resources to fight the government and negotiate a fair price. That's a shame because the Candelaria family have been excellent stewards of the land during the last couple hundred years. Similar New Mexico land has fetched 10 to 20 times as much money from the federal government.
People come from all over the world to see the ice caves and the adjoining Bandera Crater on Mr. Candelaria's property, one of the most perfectly preserved craters in the world.
Thank you for visiting Chucksville.