I am in awe of people who engrave words into stone. There are, after all, so many things that can go wrong: The stone itself can shatter, the hills and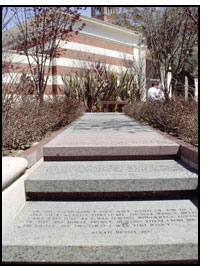 valleys that make up individual letters can collapse: a small mistake can erase the work of days.
People persist in writing words into stone despite the technical challenges. The names of fallen soldiers and heros, like those found on the Vietnam Memorial, are often engraved into stone. Their survivors travel hundreds and sometimes thousands of miles to touch the names engraved into the rock and rub its image onto a piece of paper to take home.
One of my very favorite examples of stone engraving is Jenny Holzer's "Blacklist," located outside the Fisher Gallery at the University of Southern California. My sister, Selma Holo, (the director of the Fisher Gallery) was instrumental in the placement of the sculpture garden in 1999. The Garden contains four stone paths leading to a circular walkway and ten stone benches arranged in a circle.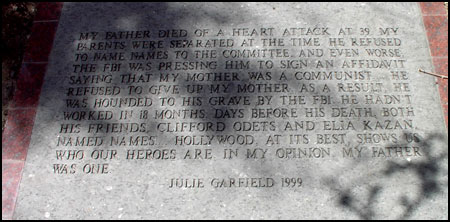 The pathways are inscribed with quotations (both pro and con) that were born out of the 1947 House Committee on Un-American Activities. These hearings explored the "subversive activities" that were allegedly taking place in the motion picture industry and focused on the lives of ten men who were at the height of their careers.
The "Hollywood Ten," as they were known, were not allowed to make statements in their own defense and they were not allowed to cross-examine their accusers. They were held in contempt of Congress after invoking the First Amendment, fired from their jobs and blacklisted from any future employment in the film industry. They were then thrown into jail after the US Supreme Court refused to hear their appeal.



If you are visiting the campus of the USC, you must make a point of visiting this sculpture garden. This powerful $250,000 monument sent shivers up and down my spine as I read the words of great writers and performers who lost their jobs in defense of the Bill of Rights. Here are some of the quotes:

ONLY AN ACT CAN BE A CRIME, NEVER AN IDEA (Ring Lardner, Jr. 1947)

MY OPINIONS ARE NOT AN ISSUE IN THIS CASE. THE ISSUE IS MY RIGHT TO HAVE OPINIONS. (John Howard Lawson, 1947)

I DO NOT CONSIDER THIS COMMITTEE TO BE STUPID. ON THE CONTRARY, I CONSIDER IT TO BE EVIL. IT IS NOT COMMUNISM THE HOUSE COMMITTEE ON UN-AMERICAN ACTIVITIES FEARS, BUT THE HUMAN MIND, REASON ITSELF . . . . THIS COMMITTEE IS IN THE COURSE OF OVERTHROWING NOT KARL MARX, BUT THE CONSTITUTIONAL WAY OF AMERICAN LIFE. (Herbert Biberman 1947

ONE IS DESTROYED IN ORDER THAT A THOUSAND WILL BE RENDERED SILENT AND IMPOTENT BY FEAR. (Albert Maltz 1947)
YOU VIOLATE THE MOST ELEMENTARY PRINCIPLES OF CONSTITUTIONAL GUARANTEES WHEN YOU REQUIRE ANYONE TO PARADE FOR YOUR APPROVAL HIS OPINIONS UPON RACE, RELIGION, POLITICS, OR ANY OTHER MATTER. (Dalton Trumbo 1947)
Thank you for visiting Chucksville.