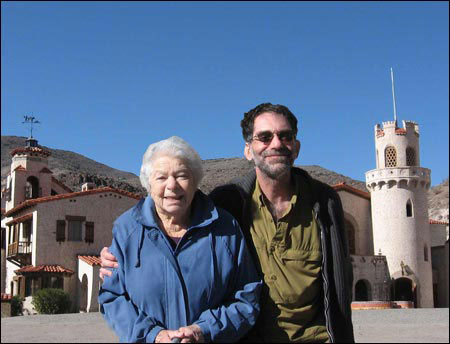 Death Valley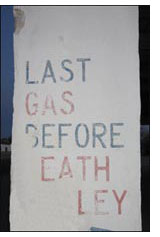 Is it a ghost or the cold desert night air that makes the hairs on my arm stand on end?
I am writing these words in the lobby of the Amargosa Hotel in Death Valley Junction on a full moon night in January 2007.
Built in the early 1920's, the Pacific Coast Borax Company constructed this u-shaped adobe structure in the Spanish Colonial style. It used to contain a company store, dormitory, offices dining room, lobby, employees' headquarters, as well as the 23-roo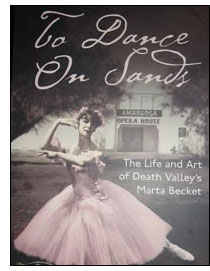 m hotel.
This rambling complex, designed by Alexander Hamilton McCulloch, has miraculously survived the test of time thanks to Marta Becket, a New York City dancer who left the Big Apple in the 1967 and settled in, perhaps, the most desolate place on earth.
Now, in her early 80's, Becket puts on a show every weekend in an old social hall that she has transformed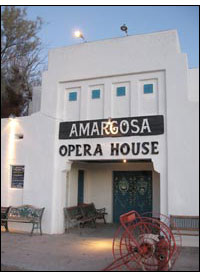 into an "Opera House." She painted the walls of the Opera House with an audience that used to watch her curious self-written performances before real people began flocking here from all over the world to watch her shows.
Unfortunately Mom and I won't be able to attend a performance because it's Wednesday and the performances take place Saturday nights.
It's a miracle that we even found the Amargosa Hotel. When we set out for Death Valley this mo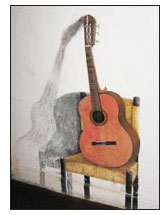 rning we didn't have an itinerary and barely had an idea of how to get here: We rented a brand new Toyota from Enterprise and just headed out of town.
As the sun was beginning to set we spotted this place and drove in just before the office was about to close and the manager was going to go home for the night. We were able to get a nice, clean room with double beds for about $60.
Now it seems as though everybody is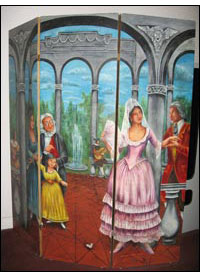 gone. It's just us and the strolling peacocks. If we hadn't found this place, I honestly don't know what we would have done.
This is a nice place to collect one's self. There are no TVs in the hotel and cell phones don't work. There are no bars, gas stations or restaurants for miles. But the ghosts make for pleasant company, the water is hot and there's a cozy gas fireplace in the lobby that definitely cu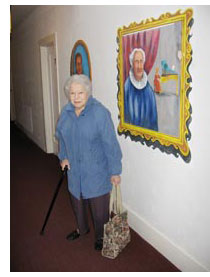 ts through the desert chill.
Aside from the hotel there's really not much around here except the ruins of an old Borax mine and an abandoned gas station. I suppose this is what it must look like to be on Mars. Maybe that's part of the appeal of wanting to live out here. Maybe that's what brought Red Skelton and Marlon Brando to seek refuge from their adoring fans from time to time.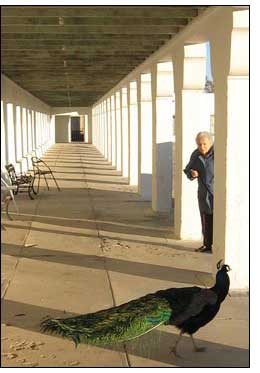 Morning at Death Valley Junction
I began the morning with a nice hot bath. The water was soft as can be and the tub was old style (ceramic iron) with curves that fit well into the contours of my body. It's 6 a.m. and Mom's up, preparing for the day: Time for me to pack up the car and prepare to enter Death Valley. No water. No gas. No food. And we're about to head out to Death Valley.
If ever there was a vacation characterized by a lack of planning, this is it. With only a ¼ tank of gas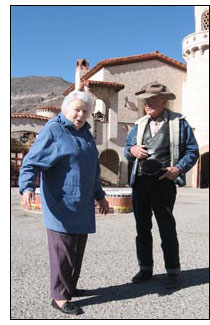 in the car and only 3 small bottles of water, I'm wondering if this might have been a mistake.
But Mom, at 91, doesn't seem to be worried about a thing. She keeps telling me to push on when all I want to do is head back.
On the Road
I wish Mom and I had more time to stay in Death Valley because this place is absolutely fascinating. That phrase, "magnificent desolation," used by Buzz Aldrin to describe the lunar landscape comes to mind. The color and texture of the surrounding mountains and plains are like nothing I have ever seen in New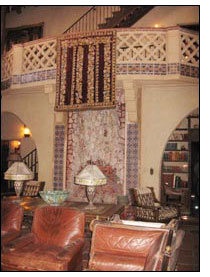 Mexico. It is unworldly and I feel an urge to drive off the desolate, deserted road and explore places with names like Furnace Creek and Badwater but we don't have the time. These places will have to wait until my next visit.
Our destination, the focus of this trip, is to visit Scotty's castle, located on the North end of Death Valley.


Scotty's Castle
Midway through Death Valley, at a point where we are about to run out of gas, we come upon a resort in the middle of nowhere. Here we refill our gas tank and indulge in an overpriced breakfast buffet that fills (and upsets) our stomachs but will keep us going for the rest of the day.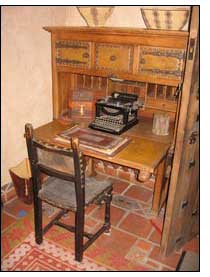 Having satisfied our needs, we head on down the road for about 40 miles and eventually come upon an architectural and engineering marvel that is known as Scotty's Castle. Built in the roaring twenties by Chicago millionaire Albert Johnson, this castle is so much more than I had expected. Located in the middle of nowhere, I am overwhelmed by a structure whose engineering, architecture and beauty far outshines that of the precast-concrete Hearst Castle.
When it comes to combining wood, stone, leather and solid engineering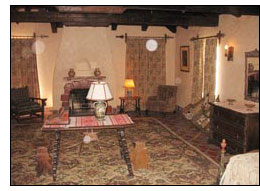 in an aesthetic and imaginative way, Scotty's castle cannot be beat.
Mom and I explore the building on a tour led by a venerable old gentleman dressed in 1930s clothes, who takes us back into time with endless anecdotes about Scotty, his friend Albert Johnson and their wives.

On the Road Again
Time is slipping by faster than we can keep up with it. We return to the Toyota Avelon and head back home via Beaty and an established truck route. It's not nearly as magical a route as the road we took thro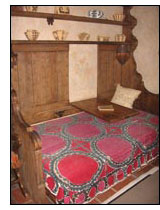 ugh Death Valley but saves us a couple hours and gets us back home by 8 p.m.
It's an exhausting drive and I honestly didn't think I would make it back home, but my mp3 player, and its hundreds of classical and rock songs make the journey so much easier. I pump the music through the car stereo system and my 91 year old Mom does a great job of rocking out to the Beatles. I am pleased to discover that she also loves the music of Phillip Glass. My collection of golden oldies keeps me refreshed and we return home in one piece.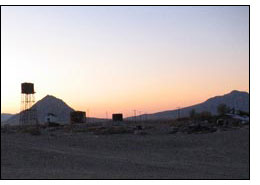 Now I find myself seated back on the lower level of the Southwest Chief, preparing to return home after one of the shorter vacations that I have taken lately. Short but sweet but definitely worth the trouble.
Thank you for visiting Chucksville.