The Printer's Devil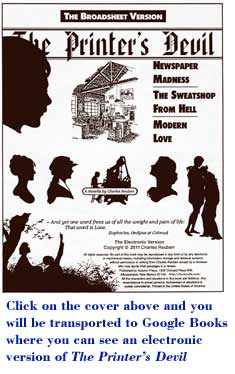 The Printer's Devil is a 40,000-word novella that I wrote when I was 18 years old.
This coming-of-age story takes the reader on a journey from the ivory towers of a suburban high school to the brain-numbing sweatshop of a small town newspaper.

You can read a pdf of the book for free by clicking this linked paragraph.

The completed typewritten manuscript of The Printer's Devil sat in a plywood trunk for 17 years. I finally dug it out of storage when I began experimenting with desktop publishing, back in the days of Pagemaker 1.0. I used a little handheld scanner to "capture" Victorian silhouettes and plotted each individual point using a mouse.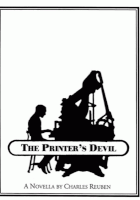 I was delighted to have an enormous amount of original words to use in this experiments. At the time I was fascinated with Victorian silhouettes and used fifteen of them as "containers" for my story.
When I was done composing his novel, I took my computer files to Business Graphics in Albuquerque and had them printed out at 600 dpi on paper film. Then I took those galleys to Joe Provenzie at Printing Services in Albuquerque to be published: The first version of The Printer's Devil was a saddle-stitched booklet that was almost impossible to read because the type was so tiny.

It frustrated me to hear people say that the type was too small and they could not read it. Despite this fact, those same people got out their magnifying glasses and read the novella from cover to cover!
After one year I approached Starline Printing in Albuquerque and asked them if they could run the novella on their newspaper press in a large, broadsheet format on newsprint. The 5,000 papers that they produced were impressive and very readable.
A couple years later I learned that Ripley's Believe It or Not had mentioned my little novella in their column. Here's the cartoon that ran in the daily papers on April 29, 1994: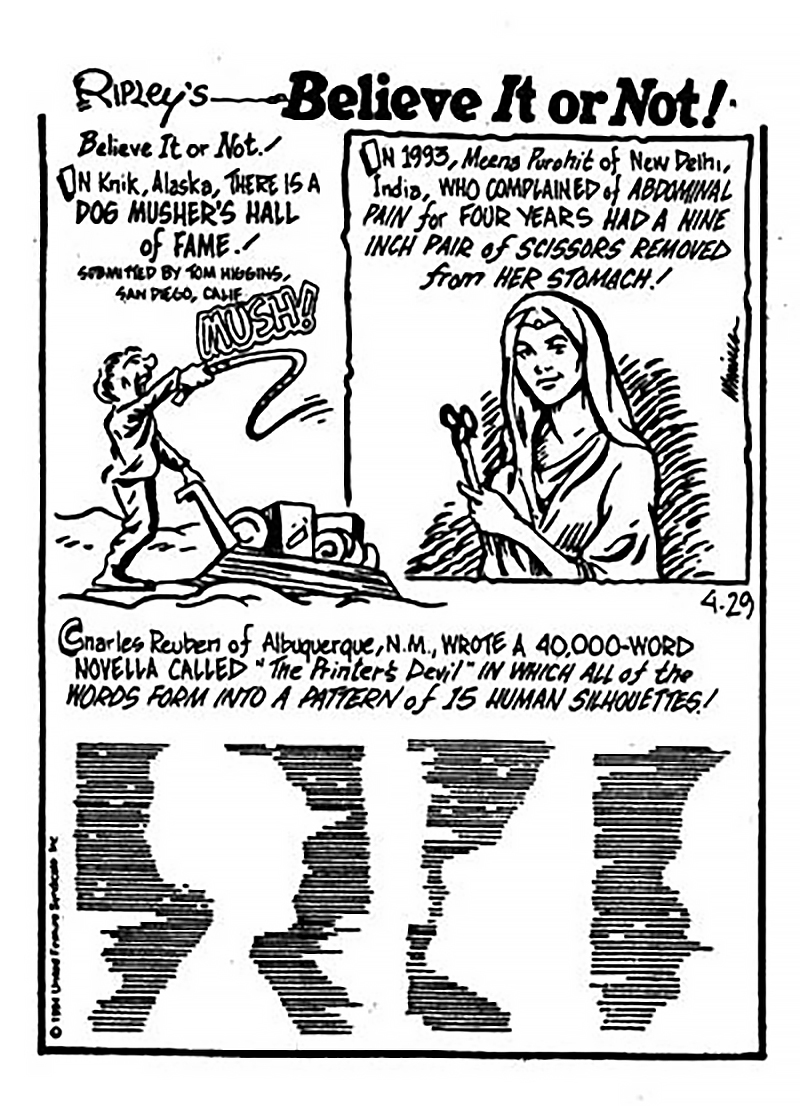 Click this link to see the version of my novella that lives on at Google Books.

Thank you for visiting Autumn Press and please sign my guestbook!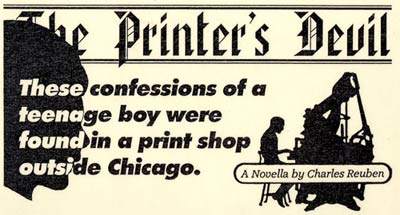 (Click on the above graphic to see a promotion that I created in "Adobe Flash" for The Printer's Devil.)


Return to Autumn Press Home Page

Return to Chucksville Home Page

Return to Top of Page