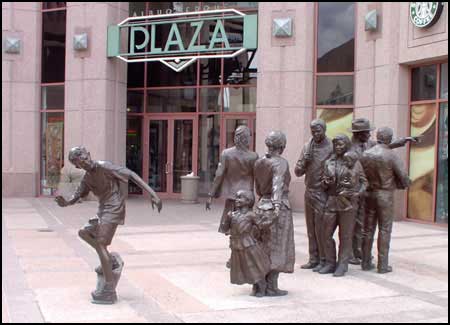 Sidewalk Society
by Charles Reuben
shawnee@unm.edu
You can find relief from the madness of city life on the sidewalk in front of the Hyatt Hotel, in the heart of downtown Albuquerque. There you will discover Glenna Goodacre's assembly of bronze sculptures called "Sidewalk Society."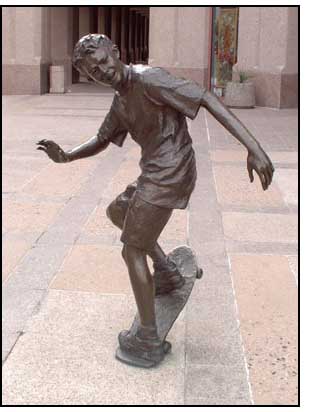 Civic Center, the immediate area around the Hyatt, has become a virtual sculpture garden in recent years, celebrating rich businessmen and powerful politicians. And although some of these sculptures are competent renditions of their subjects, they do little to uplift the human spirit.
"Sidewalk Society," on the other hand, has the power to touch everybody, regardless of age, sex or social stature. It is well-suited for its location.
"I was commissioned to do a bronze for the entrance to the new Albuquerque Plaza," said Goodacre. "Because they requested something right on the walk, I wanted to do a piece that would be interactive with the visitors to the building. I did a quick clay sketch, then a maquette refining the individuals going about their daily activities. The 7' final bronze reflects a kind of cross section of people you find on any sidewalk in America."
Lacking in the stiffness and the angst of the Sabo sculptures at the University, and much less meditative and solitary than Goodacre's sculptures at the Albuquerque Museum, Streetscapes is full of dynamic energy and life. Its subject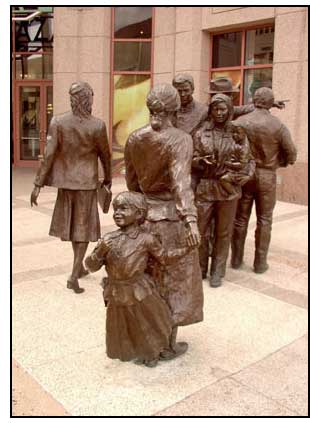 s are intent on fulfilling their destinies, whether they be the secretary heading to her job ("CEO"), the foreman and the contractor planning their construction project, the teenage boy ("Ollie) doing a trick on his skateboard or the little girl marveling at the boy's prowess ("Dance Day").
The action of Sidewalk Society is perfectly in keeping with that of downtown. Each person is busy doing what he or she does best, or else they are going somewhere in a very purposeful manner.
I always find time to stop at this sculpture and marvel at its perfection. I am astonished at how perfectly each part of the sculpture works with every other part of it. I am drawn into its innermost drama, as if I were watching a play or a movie.
Some sculptures were made to depict classic stories. A truly great work of art can detach itself from the original intent of the artist and take on its own life.
When an art lover merges his own life stories with a piece of art, that's when the goosebumps happen: And that's about as close to God as most of us will ever get.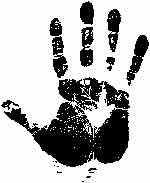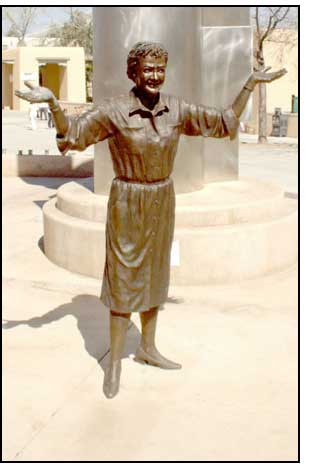 Norm Revisited
By Charles Reuben
shawnee@unm.edu
Frustration. Confusion. Alienation.
These are the emotions one experiences when coming upon Betty Sabo's bronze sculpture entitled, "Modern Art," located on the Cornell Mall near the entrance of the Fine Arts Building at the University of New Mexico.
The story that these seven sculptures tell is as sentimental as any front cover Norman Rockwell painted for the Saturday Evening Post. We encounter a collection of bronzed figures reacting in confusion and dismay to a modern metal sculpture. Gary Beals, Sabo's brother, designed that polished steel centerpiece.
"Modern Art" lacks Rockwell's craftsmanship however, let alone this ability to evoke the kind of universal emotion he delivered in a very similar piece entitled "The Connoisseur."
The Sabo sculptures hardly raises an eyebrow, a protest or a round of applause. People's reaction to it is blasé. Few letters to the editor have been written about it. Students matter-of-factly hang jackets, flyers or hats upon the figures or stick a cigarette in their mouths.
People don't regard "Modern Art" with very much respect or interact with wonder. Worse yet, a day-dreamer who gets too close to the sculpture risks getting an eye poked out by a bronzed finger pointing in either awe, disgust or disbelief.
When I pass by this sculpture every day at lunch I just see a bunch of upset, malcontent bronze figures who are arguing and I wonder whether Sabo was making some sort of subconscious statement about the University.
I recently asked a UNM art historian what she thought of the sculpture. Knowing that I was a writer, she tactfully responded, "I think it is a great teaching tool that illustrates what not to do."
The real tragedy about this whole affair is that a magnificent abstract sculpture was moved to the other side of campus to make room for this folly: It was a sculpture that evoked raw power and strength. This brilliant work of art now serves as an enchanting centerpiece for the bus turnaround.
When I walk away from that abstract stone sculpture I feel as if I have been touched by nature, as though I have been climbing in the distant hills. I walk away from it empowered, transformed. Sabo's sculpture leaves me feeling gloomy and depressed.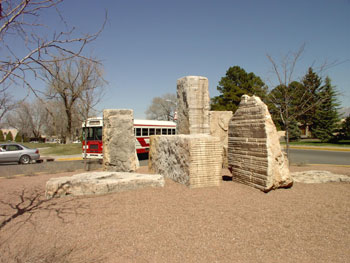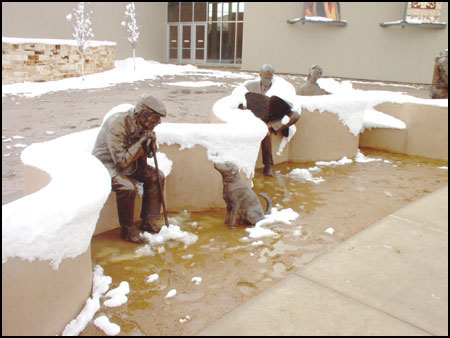 Park Place
By Charles Reuben
shawnee@unm.edu
Albuquerque is fortunate to be the home of a couple bronze sculptures by Glenna Goodacre.
Goodacre is best know for having designed the Vietnam Women's Memorial in Washington D.C. and a monumental Irish memorial in downtown Philadelphia.
Many of us have had an authentic Goodacre pass through our very hands because she also designed the portrait of Sacagawea that appears on the dollar coin now in circulation.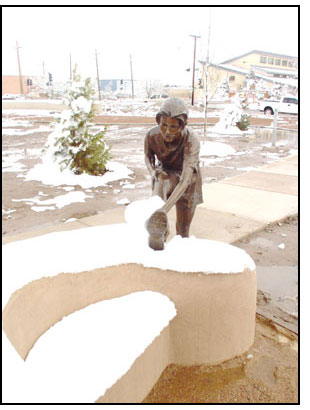 The renovated Albuquerque Museum has placed a group of her sculptures, called "Park Place 1998" in its sculpture garden. I recently walked over to the museum after a heavy snow and took some photographs of it with my new digital camera.
Goodacre's technique does not seem forced or contrived. I often find myself befriending one or another of people within the group, depending upon my mood at a given time. Unlike Sabo's "Modern Art" at the University, Goodacre does not appear to be making some monumental statement about her work (or the work of her brother). Instead, she is portraying life as it is and people as they are.
Goodacre can make you feel good about yourself, whether you happen to be a jogger, skateboarder, a reader of newspapers, a lover or even man's best friend. Whereas some sculptors go out of their way to capture superhuman qualities, Goodacre celebrates the humanity and humility in all of us.
Thank you for visiting Chucksville

Return to Top of Page