Distant Music
Santa Fe lost some of its luster after Cosmopolitan Magazine called it "The Place to Be" in the early 80's: Rents skyrocketed. Supermarkets turned into art galleries and access to hiking trails were blocked by pseudo adobe mansions.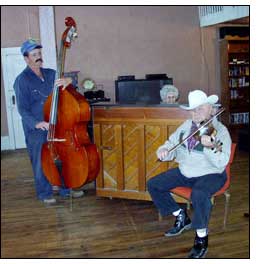 Now Frommers, an international guidebook company, has declared Ramah, New Mexico to be #9 on its "Top 10 Up and Coming Destinations for 2006." Ramah finds itself in the company of places like Charleston, Glasgow and Molokai.
Frommers writes, "The diverse culture and history surrounded by open prairies and pink buttes is why we have selected Ramah, New Mexico as an up and coming destination. The city itself is rich with Mormon history, although the mix of ancestral roots from Spanish settlers to Texan bean farmers can be seen."


Ramah is a sleepy town of about 500 people, tucked in a peaceful valley 45 miles southwest of Grants, bordered by the Ramah Navajo Reservation and the Zuni Reservation. The town has only had one bar in its checkered past and that place was destroyed by the locals, before it could be packed in pods and moved, one day after its grand opening.
I recently visited Ramah with a dozen retirees on a field trip organized by UNM Continuing Ed's "Story of New Mexico" program.
A major part of our tour was a visit to the first permanent trading post in Ramah, a sprawling rock house built in 1901 by R.C. Master. The trading post went out of business long ago and is being restored by a private family who live in the building.
Paul Merrill, a city father, greeted our tour group at the old trading post and treated us to refreshments while we were entertained by local musicians from the Clawson Band. Emily Smith, R.C. Master's granddaughter then lectured us about Ramah's history.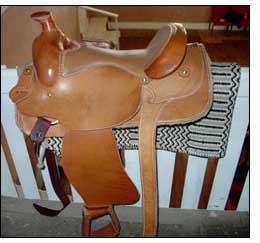 Kirk Clawsen, the band's fiddler and master leatherworker, followed Emily by telling us all about a type of saddle he once made, a saddle that just happened to be hanging on an overhead railing. It was a one-of-kind saddle, made for "team tying," an outlawed rodeo sport that would suspend a 400 lb. cow between two horses.
Not only did the cow dislike the sport, but the horses didn't like it much either because the weight of the cow caused their articulated saddles to dig into their backsides. Kirk invented a one-piece team-tying saddle that solved that particular problem.
Kirk's saddles sell for thousands of dollars each and have made him a household name in the saddle industry. "I got to making saddles that would hold," he told us.
Kirk reminisced about the old days, when he used to play with the band, "We played all night for t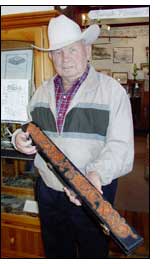 hree dollars and still saved money," he said.
Our group eventually headed out to the Ramah museum. Curator Paul Merrill lead us through the quaint establishment and its artifacts. Everything that was displayed bore an actual large, white tag around it. I found these tags to be a bit distracting.
Besides being a memorial to local residents that have died in past wars, the Ramah museum has an old washing machine and an antique stove that are worth checking out. But best of all is an old boiler and gas pumper on the museum grounds that makes the place look like a sculpture garden.
Next we headed out to the Ramah lake (it was rather low and swampish) and then to see some Indian ruins. Yawn.
As the day started to wane, I encouraged Joan Cok, our fearless leader, to take a side trip to visit Joel Nicoll, who played standup bass for the band. Joel invited us to visit his place, which he said was really a museum of old cars. He told us to aim for the two large quonset huts that were sitting on the side of a hill.

Sure enough, we spotted the huts and drove down a lonely country road, past some ominous checkpoints.
Joel was waiting for us. He must have seen us coming for miles from the vantage point of his mountain top retreat. We got a tour of one quonset hut that was filled with priceless antique cars in various stages or repair. He said he always kept the hoods, doors, windows and glove compartment open so that his cats could climb into the cars and catch the mice that would invariably take up residence.
Joel used to be a mechanic but gave up that line of work when his doctor told him that the stress was killing him, "I retired, didn't know what to do, decided to become a musician, build a dance hall and a sound stage," said Joel.
Joel Nicoll has been the driving force in the building of a dance hall that occupies the second enormous quonset hut. He said that sound engineers could not believe how good the music sounded in the building. They said that the sound quality might have something to do with all the corporate banners that were hanging from the ceiling.
The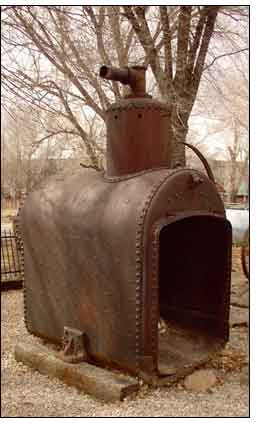 dance hall and its adjoining recording studio are practically finished. There is no doubt in my mind that The New Barn Dance Hall will help preserve Ramah's great musical heritage.
So maybe in the end things will work out better in Ramah than they did in Santa Fe.
Afterall, with music as a driving force in Ramah's development, with the nearest major airport lightyears away, and with no bars for miles, how can it possibly go wrong?
If you would like to hear some of the music of Ramah, New Mexico, please check out the visit the Ramah Music page.
Thank you for visiting Chucksville.