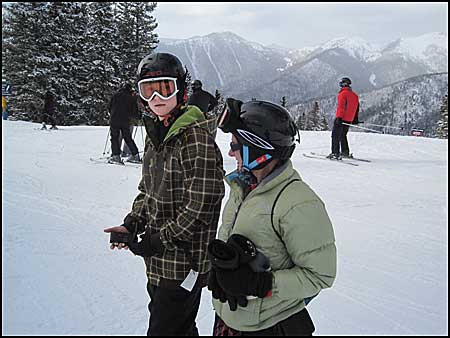 Skiing Taos
"Don't break your neck!"
That's what my boss said to me after I told him I was going skiing in Taos.
"Don't come home damaged," said Jenni Wren after she found out. "You're not as young as you used to be."
My family and friends thought I was doomed but I told them to relax: "I'm not going to Taos to injure myself," I said. "I'm going to have a good time."
Most people don't go downhill skiing with the intention of hurting themselves but accidents do happen: Taos claimed the life of an experienced skier just last January.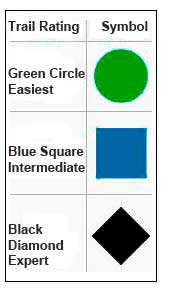 There's a saying that goes "Taos is a four-letter word for steep" and it's true: The green circle trails (the easiest runs) would be blue squares (intermediate) at any other ski valley. And the black diamond trails are just plain nuts.

So it all began when I received an e-mail from my alma mater that read "The St. John's Alumni Office is holding the first annual ski day at Taos Ski Valley on February 4, 2012. We'll have special discounted rates for lift tickets and rentals, plus dinner together in the evening."
I took the bait and figured this would be a cure for the winter blues and a way to conquer an old fear: I had broken my right thumb skiing at Sandia Peak 20 years before and that accident had spooked me so much I decided to quit the sport.
I called Bonnie in Chicago and asked her if she would like to join me, adding that this was the best ski season New Mexico has seen in several years. She agreed to be my partner and said she was going to bring along Deven, her 14-year-old son.
When word got out that Bonnie was going skiing in Taos, she ran up against a barrage of negativity. The worst of it came from our mutual friend Jim who said, "Don't go Bonnie! You're gonna break your hip."
She laughed it all off but took me aside and read me the Riot Act. "We're sticking to the green runs Chuck, and that means no moguls and no jumps!" (Moguls are large, unyielding mounds of snow, found on the side of steep mountains. They require inordinate amounts of strength, agility and skill to traverse and can really mess you up.)
I called the St John's College Alumni Office and told them to reserve a spot for the three of us and asked them if they could please extend the discount since we would be arriving a day early. Chris, our liaison, was already in Taos and was working out the logistics for the Ski Day. He told me on the phone that the paperwork had become an ordeal because he had suffered a concussion skiing on fresh powder the day before. Yipes!

Bonnie and Deven touched down at the Albuquerque Sunport at 9:30 on a sunny Thursday morning and I collected them at Arrivals in Stella, my 1984 Volvo that had just received a brand new, used differential, rear axle and wiring harness.
Stella was running well since I had made the repairs but she hadn't quite won my confidence s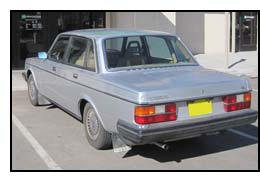 o we decided to rent a car for the ski trip. Besides, Bonnie said she didn't know how to work a stick shift.
After I threw the luggage in the trunk, Bonnie asked me if I would be willing to drive Stella out to Coronado Mall so she could buy Deven a pair of gym shoes. "He threw his old ones in the wash and they shrunk," she said. Far be it from me to deny a teenager his heart's desire so I put the pedal to the metal, shifted into overdrive and traversed the magnificent concrete flyovers of I-25 to the mall.
Leave it to a 14 year old boy to introduce me to youth culture. You could write a book about Vans, because that was the name of the shoes Deven insisted on wearing, and nothing else would do. A Google search says it all: "Vans has been at the heart of skateboarding since 1966. They have put their signature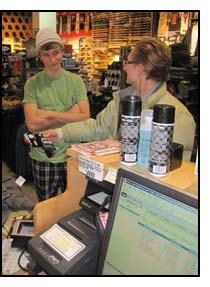 on the skateboard and fashion world for over 40 years."
We arrived at its storefront just minutes after it opened and Bonnie bought her son two pairs of shoes for about $100. The boy knew exactly what he wanted so that didn't take long and we were soon on our way to the downtown office of Enterprise Rent-a-Car.
Autumn, the congenial general manager, gave me the $19.95 per day special. Bonnie, a veteran Chicago driver, was used to potholes, icy streets and crazy drivers and was eager to get behind the wheel. She liked my choice of a full-sized Chevy Impala and I was more than happy to let her drive. I drove Stella back home while she followed behind me and then we transferred our bags into the rental.
Deven helped me drape my car cover over Stella and I was glad to leave her behind. After spending over three grand on that car (much more than she was worth) I figured spending about $100 on a rental would barely come close to the cost of repairing the inevitable breakdown that Stella would experience on the road to Taos. It's one thing driving through Georgia O'Keeffe country; it's quite another thing being stranded in the middle of it.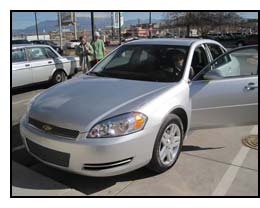 I christened our new silver 2012 Chevy Impala the "Bourgeois-Mobile" and she was a beauty with only 1,000 miles on the odometer, a kick-ass engine that sipped gas, and lots of bells and whistles. The interior was spacious and the trunk was enormous. Japan and Korea had better look out because Detroit has definitely made a comeback!
I hooked up the Tom-Tom GPS system, and punched in the coordinates for our youth hostel in Arroyo Seco, 10 miles outside of Taos. First order of business was to name the GPS system and Bonnie came up with "Hetty," after the Hetty Lang character, played by Linda Hunt, the spunky operations manager on the popular TV show NCIS: Los Angeles.
We popped in the house to say goodbye to Jenni Wren(who had no interest in skiing) and piled in the car. Our first stop was Sweet Tomatoes, part of the Soup Plantation dynasty, a well-established salad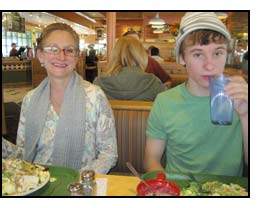 bar located on the way out of town. I gave Bonnie and Deven some discount coupons and I showed them how to pile their plates, but I cautioned them to avoid the Premium Salad Toppers because that would add $2.50 to their final tally. As usual they didn't pay attention to me and did whatever they wanted which was fine because Bonnie and I agreed beforehand that we were going 50/50 on the cost of the trip and that she would cover Deven's expenses.
I created my usual mountain of salad, my "Devil's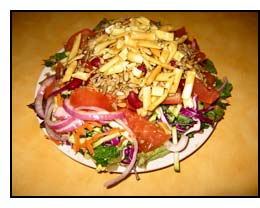 Tower" as a co-worker at the University puts it: An allusion to the 1977 movie "Close Encounters of the Third Kind" where that national monument served as a reoccurring plot element.
I told Bonnie and Deven to eat as if we did not know where their next meal would come from and not only did they construct their own impressive salads, but they sampled the soups and the vast array of fresh bakery items, as well.
Then we were back on the road with Bonnie behind the wheel while Hetty, our GPS navigator, directed us north on I-25 and diverted us to the Santa Fe bypass, past the Santa Fe Opera, Tesuque, Espanola and Nambe and on to the winding road that skirts the rapids of the Rio Grande and leads into the sprawling town of Taos, New Mexico.

Our first stop was San Francisco de Asis Mission Church, a Spanish Mission built between 1772 and 1816. Georgia O'Keeffe made several paintings of it and called it, "one of the most beautiful buildings left in the United States by the early Spaniards." Ansel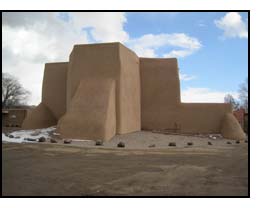 Adams and Paul Strand preserved its image on film and the friendly lady at the nearby gift shop said it was one of the most photographed churches in the world.
We walked around the Church and admired its massive adobe walls, especially those on its backside. The community gathers every year to re-mud it, a massive task that reflects the community's love. The front door was unlocked and we were able to explore its interior. No photographs are allowed inside but we enjoyed looking at the primitive Santos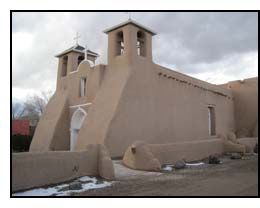 that adorned its walls and we walked away with the assurance that this was still a living church, not a museum.
Having explored this National Historic Landmark and World Heritage Church inside and out, it was time to find our lodgings. Time was of the essence because Bonnie's stay in New Mexico was so short and we had so much to do. I told her that I was sorry we could not visit the Pueblo or the Gorge but she assured me that we would do all that on our next adventure.
We weren't actually staying in Taos. Our hostel, The Abominable Snow Mansion was located in the quaint village of Arroyo Seco, nine miles north of the center of Taos.
Hetty directed us down the road and, in the middle of nowhere, said we had arrived at our destination. I looked at Bonnie, she looked at me and it was clear that we had not arrived anywhere. But such things probably happen when your destination is a number on a State Highway so I told her to keep on driving.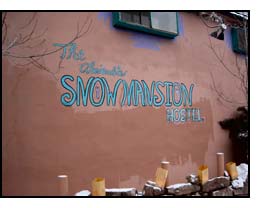 Sure enough, after a half mile we passed a sign that lead into a restaurant called Sabroso Restaurant and Bar. Just a little beyond that we arrived at a massive, old adobe structure that had the words "The Abominable Snow Mansion" painted upon its exterior wall.
Bonnie drove into the side street that lead to a lot adjoining its back entrance and parked. We opened a door that lead through a forest of pipes and boilers, a full kitchen and into a spacious lobby heated by a circular gas fireplace. On the far side of the room was the front desk where I approached a man and introduced myself. He ruffled through a pile of papers and looked up at me.
"There was a problem with your room so we had to upgrade you to one that has a private bath and shower."
An upgrade sounded good. The idea of sharing a bathroom with strangers never really appealed to me.
"But that will bring the total for three nights to $250."
"That's not an upgrade," I protested. "An upgrade is when you give me better value for the same price. The deal was that the room would cost $200. I don't think this is fair." I showed him my receipt for the $100 deposit.
"I see your point and I'm sorry. Let me make a phone call, please."
He made a phone call and then turned to me. "It seems the original reservation was for one person and I see you've brought two others along with you."
"Why would I rent a room with a double bed and eight bunks if I was just going to stay here by myself? Let me make myself clear," I tried to say forcefully. "I do not intend to pay $50 more for this room!"
He made another phone call and then turned to me. "OK, I' tell you what. Let's compromise. I'll charge you $220 total. How does that sound?"
Actually that didn't sound so bad. The thought of a private bathroom seemed worth $20 and I didn't want to fight about it. Since I had already paid $100 for half the cost of the room with my American Express card, Bonnie gave the man a $100 bill and I threw down an extra twenty.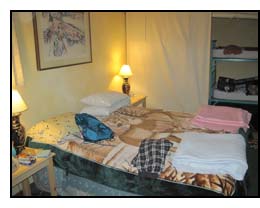 "Please mark the receipt Paid in Full," I said somewhat warily.
This whole transaction left a bad taste in my mouth but I wasn't about to let it ruin my vacation. We were, after all, paying a little over $200 for three nights in Taos, New Mexico, and it's hard to find a decent place in that town for that kind of money.
We were given the room key and we walked up a creaky set of steep, wooden stairs to room #3. Bonnie, who was always in charge of the car keys and the room keys, opened the door and we were greeted with an enormous space that had a double bed in its middle and a bunk bed at the entrance. Four more bunk beds were sequestered behind a curtain in the back. There was a small window on the wall,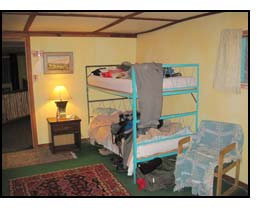 opposite a gravity heater. There was also a private room with a toilet and sink adjoining another private room that contained a shower stall.
I have stayed at my share of hostels and was impressed by how clean the place was and the fact that it didn't smell weird.
This was a new experience for Bonnie who was accustomed to staying at four-star hotels but she never complained. She seemed enchanted with the place and after settling in, made it a point of getting to know its inhabitants: The very young lady with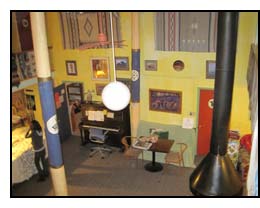 a baby, the shy Labrador dog named Zeus, the short oriental woman cook who would whip up a pot of cabbage soup and feed the bellies of the hungry masses. Whereas I made it a point of keeping to myself, she would come into the room and tell me stories about what was going on in the "mansion."
Bonnie insisted on keeping the front door of our room wide open, to circulate air and to keep us less isolated from what was going on among our young, footloose and fancy-free neighbors. I don't think we could ever quite fit in, but thanks to Bonnie's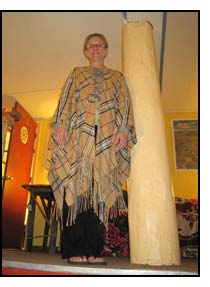 outgoing ways, we were never really given the cold shoulder. She would occasionally walk out onto the balcony overlooking the lobby, bedecked in her long scarves and gaze upon the action below.
Curiously, during our three day stay, our parking space was never claimed by the league of vehicles that came and went. Bonnie was always able to drive the Bourgeois-Mobile into the same prime location that she had picked when we arrived and she said she didn't think that was an accident. Our hippie hosts may have regarded us as curiosities from another planet but they never messed with our space.
We decided to explore the town of Arroyo Seco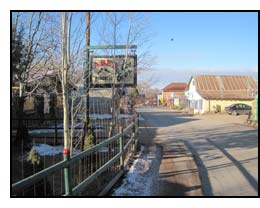 after we were cleaned up and settled in. I watched in fascination as Bonnie locked the door to our room and tested the knob a half dozen times to be certain it was securely closed. That's exactly the sort of neurotic thing that I would do: testing and re-testing the knobs on doors and the handles on cars.
We visited the Arroyo Seco Mercantile General Store and marveled at its eclectic inventory, we also stopped by Abe's Cantina y Cocina where I bought a toothbrush and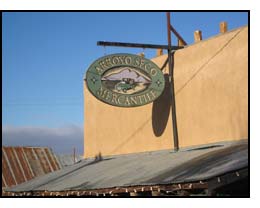 toothpaste. Then we walked back to the Snow Mansion and thought about dinner.
As tempting as the pot of communal food looked, we decided to eat at the Sabroso Restaurant and Bar, conveniently located a short distance from the hostel. Night was falling, the temperature was plummeting and the snow was beginning to fall so it was nice to walk into a friendly restaurant with thick adobe walls crowned with ancient wooden vigas. We found a round, marble table to sit at next to the warm fire and we were approached by a very friendly waitress.
We were eating off the bar menu but all the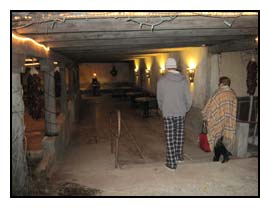 selections seemed a notch above the usual wings and chips one would normally expect to see. Indeed, all the modestly priced food items seemed to be full-fledged entrees. The waitress went to great lengths to educate us about our options and explained where the meat came from and even some details about how it was slaughtered: Perhaps more information than one might desire but these things are good to know.
With an eye to economy, Bonnie and I each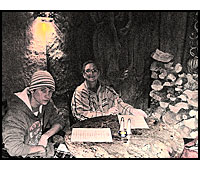 ordered liver and onions "with homemade bacon and mashed potatoes" for $15 a plate, one of the more reasonable items on the menu. Deven ordered a wood-grilled Sabroso Burger.
I was amazed at how tender the liver was. It contained no sinewy strands of god-knows-what like the liver and onions I had been served in Albuquerque. The meat practically melted in my mouth and the bed of mashed potatoes was as light as a cloud. The spicy, thick slabs of bacon had a memorable texture and the sautéed onions rounded everything out perfectly.
I washed my meal down with a porter and Bonnie drank a light beer while Deven enjoyed his Coke. After an hour or so of pleasant conversation before the crackling fire, it was time to get some sleep in preparation for the big day ahead. But my sleep was troubled. After a 20 year hiatus I was finally going to get on a pair of skis and that thought was terrifying. Meanwhile the snow began to fall heavily as the temperature plummeted well below zero.

We awoke at 6:30 the next morning and walked up the street to Abes where we ordered a breakfast burrito. I honestly don't think I ever tasted a moister and more tender tortilla in my life. It definitely hit the spot. Bonnie poured herself a tall cup of coffee and we walked back to the parking lot of the Abominable Snow Mansion and the Bourgeois-Mobile.
It took a good 15 minutes for us to remove the three inches of snow that fell on the car the night before. The windows were covered with a thick layer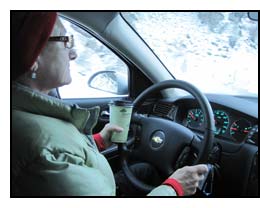 of ice and the roads were treacherous. Bonnie practically slid off the dirt road leading to the highway but managed to correct her steering in the nick of time. She was a Chicago girl and she knew how to handle such weather conditions.
Indeed, Bonnie thrived behind the wheel of this brand new vehicle. Having mastered the location of all the vital knobs and switches, it was clear that this is where she belonged. She didn't much care for my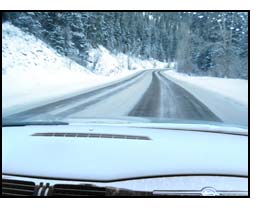 taste in music, however and it wasn't long before her CDs came out, supplanting my Miles Davis and Eric Clapton with the Backstreet Boys, 'N Sync and Rap.
The road to the ski basin was covered in packed snow and patches of black ice. Road crews had plowed it as best they could and had sprinkled ash over its surface but it would take lots of steady traffic and hours of sunshine before it would be safe. Bonnie inched her way past cars that had been abandoned by the side of the road and one that had fallen face first into a deep gulley.
Bonnie's concentration on the road was unwavering and occasionally we could feel the car lose control and drift a little, one way or the other. But she compensated or slowed down and did whatever was necessary to get us back on track. In 30 minutes time, we traveled the 11 miles distance and finally arrived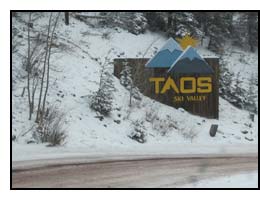 at the parking area, located at 9200 feet in the Carson National Forest. It was a bitter cold Friday morning and the ski valley had just been hit with a hard snow. The Impala was now covered with mud and Bonnie was guided by an attendant into a space along the side of the road.
We took note of the location of our car, parked in an area marked with signs bearing the silhouette of a deer. Other parking regions had signs with silhouettes of bears, armadillos, etc. We gathered our stuff and jumped onto back of a flatbed trailer with guard rails, hauled by a truck that shuttled us a half mile's distance to the ticket office.
We were supposed to meet Chris, our host from the College, at the Black Diamond Espresso stand above the ticket office at 8:30 a.m. We waited and waited but he didn't show and I was starting to get worried. Bonnie and Deven wandered off into a nearby ski shop while I froze my ass off, waiting for our host to arrive, frequently questioning strangers, inquiring whether their name happened to be Chris.
9 a.m. arrived and I figured something had gone wrong. I reached for my Virgin Mobile cellphone and was surprised to see that it could not pick up a signal. I saw the signal bars disappear as we left Santa Fe but I thought, surely there would be some cell phone towers in Taos, or maybe the Ski Valley, but that was not to be the case. Up to now I had been using my pre-paid phone card at the Abominable Snow Mansion to make phone calls. I rushed into the Ski Shop and asked to borrow Deven's Verizon cellphone and called Chris.
"Chuck!" Chris said in relief when he picked up, "I've been trying to call you since last night!"
"Sorry, my cellphone doesn't seem to work in Taos," I said.
"I got into an accident and had a concussion."
"So you said. Are you OK?"
"I'm getting better but I won't be skiing today. I'll need another day to recover. All your passes are waiting for you at the ticket office. Just go into the side door, give them your names and they'll take care of you."
I went into the ticket office and, after shuffling through a stack of papers, the agent handed me an envelope.
"Here you go," she said. "Lessons, equipment, lift tickets: You're set to go."
I reached for my wallet. "How much do I owe you?"
"You don't owe us anything. Everything's already been paid for."
I was floored. I had expected a discount but I certainly didn't expect Chris to front $600 for somebody he had never even met. This was an act of generosity and trust that made me proud to be a Johnnie: They take care of their own.
The next hour was a blur as we were processed through the system by the knowledgeable and caring staff at the Taos Ski Valley. The virtually indestructible ski passes, bar-coded and dated, were cable-tied to the sliders of the zippers on our ski pants in places where they could be seen and periodically scanned (great for identifying bodies, I guess). We were also given a waver to sign: a legal document with tiny, dense type that said we wouldn't sue anybody in case we got into a horrible accident.
We filled out paperwork with our height, weight and shoe size and then we got into a long line where we were handed our skis and our boots. It was an absolute madhouse with all those experienced skiers surrounding us and demanding to be served right away. We were totally lost and at the mercy of others and holding up the line.
I had to ask an attendant to help me with the boots because it had been such a long time since I had put on such monstrous and cumbersome footwear. Bonnie and Deven rented ski helmets, something I didn't have to do because I had brought along my bike helmet. Finally, at the end of this insane assembly line from Hell, we were each handed a pair of poles by an attendant who guessed their proper size based on our heights.
Then, CLOMP, CLOMP, CLOMP we left the ski rental shop and followed a yellow line to a locker room where we stowed away our gym shoes, bags and all the stuff we should have left in the trunk of the Bourgeois-Mobile. I stubbornly refused to put my big REI pack in the locker because I thought I needed to bring a down vest, two bottles of water and all sorts of other odds and ends along with me when I skied.
We galumphed to the Ernie Blake ski school, the best in the country, and apologized for being late.
"No problem," said a ski instructor. "What level are you?"
"We're intermediate but we haven't skied in a while." I figured skiing was like riding a bike and it would all come back to me. I mean, what's 20 years?
After a few more questions we were all soundly demoted to "yellowbirds" and sent to the bunny slope with another beginner. Christy, our teacher, had no intention of letting us hit the mountain until she thought we were ready.
Christy taught us how to carry our skis so that they were balanced on our shoulder and we wouldn't decapitate somebody who happened to be behind us. She explained how the new generation of skis were much different than the kind Bonnie and I were accustomed to: They were much wider, they had plastic guards on their tips and unless you happen to be an Olympic skier, there's no left or right any more.
First thing Christy told me to do was remove my pack. I reluctantly handed it to her and she stuck it under a chair where I couldn't get at it. Then she wanted to know a little bit about ourselves and when she found out that Bonnie was from Chicago, she explained to her that she was now in a very dry climate and that she had to keep herself hydrated. "If you become dehydrated you will become disoriented and you may do something foolish," she said.
"Yeah," said Bonnie, "I never felt so thirsty in my life!" Christy sent her over to the big Gatorade keg where Bonnie proceeded to drink cup after cup of water.
Christy showed us how to knock the snow off our boots using the ragged contours of the bindings and she taught us how to place our boots in the bindings using the memory trick "TGIF:" Toes Go In First. Then she allowed us to put one ski on and we spent the next 15 minutes getting to know that one ski in so many intimate ways.
She jumped all over me when she noticed that I had the palms of my hands running through the straps of my ski poles. I never thought twice about that. I mean that's what straps are for, aren't they?
Evidently not. "There's no easier way to break your thumb than to have the palm of your hand inserted in the strap," Christy said. "If you fall and land a certain way, you will break your thumb."
"I did break my thumb," I said. "At Sandia. Twenty years ago."
"And were you holding your poles that way?"
"Yeah. But how the hell am I gonna hold em if I don't use the strap?"
"Just hold em in your hand. You don't need a strap."
"Well then why do they put the bloody straps on the poles if they're just gonna break your thumb?"
"I don't know," she said as she moved on to criticize somebody else.
I was suddenly filled with confidence. I finally understood why I had broken my thumb at Sandia and that changed my attitude 100%.
"You've got to develop muscle memory," Christy said as the lesson continued. When we had practiced a while she let us put on the other ski and for the next 15 minutes we practiced the fine art of climbing a hill in skis by shuffling up its contour with our skis parallel to the uphill slope.
Then she showed us how to do the wedge, with our toes pointed together and the back of our skis spread apart. She compared the wedge to a slice of pizza and said that move was instrumental in our ability to stop and turn. Similarly, "French fries" described our stance when the skis were parallel.
"Pizza and French fries, Pizza and French fries: that's something everybody can understand, no matter what language they speak! You guys are great!" Christy said, nodding in approval as we shuffled, wedged and parallel skied around the bottom of the bunny slope. And then, just when we were about to die of boredom she called out, "I think we're ready to do some skiing!"
Christy led us to the magic carpet, a moving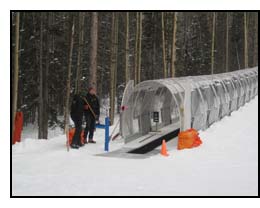 sidewalk shielded in a long glass cocoon that transported us to the top of the bunny slope and we proceeded to show our stuff.
Christy nodded approvingly at the way Bonnie, Deven and I made our turns and our stops, incorporating the wedge technique that she had soundly driven into our brains. She coached us to keep our weight balanced on the front of the boots, against the shin. "Use your toes to turn," she roared. "Your big toe, your little toe, the balls of your feet: Let them use your skis as a tool to do what your mind wants them to do. Resist the temptation to fight gravity, stay in control and let your skis do all the work!"
The fourth guy in our class was having some problems so she turned to us and said, "I think you guys are ready for the mountain but I want to work with this guy in private. Do you mind if I move you to another group?"
"No, we don't mind," we said in unison.
"Hey Rick!" She yelled. "I've got three skiers who are ready to go on to the next level. Do you mind taking them on, please?"
"No problemo," he said, carefully watching our turns and stops.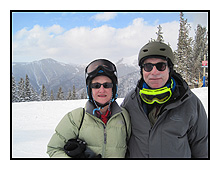 Rick was in charge of a group from Mexico and his lessons, up to this point, were being taught entirely in Spanish. But with our introduction into the mix he was now switching effortlessly between Espa?ol and English. A tall, dark-skinned man of American Indian descent, Rick had a great sense of humor and was determined to learn our names and give each of us as much individual attention as possible.
He led us away from the bunny slope to Raspberry Hill which had a real chair lift and he watched our every move. He laid into us hard for any infraction and if our transgression was severe enough he would take away our ski poles.
I managed to stay under Rick's radar for the most part because I didn't want to be yelled at and because I liked my ski poles and I had no intention of giving them to him, especially now that I knew how to keep them from breaking my thumbs. By this time Rick was holding a half dozen sets of ski poles in his arms.
Meanwhile, Bonnie, who was now far away from Christy's disapproving glance, was determined to regress to her old ways of skiing and Rick was not going to have any part of it.
"Bonnie," he said ferociously, "what color is the snow?"
"What?"
"I said, what color is the snow? It's a simple question!"
"White," she said.
"Good. Now what color are your skis?"
"White, from all the snow on 'em!" she laughed.
"Very good! Well, since you know that your skis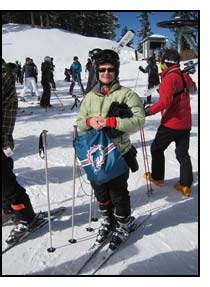 are white and the snow is white, then why oh why do you keeping looking at your feet?"
"Huh? I don't get it."
"When you're driving down Fourth Street and you turn on Montano," Rick persisted, "are you looking at the hood of your car?"
Bonnie stared at Rick blankly. She was a Chicago girl and she didn't know the first thing about the intersection of Fourth and Montano in Albuquerque, but most of all she did not like being spoken to in this tone of voice.
"NO! I'm not looking at the hood of my car when I drive!"
"That's right, you look at where you want to go and you make the turn without thinking. That's what you're supposed to be doing now! Pick a spot on the mountain and head towards it. Don't look at your skis! If you do that again I swear I'll take your poles!"
Now, Bonnie is a mother and well versed in making ultimatums to belligerent teenage boys and she didn't like Rick's tone of voice or his threat one bit, even if he did tower over her 95-pound figure.
"Go ahead!" Bonnie scowled, "Take my poles! I don't care! I don't even want your stupid poles!" she said furiously.
This was not at all the response that Rick was expecting because most skiers will do anything to keep their poles. Rick, who I suspect was starting to take a fancy to Bonnie, approached her before she had a chance to throw her poles at him.
"Hey," he said quietly, "I didn't mean to get upset at you. I was just trying to make a point. I'm sorry. I didn't mean to ride you like that. Please forgive me."
Bonnie wasn't one to hold a grudge and the matter was quickly dropped. Rick backed off and led the group to Strawberry Hill (another beginner's slope) where we further perfected our technique and then it was time for lunch. Rick offered to let us join the class after we ate but Deven was chomping at the bit and eager to hit the big mountain. We decided that we'd had enough of ski school, thanked Rick for everything and headed back to the Resort for lunch.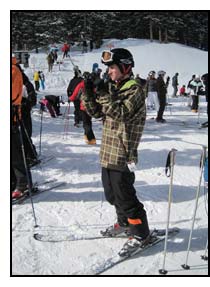 We clomped our way into the friendly Hondo Restaurant and Bar and found a seat around a round table where I ordered one of the cheaper and more filling selections on the menu: macaroni covered with a crispy layer of cheese. I needed a helping of pure carbs to get me through the rest of the day. Bonnie ordered a barbecued beef and cabbage sandwich and Deven got his usual burger.

We were totally psyched after lunch and ready to hit the big ski lifts but we were taken aback by the mountain as it loomed above us in all its glory. And that sign, the same damn sign was still there since the last time I skied Taos. "Don't panic!" it read. "You're looking at only 1/30th of Taos Ski Valley. We have many easy runs too!"
Now things were getting real. We shuffled into lanes that funneled us into a line that lead to the four-person chair lift. The bar codes on our tickets were scanned by staff whose job it was to be certain that we had actually paid for the ride.
Upon reaching the front of the line we were told to wait in a semi-crouching position as an empty chair made its way behind us and whoosh! We were swept onto a padded bench seat that transported us 1,617 vertical feet in eight minutes. When we reached the top of the lift we all managed to get off safely, though I noticed some hesitation on Bonnie's part to dismount and this concerned me.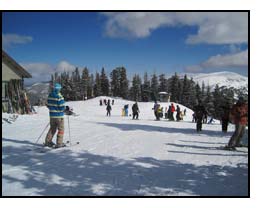 Another thing that worried me was a distinct feeling of vertigo as we rode to the top of the mountain. At certain points in the ride we were 100 feet above the snow and I was terrified of falling off the chairlift — nothing more than a flimsy skeletal frame of aluminum hanging from a mere cable really — but I didn't say anything.
I felt much better when I skied off the lift and prepared to do what I had been waiting to do for 20 years! The sun was now beating down upon us; the sky was blue and the distant snow covered mountains of the Carson National Forest filled the horizon. I deeply inhaled the fresh air and rejoiced in the disappearance of my horrible seasonal allergies. Bonnie, Deven and I looked at each other with radiant smiles. It really doesn't get much better than this.
We located White Feather, the "easiest" route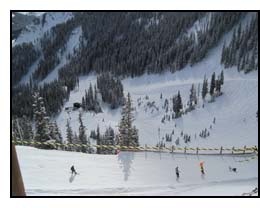 down and proceeded to make our way to wherever it happened to go. My suicidal days of "going for it" were long over and I was resolved to savor the experience of virtually frictionless descent. Armed with a morning of lessons from the country's best ski school, I was determined to put all my newly-acquired knowledge into practice.
I was conscious of my feet, cocooned in unyielding ski boots and securely bound on freshly-waxed, high-tech skis with finely-sharpened edges. I chose a spot on the opposite side of the wide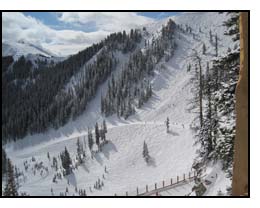 downhill trail, aimed toward it and traversed the side of the mountain at a good clip, keeping my weight equally balanced on both skis. When I reached the spot, I looked to the other side of the mountain and found another point of reference and aimed for that, quickly shifting my weight to the opposing ski.
The turn worked, just like Christy said it would! I traversed the mountain and, upon reaching another predetermined position, turned my head to find yet another spot and aimed for that. I zigzagged, back and forth, back and forth, and I stayed in control and established a rhythm that felt a bit like dancing and that felt good.
But Deven was falling down a lot and that did not make for a happy camper. He didn't have a problem keeping his balance on a downhill run — his balance was excellent — but at a certain point he simply lost control and fell over.
Falling over is not such a big deal really,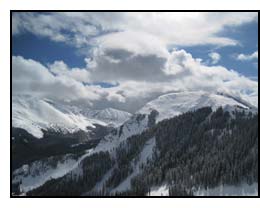 especially for a teenager — it's the getting back up that's hard to do and I could see that getting back up all the time was draining him of his energy and worst of all, his confidence.
I could feel his frustration and exhaustion and I suspected that he wasn't paying attention to what the instructors were telling him to do this morning, either that or he just didn't get it. So, without being overbearing, I approached him from time to time and simply asked, "Hey Deven, are you in control?"
"Pick a spot opposite you and ski toward it!" I gently advised. "When you arrive there, look to the other side of the run and pick another point and ski toward that! And don't lose control, Deven! Stay in control! Are you in control?" I kept asking him until he must have been sick of hearing me but then a miracle happened and he got it.
"I did what you told me to do," he said excitedly as we rode lift 1 to the top of White Feather. Part of me was glad for him; the other part of me was freaking out from vertigo. "I picked a point on the hill and skied toward that," he said as I felt a repressed compulsion to jump but somehow managed to keep a death grip on the chair. "Then I picked another point and skied toward that and it worked, Chuck!"
Deven always wanted me to be in front of our little pack, leading the way. Meanwhile the boy and his mom hung back. "Go ahead, Chuck: Lead the way!" he would say.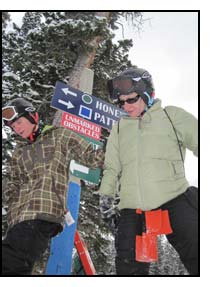 Mother and son skied together, giving each other tips and mutual support. Sometimes it took them a good five minutes to catch up with me but I didn't get bored, although sometimes I worried that I had lost them. The view at 10,000 feet was absolutely spectacular. Every molecule of my existence was basking in the glory of nature.
We headed back to lift #1 and skied down White Feather and then, after having skied that a number of times we decided it was time to take lift #2 to the very top of the mountain. Rising 1,093 vertical feet, my vertigo was really kicking in and even Bonnie was looking a little bit uneasy.
When we got to the top I noticed that Bonnie seemed to have a little difficulty getting off the chair lift and I made note of that. We took our time getting oriented and enjoying the view of the other side of the mountain. After studying the map we decided that Honeysuckle was the route most suited for us and we followed its elegant catwalk to a number of broad open spaces where we casually traversed the mountain from side to side and enjoyed the breathtaking view.

Deven was getting better all the time. He was always in control and even passed me on occasion. Bonnie was holding her own, carrying both poles in one hand — she only used them to help pick herself up after a fall.
We explored the mountain, avoiding any run that looked too steep. We had fallen into a routine and complacency was starting to set in. It was getting late in the afternoon and we probably didn't realize how tired we actually were. As we were riding the chair to the top of the mountain and, as we approached the end of the lift, I said, "OK guys, this time we're going to dismount perfectly. At the count of three: one, two, THREE!"
Devon and I rose to our feet and prepared to push off but Bonnie was frozen to her seat. Deven and I pushed off the chair lift and glided onto the landing area.
Bonnie finally decided to jump off the chair while the cable was starting to make its turn and, lacking any momentum, fell straight on her head. The operator of the ski lift noticed this bizarre move and immediately shut down the lift. All the chairs stopped in midair, swinging slowly back and forth, side to side.
The world seemed to come to a standstill and was filled with a foreboding silence.
And there was Bonnie. Lying in the snow, motionless. Deven and I worked our way back to the lift, dreading the worst.
All day long we had watched in horror as snowmobiles would race up the hill with their sirens and revolving lights, trailing an empty sled behind them. And then it would come down the hill, carrying the bloodied, mangled and moaning remains of a formerly healthy skier.
"As I was going down," Bonnie told me later, "I honestly thought I was going to hurt my leg because I didn't think the bindings wouldn't release. And that's when Jim's voice came into my head saying: You're going to break a hip.
"Instead I fell and landed on my face and it's a good thing I was wearing a helmet. But then I realized, oh I'm fine. I was almost out of my body for a second and I didn't know where you or Deven were.
"So the chair lift operator came up to me and asked me if he should call the ski patrol. No, no, no, no! I said. — I just need somebody to hold me up for a while.
"My arm was real stiff. And then later that day, when we went back to the Snow Mansion, my chest really started to hurt. I was in pain and took some ibuprofen.
"Cracked ribs, they hurt, but it's not like some other kinds of pain. I tell you, Chuck, there is no pain in the world like kidney stones or having a baby."

We probably should have called it a day at that point but we decided to do one more run. This time, as we reached the top of the ski lift, Bonnie inexplicably grabbed onto Deven's ski poles as he was pushing off the chair. She hung onto them as they both skied to the end of the landing while Deven was yelling, "Mom! What are you doing?" It was a miracle they didn't both fall and injure themselves.
At this point I called a time-out and asked Bonnie what was going on.
"I just wanted to be sure you and Deven would get off the chair safely," she said. "I was really trying to make sure that nothing went wrong."
And then it dawned on me, Bonnie was doing what Bonnie did best and that was being a mom. She was entirely focused on the welfare of others — even though she was putting others at risk.
Bonnie was always worried whether we were warm enough, if we were hungry, did we want a snack, were the doors locked securely and she didn't give a second thought to her own welfare.
"This has got to stop," I said. "From now on, we are all going to focus on our own skiing and on our own safety. Don't worry about what somebody else is doing, especially on the ski lift, OK?"
I'm sure my words went in one ear and out the other.

We returned to the locker room and put on our casual clothes. Then we went to the rental place and stored our skis, boots and poles for the evening. The drive back to the Snow Mansion was much easier than the drive up, the snow on the road having melted.
We ate dinner at Sabroso at our usual table right by the roaring fireplace. I ordered the liver and onions again and Bonnie tried the Moules Mariniere (mussels) which were delicious. Deven got a big Caesar Salad. And Bonnie ordered a fruit tray for all of us to share.
After dinner Bonnie and I counted out six hundred dollars in cash and placed them in three separate envelopes.
We awoke the next morning and had breakfast at the Taos Cow Ice Cream Company, just up the street. Bonnie and Deven had breakfast burritos but I decided to take a chance and order a bowl of organic oatmeal for six bucks.
The oatmeal was made from scratch and was wholesome and delicious, mixed with dried cherries, apricots, cranberries, dates, almonds, walnuts, pecans, sunflower seeds and pepitas. I wolfed it all down with milk and brown sugar. This was exactly the sort of thing I needed to keep me energetic and alert for the day ahead.
When we arrived at the mountain, we met up with the group from St. John's at Tenderfoot Katie's Cafeteria. I introduced Bonnie and her son to Chris and Nancy from the St. John's alumni office. Bonnie bought a warm orange and black scarf from them. I handed Chris the envelopes of cash and he happily received them because he had charged all our lessons, chair lift tickets and rentals to the college's American Express card.
Having taken care of the money situation, we eagerly reclaimed our skis, boots and poles. We were experienced skiers now. We had gone up just about every lift and although we had avoided the intermediate and expert runs, we were having fun and that was the point!
I was concerned about Bonnie but she seemed to be doing ok even though she had gone through some serious trauma. She was quite a gal: A 95 pound adventurer who wasn't about to let a little thing like three broken ribs ruin a vacation that she had been planning for months; it's not like there's much you can do about a broken rib anyway except suffer. Hell, you might as well ski on 'em.
Bonnie's pain hadn't really kicked in yet anyway. That would come later, along with the black and blue bruising all over her torso. The Aleve and the topical pain gel I had given her that morning seemed to be doing the trick so we were set for another day. Bonnie would feel the agonizing pain of those cracked ribs in the weeks and months to come but on this day she barely gave them a thought. She had transcended the pain and, thanks to having given birth to four children, she was able to put the matter in perspective.
We rode the ski lift to the top of the mountain and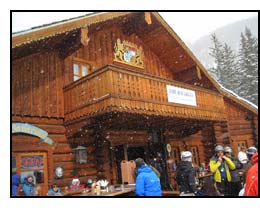 skied down it all morning, until we got hungry. We stopped to eat at the Bavarian Inn, a rustic log cabin built high above the resort, near the base of a ski lift. The place was so crowded we had to eat outside on the patio. The waitresses were walking around in skimpy Germanic outfits like it was summer.
The snow began to fall heavily around us while a disk jockey was spinning his tunes from a nearby stage. Bonnie ordered Spetzl, I ordered goulash and Deven ordered a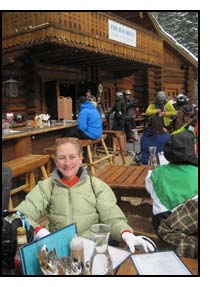 cheeseburger and fries. When we were full we returned to the mountain and skied until 4 pm. We returned our skis and joined up with the kids from St. Johns where we socialized for a while over cups of steaming hot chocolate.
Afterwards the students returned to St. John's in their van and we drove back to the Snow Mansion where we showered, dressed and prepared for dinner which, it turned out, was going to be held next door at Sabroso.
We were seated at the end of a long table in a room opposite the bar with a dozen other alumni. Poor Deven was so tired he could barely keep his head erect but the fellow next to him, a dark skinned Indian named Sanjay, brought him back to life when he said, "You look like I feel."
The Portuguese wine flowed generously, our tongues loosened and our hearts opened. Bonnie and I each ordered the eight ounce flatiron steak, "wood-grilled with a spicy ancho chili sauce."
Time slipped by and before we knew it the party had come to an end. As we all prepared to dig deep and pay for the meal, the head of the alumni office, Nancy, announced that the evening's meal was courtesy of the St. John's College Alumni Association.
Bonnie was embarrassed, not technically being a Johnnie, so she approached Nancy in private and offered her a hundred dollar bill but Nancy wouldn't think of it and the matter was dropped.

We woke up early the next morning and walked the grounds of the La Santisima Trinidad Church &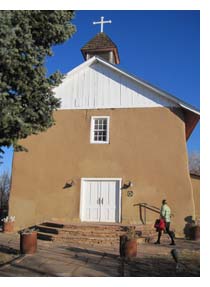 Campo Santo, built in 1834, hoping that we might catch a church service, but there was none be had. So we wandered around the cemetery and then we hit the road, stopping for breakfast at a cheap restaurant for a tired all-you-can-eat breakfast buffet. The oatmeal tasted like slop and the waitress went on and on about how awful business was in Taos, how the snows were nothing like they used to be, how she got paid a buck an hour and she had to make up the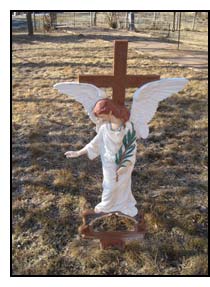 rest in tips. I couldn't wait to get out of there.
We followed the winding road along the wild rapids of the Rio Grande, fed by prodigious mountain snows. Bonnie turned to me and said, "That will be our next trip, Chuck! We'll go rafting! We'll ride the rapids."
"That's a thought," I said noncommittally.
Bonnie stopped at a factory outlet and bought a hundred dollars worth of Nambeware. Glistening brand new bowls for her daughters as well as the newest thing: an elegant, copper-coated Nambe alloy votive with a clear protective coating for herself. At first she wanted to get a glass bowl and I said, "No Bonnie, only Nambeware will do. There's nothing else on earth remotely like it."
Deven wanted to go to Wendy's when we got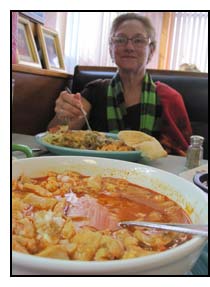 back to Albuquerque, but I pulled into Garcia's on Fourth Street and we enjoyed a genuine New Mexican breakfast instead. Bonnie got enchiladas, her son went for a burrito of some sort and I . . . I got a huge steaming bowl of Menudo, the breakfast of champions.
And so ends my tale. Bonnie and Deven have resumed their life in Chicago and I have gotten back to my work as an editorial technician.
My ennui is gone and life's mundane challenges and little surprises seem a bit more meaningful now. Taos will do that to you.