Beatlick
Joe Speer
I am proud to present you with some recordings by my dear friend, Joe Speer. Two electronic jukeboxes should appear below. One of them is bound to work on your browser, even if you own an i-Phone or an i-Pad. Please read more about Joe and his poetry by scrolling below the jukeboxes!

Excerpts from the "Dust on the Horizon" CD
Poems and Stories by Joe Speer


On Monday night, April 19, 2010, Beatlick Joe Speer, Chuck Reuben and Reinhard Vogel gathered in the studio of Sanctuary Sound at 907 Third St. NW, near downtown Albuquerque, New Mexico.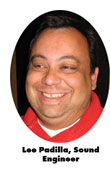 Under the supervision of Sanctuary Sound sound engineer and owner Lee Padilla, Las Cruces poet Joe Speer read excerpts from Charles Reuben's book, "Tar Beach and Beyond" (1989, Autumn Press)
During the final hour of the grueling three hour recording session, Joe Speer also read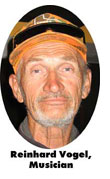 excerpts from his upcoming CD, "Dust on the Horizon," with music by Albuquerque's own Reinhard Vogel.
We are pleased to present some of these stories and poems to you in the form of an electronic jukebox. Joe, a dear friend, gave me permission to excerpt a few poems from that session on this website.

Itinerant raconteur and poet Beatlick Joe Speer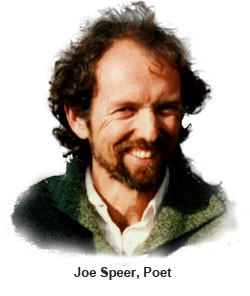 passed away on January 11, 2011. Prior to his death he toured the Southwest and Mexico in a 1977 VW bus along with Beatlick Pamela Hirst.
Joe's spirit lives on at www.beatlick.com. Born and raised in the land of Anasazi ruins, Joe specialized in literature of the 1920s and films of the 1960s. He is a graduate of New Mexico State University.

Please contact Pamela Hirst for more informationabout how you can buy the complete CD of Joe's Poetry and also consider purchasing a copy of his book from Amazon found here: BackpackTrekker: A 60's Flashback.
You can find more information about the Beatlick Press by pressing this link or visiting http://www.beatlick.com/
Thank you for visiting Chucksville!