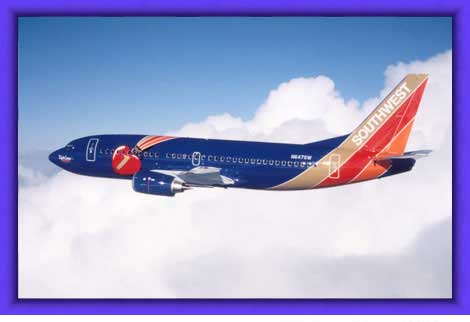 Airborn
By Charles Reuben
shawnee@unm.edu
It takes 24 hours to get from Albuquerque, New Mexico to Chicago, Illinois onboard Amtrak's "Southwest Chief."
But it only takes two hours, fifty minutes to cover those 1100 miles on board a Southwest Airlines 737 jet.
Yet riding on Amtrak is 45% more fuel-efficient than flying.
So what's an impatient Luddite to do?
I quit flying 10 years ago because my eardrums burst upon landing, sending me straight to the emergency room. For the last decade I have been criss-crossing the country on Amtrak, logging over 100,000 miles on long haul passenger trains with names like the Coast Starlight, the Adirondack and the Capitol Limited.
I was recently given the green light to attend Graph Expo '07 in Chicago and I wanted to get there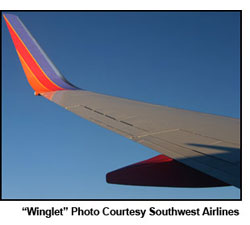 in less than a day, so I decided to start flying again. I went to my Ears, Nose and Throat Man, got my ears fixed and bought an "electronic" plane ticket to the Windy City on the World Wide Web. As far as accommodations are concerned, I asked my best friend if he would put me up.
Getting through airport security was much simpler than I had anticipated because Albuquerque's Transportation Security Agency (TSA) is a high-tech model of efficiency and courtesy.
I was required to remove my shoes, wallet and everything metal, and have it all x-rayed. I was told to enter a transparent compartment where a gentle breeze caressed my skin and analyzed me for explosive residue. As I stood in this booth a female voice gently repeated these words, "Air puffers on, wait for green light."
I never felt safer in my life.
Now I'm seated aboard this cozy plane with its delicately upturned wing tips and light-hearted flight attendants and am about to land in the Second City: No muss, no fuss!
The view is nothing less than spectacular from my window seat located behind the wing. As the plane breaks through angry clouds surrounding Chicago, we encounter buffeting turbulence and as the 737 finally touches down on the tarmac, the passengers erupt into cheering and applause.
Do all airplane rides end like this?
---
From my seat on board the Chicago Transit Authority Elevated Train, I watch the storm subsiding and the skies clearing, despite some light sprinkling. In the distance a double rainbow fills the sky.
My plans are changing with every passing minute. Jim was supposed to pick me up at the airport but now tells me, via cell phone technology, that he is in the middle of heavy traffic and wants me to meet him at Comiskey Park, home of the Chicago White Sox.

"I told you to call me when you touched down!" Jim gripes when I finally get around to turning my cell phone on. "Why didn't you call?"
"I told you to call me when you touched down!" Jim gripes when I finally get around to turning my cell phone on. "Why didn't you call?"
Why didn't I call? Well, first of all: I don't like chirping devices that threaten to disrupt my hard-earned privacy and peace-of-mind.
And secondly, this is my first cell phone, for heaven's sake! I barely know how to use the damn thing.
And third: I only carry my cell phone with me when I am travelling in distant cities or when I climb into my decrepit 1984 Volvo, fearful that it may break down. And when I do carry my cell phone, yes Jim, I often forget to turn it on.
(I wouldn't even own a cell phone if my 92-year-old Mother had not given me her old Virgin Atlantic phone. She had just upgraded to a more sophisticated model and I accepted her old cell, complete with $80 of time, because it had no monthly fee and charged 18 cents per minute.)
"It's crazy here," I tell Jim, trying to solicit his sympathy. "Midway Airport is so big!" I say as I battle a herd of arriving and departing passengers, moving stairways and the general chaos.
"Midway Airport is not a big airport," Jim corrects me. "Now, O'Hare: That's a big airport."
Tiny? If Midway Airport is tiny, then Albuquerque's Sunport is microscopic, I mutter to myself as I snap my clam-shaped cell phone closed.
Jim says I "play" the public transportation systems better than anybody he knows. He also says that I'm the only person he knows that keeps his cell phone turned off all the time.
I walk to the Red Line from the airline terminal. This turns out to be a healthy hike, through long corridors, escalators, elevators and even steps. It is a good thing I am travelling light and my luggage is riding on wheels.
I find the Red Line, buy a seven day pass for $20 and hop on a train. Many of the passengers are wearing shirts and jackets with White Sox logos, so I figure I must be heading in the right direction.
After a few minutes the train comes to life and we are on our way to "the Loop," home of historic, downtown Chicago.
It is a pleasant ride and I get an eyeful of the El's intricate wooden track structure, rising high above the city streets. I call Jim again and tell him that I'm on my way, but that it might take a little while because I have another connection to make.
When the train arrives at the Roosevelt Road Station I transfer to the Orange Line. This takes me to the China Town station and then to the 35th Street station, where I get off.
I call Jim and he tells me to meet him at the highway exit ramp. No sooner do I arrive at the exit ramp when I spot his meticulously-polished, armored black Mercedes and jump in.
I become reacquainted with Jim's kids and his friend, Jennifer. The kids have grown a little, but honestly, they always look the same to me. They acknowledge my existence with a friendly nod and we we're off to the ol' ballgame!


It's a short drive to a secured parking area and Jim gives the attendant $20 for the privilege of parking for a few hours. Then we walk a few blocks to the stadium.
I have been to a few Cubs games, back in my childhood, but never a Sox game. That's the way it is in Chicago: you're either a Cubs fan or a Sox fan … a "Northsider" or a "Southsider."
We don't have tickets, so Jim buys us five tickets at $54 a pop.
Comiskey Park is actually not the place where the Sox play anymore. That historic ballpark was torn down in 1990 and a shiny new stadium called US Cellular Field has taken its place. The new park is vast and spacious and filled with corporate advertising wherever you look. Massive digital scoreboards keep you abreast of what is going on and an enormous high resolution screen informs us about fans' birthdays and anniversaries. A voyeuristic "kiss cam" projects random lovers scattered throughout the seats, much to everyone's delight.
$54 buys you a seat in the infield box, so close to the field you can almost see the players sweat. We find our seats in plenty of time to see the pregame festivities, celebrating USO Day.
After the usual give and take of points in the first seven innings, we greet the seventh inning stretch by singing Jack Norworth's 1908 classic "Take Me Out to the Ball Game". The Sox don't seem to have a real, live organ player so we are entertained with an assortment of digital sound effects and the usual, call to arms, i.e. "CHARGE!"
Things really start to get exciting in the final innings. After a series of miscalculations and downright bad luck, the White Sox find themselves behind by six runs but close that gap in the ninth with a score of 9-9, leading into extra innings.
It is 10:30 p.m. when the White Sox claim victory in the 13th inning with a final score of 11-10. Our voices are hoarse from screaming. A dazzling fireworks display celebrates the hard-fought victory, punctuated by a deafening finale.
By the time we make it home we are ready for a good night's rest and I'm thinking, "Wow! In less than ten hours, I traveled from Albuquerque to Chicago and even attended a major league ball game! If I were on the train, I'd probably be sidetracked in Kansas City."
---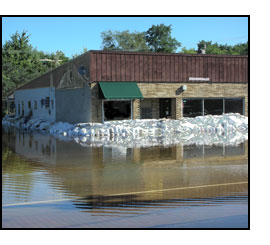 Saturday was the day I had planned to spend with Jim and the kids and I had no idea what he was planning, nor was I inclined to ask. I probably should have inquired because I set off on my journey, along with Jennifer and the kids, wearing a nice silk shirt and brand new pants.
The city of Gurnee has just recovered from a disastrous flood that left over three feet of water surrounding a building that Jim owns. The city had surrounded Jim's property with a wall of sandbags and a sump pump helps remove any leakage. Unfortunately, this flood gave Jim's tenant an opportunity to slip out of his lease, leaving my friend with an empty barber shop.
It was at this point that Jim decided to go into the barbershop business: He bought three new styling chairs, a laminated, revolving candy cane pole, hired an electrician to get things up to code and found a barber to work on commission. The grand opening was to be in a few days of my arrival and the place needed some cleaning up. Meanwhile, an enormous vinyl sign in the window screamed, "Gurnee Barber Shop Opening Soon for 50 More Years of Business."
It turned out that on this day Jim wanted me to help him remove the sandbags and place them on pallets. I felt my back start to give out on the very first soggy 50 pound bag and told him that I didn't think I was up for the job.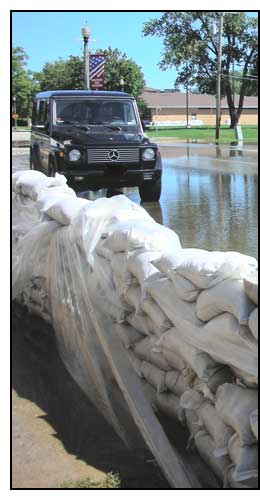 "C'mon Chuck," Jim said. "You can do it."
"No I can't," I said defiantly.
"You know, Chuck, this isn't much different than when I visited you during the Pulsed Power Conference and helped you!" Jim said.
I took another look at those sandbags, trying to figure out how scanning documents and making posters could possibly equate to schlepping soggy bags of sand through the mud and onto wooden pallets.
"OK," I said softly, "But I ain't gonna mess up my brand new clothes."
And so I was immediately reassigned to painting duty, but objected to that as well. I was then assigned to scraping duty, which I did the best I could.
Jim had hired a neighbor of Jennifer's to help us out. His name was Matt, a sturdy 18 year old. Matt was a graphic artist (who isn't these days?) and so I told him some of my best little Photoshop secrets and talked about Jazz. I was a relatively happy camper but I really wasn't contributing much.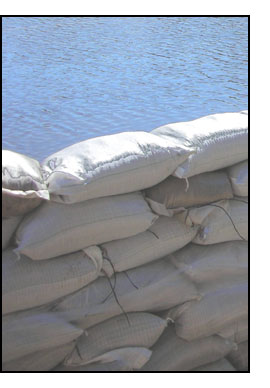 All that changed after we made a trip to the hardware store where I insisted that Jim buy me a pair of disposable painting overalls. I changed into them, wearing nothing more than my silk boxers underneath its white, gauzy, semi-transparent material.
Now I was comfortable about the idea of working and getting dirty, so I eventually started lifting and stacking sandbags. Well, not so much as lifting as dragging them, but I did a substantial amount of work and felt as though I had made a sizeable contribution. I also did a fair amount of cleanup and other assorted nasty jobs.
We worked until about 6 p.m. and called it quits after the electrician had wired the revolving candy cane barber pole. We celebrated with beer and snacks from the bar located next door and then headed back to the North Shore.
On our way home we stopped at a fishing pond where I was viciously attacked by a squadron of blood sucking mosquitoes. Then we drove to Lake Michigan where Jim's kids attempted to launch a large plastic sled into the crashing waves. You may be asking yourself why the kids were trying to launch a sled into the waters of Lake Michigan. I am still asking myself that question.
I watched the sled toss and turn in the raging waters and became concerned about the kids' welfare, so I made the mistake of trying to steady the unseaworthy craft. At this point my legs were slashed by the sled's sharp, plastic edges and large quantities of blood began to flow. Jim looked at me in dismay and said:
"If you play with kids, you're gonna get injured."
I was promptly packed into the armored Mercedes and transported swiftly home, where my wounds were doused with hydrogen peroxide, disinfected with TCP and covered with extra large adhesive bandages.
When it was determined that I would live, we headed out for a delicious dinner of sushi and saki.
Sunday, Sept. 9
I spent the day at GraphExpo '07, leaving Jim's house on the North Shore at 7 a.m. and jumping onto the 7:30 Metra train to Chica

go. I arrived downtown in a timely fashion, caught an elevated train to the Loop and encountered a chartered bus that was going straight to the McCormick Place. I flagged the guy down in the middle of traffic and he actually picked me up (something that would never have happened in Albuquerque!)
I arrived at GraphExpo at 9:40, 20 minutes before the doors were to open and spent that time walking along the lake under blue skies.
At 10 a.m. I entered the floor of the convention center and walked right smack into a real fashion show complete with slender, young models traversing a runway! The show was sponsored by EFI, a company whose titillating models helped showcase their ability to print upon fabrics that were so gauzy, you could practically see through them.
But the bulk of my day was spent at the Adobe exhibit, getting up to snuff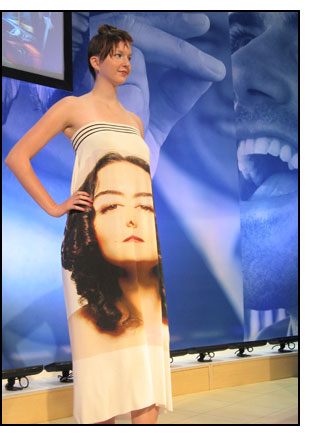 on their latest new versions of their "Creative Suite." I spent a lot of time talking to the Adobe "Evangelists," as they are called, and they helped me sort out problems that I have been having with many of their graphic arts programs.
I also spent a substantial amount of time picking the brains of the so-called power-users, learning some new tricks and reinforcing my knowledge of the old.
I was impressed with the new magic wand features of Photoshop. I learned how to align type, both horizontally and vertically, in boxes and circles and I got into some lively discussions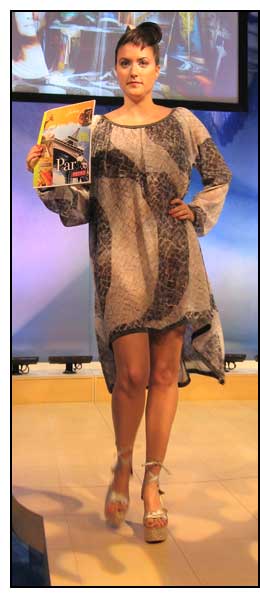 with the Adobe workers about job flow.
"Job flows" are a huge big deal in printing and my approach to them in the past has been haphazard, at best.
I spent the rest of the day checking out the press equipment and asking questions of the vendors. I learned about concentric screening techniques and how to minimize dot gain on a press.
Soon it was 4 p.m. and I was exhausted, both mentally and physically. Since it was Sunday and my transportation options were limited, I jumped in a cab and high-tailed it to the Ogelvie Transportation system, making the last train home, by the skin of my teeth.
---
Next day was Monday and it had been my original intention to go to GraphExpo, but the weather had turned cold, windy and very nasty. Plus I didn't want to abandon Jim, who suddenly had to leave for China the next morning on an emergency business trip. So we huddled together and changed plans. Instead of going to the tradeshow on that day, I chose to hang out with him instead.
This involved taking the Mercedes to the shop for an extensive laundry list of repairs, going to his warehouse where he collected catalogs and samples, and buying $100 worth of overpriced mini pharmaceuticals from Walgreens, appropriate for surviving a few weeks in China.
Jim was lavish in his appreciation for the help that I gave him, but really, I don't know that I did much except keep him company. And when Jim was busy taking care of business, I spent my time reading Plato's Symposium, which was to be the reading at my Homecoming celebrations at St. John's College in Santa Fe the coming weekend.
After a day of keeping Jim company, we celebrated our success by visiting Ron's of Japan, located in Northbrook, Illinois. This was a Japanese restaurant, the type where they cook the food right in front of you. I felt I had been transported to the Orient, mesmerized by the lovely foliage, koi ponds and foot bridges. We were joined by the kids, as well as Jim's friend Penny and her daughter, Cody.
Cody is a freshman in High School and she was somewhat quiet and withdrawn. Jim tried to draw her out of her shell but that didn't really help very much.
To compound the matter, Cody announced that she was a vegetarian and refused to eat anything other than noodles (which they did not have). She settled on cooked carrots and rice, which she ate with teenage vigor. She got along quite well with Jim's little daughter and it was pleasant to watch them "high-five" whenever they were up to some kind of mischief. Those two liked to throw ice cubes on the sizzling hot hibatchi table when Jim was away, and that drove the hired help crazy. I was not about to play parent so I just let the kids run amok and pretended not to know them.
In the meantime, I was having a hard time being sociable and Jim called me on that, trying to draw me out of my shell. "I have a hard time with crowds," I said, "but I'm doing the best I can!"
At this point Cody said something about attending a Jewish summer camp and I asked her if she was a member of the "Tribe." She said that she was indeed and that threw me for a loop because she didn't have the usual Mediterranean look, being of Nordic stock.
And so Cody and I began a little give-and-take about being Jewish. She even sang the Hebrew prayer "over the bread" and I reciprocated by singing the prayer "over the wine."
The evening gradually drew to an end and everybody was getting along. We all had smiles on our faces. I thanked Jim for the fabulous dinner and he said, "That was my pleasure."
---
Wednesday morning arrived and general chaos ensued as the kids got ready for school and Jim got ready to leave for China. I told him that I would be happy to take the wheel and drive him to O'Hare airport, but he made me ride "shotgun".
We were driving his brother John's behemoth Dodge truck with the super duper Hemi engine that got around 12 miles to the gallon. The gas gauge read empty and I tactfully told Jim that I didn't think I could get the vehicle back home under these circumstances. He then handed me two $20 bills but took one back, saying he would probably need it.
I dropped Jim off somewhere at O'Hare Airport and the next thing I knew, I was behind the wheel of the silver behemoth and getting a crash course in what it takes to navigate a cruise ship with wheels. I had one eye on my "MapQuest" printout and one eye on the road.
I quickly discovered that most drivers have a certain respect for enormous cars and let me do just about anything I wanted to do. Usually people give me the finger and yell obscenities when I'm driving around Albuquerque in my decrepit 1984 Volvo, but this baby commanded respect and people were just getting out of the way. I cranked up the AC, popped in a CD and succeeded in making it to the McCormick Place relatively quickly. I parked in the underground parking garage, which cost $16 for the entire day.
I barely managed to fit the behemoth inside the underground garage and it's a miracle I did not scrape the top of John's brand new truck against the myriad pipes and concrete that made up the structure. I realized far too late that such enormous vehicles were not meant to be parked underground and for this reason I moved very, very slowly.
I arrived at the parking lot around 10 a.m. and the black parking attendant let me have a prime location, right by the entrance, for which I tipped him a dollar. ("Git yerself a soda," I said.)
Having scoped out the Convention Center on Sunday, I knew exactly what I wanted to explore in depth.
My first priority was to check out the EFI fashion show because those unsmiling, lanky models really touched my soul.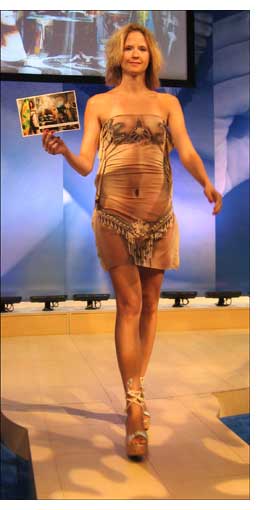 Next stop were the good people who make "Pitstop," a pricey add-on to Adobe Acrobat that gives the operator the ability to edit and automate sophisticated changes within pdf files.
One thing that I have learned by attending GraphExpo is that the vendors are pretty careful about sizing up visitors before they will commit themselves to an hour or so of education. They don't mind handing out samples to any tom-dick-or-harry who makes a grab, but when it comes to education, one-on-one, mano-e-mano, that's a whole 'nother cup-of-tea.
It didn't take long before the person managing the Enfocus booth (manufacturers of Pitstop) sized me up as a potential customer. I was handed off to a very likable Swede named Joeroen who spent the next hour training me to use the program.
After that I spent a couple more hours attending free presentations at the Adobe Booth. Then I walked up and down the aisles, chatting with over 400 vendors about their wares. I was particularly fascinated with the technology that creates three-dimensional images on two-dimensional surfaces, known as lenticular imaging, made by a company called "Pixalen Studio." It is made by preserving the many layers that can make up a Photoshop document. As you walk from side to side, you can see the layers pop up at you.
I then headed back to the behemoth truck and returned to the show with two hard cardboard paper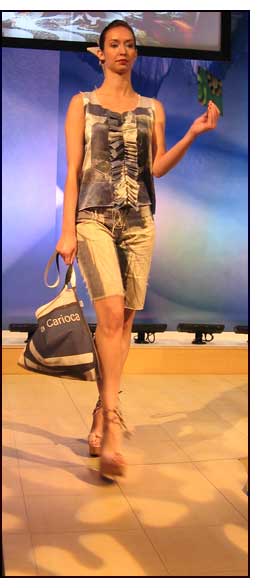 cores that I had picked up earlier at a sign shot. It was my intention to gather as many cool posters as I possibly could for Jim's kids.
There were thousands of posters to choose from: Luscious full color posters of Chicago landmarks, fancy embossing, as well as metallic inks. I got a gorgeous map of the world printed on vinyl and an enormous (4x5-foot) poster by Toulouse Lautrec.
By the time 5 p.m. arrived I was tired but felt as if I had accomplished everything I wanted to do on this trip. I had learned an enormous amount about how to repair pdf files; I learned about the new Adobe suite; I had collected dozens of posters for the kids which would, no doubt, act as a catalyst for learning.
"Good luck getting that back to Albuquerque," said some wiseass who was watching me buckle under the weight of all those posters.
Thank God for John's behemoth truck! I could not have transported those posters back to the North Shore without it.
After the show I bade Chicago a fond farewell by walking along the edge of Lake Michigan and paying respects to a memorial for Chicago firefighters. This tribute was particularly appropriate since today's date was September 11th. I rang a nearby bell three times in memory of all the brave firefighters who have sacrificed their lives and limbs for the public's safety. I then headed back to the underground garage to reclaim the behemoth truck.
I negotiated my way gingerly to the front of the garage, missing overhanging pipes by millimeters. Then I emerged into the sunlight and started roaming the wicked streets of the South Side in search of a gas station.
The tank was now empty and I had Jim's $20 bill burning a hole in my pocket. The first gas station I found was in a state of chaos. The pumps were broken and I was told that I had to go somewhere else. But where?
I ventured yet further into the South Side and found a gas station that looked promising. The place was packed with cars and I had to proceed with caution in order to avoid hitting one. I sidled up to a gas pump and gave the attendant the $20 bill.
The $20 barely made a dent on the gas gauge but I was confident that it would get me home. It took a while to get back on familiar ground, but I eventually was able to find the Dan Ryan Expressway, which connected with the Edens Expressway.
By now I was feeling comfortable with the behemoth and was rocking out on John's CD. On the way home I stopped at Lake and Manor, the place where my father used to own a little strip mall that eventually provided for my mom after his death. I spoke to the owner of a record store there and told him how I used to help my dad collect rents and how I used to do the landscaping there every few weeks.
When I got back to the North Shore, I dropped off all those posters for the kids, who were staying at their mom's house. Then I headed to Jim's house where I had the whole place to myself. I ordered a small pizza and bought a six-pack of English Ale. Then I proceeded to spend my final night in peace and blessed quiet.

Wednesday, Sept. 12

6:30 p.m. I'm flying high above Kansas City, en route to Albuquerque. The flying weather could not be more perfect. Crystal clear skies. 30,000 feet below me I see roads and the patchwork tapestry of farms that make up the Midwest.
Ever so quickly the landscape is becoming transformed and looks a little dryer. Thin veils of clouds appear and we rise quickly above them. The sun blinds me as it pierces through the window.
And I wonder: Does anybody ever become so well-versed in flying that they can figure out in advance what side of the plane to ride on in order to avoid being hit by the sun's rays?
Thank you for visiting Chucksville.